The word "hero" gets thrown around quite a bit when it comes to idolizing professional athletes, particularly from kids.
Whether it's right or wrong, fair or not, there's no disagreement on that label being placed on former Kansas City Chiefs running back Joe Delaney, who passed away 35 years ago today while attempting to save three young boys who were drowning in a pond in Monroe, Louisiana.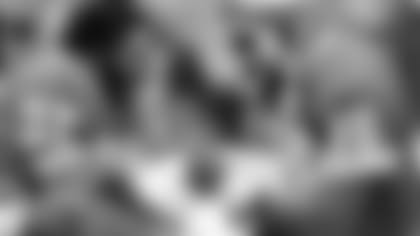 Just two years before that fateful day, Delaney had been named the 1981 AFC Rookie of the Year after rushing for more than 1,100 yards with 3 touchdowns.
At 24 years old, the Pro Bowl running back put three complete strangers' lives ahead of his own. It's a story and a sacrifice that should never be forgotten.
If you haven't seen the amazing "Chiefs Kingdom" episode on Delaney, which won an Emmy and also a Silver medal at the New York Festivals, you can check it out below.
The reason Delaney's story stands the test of time is not only for what he did in that one heroic moment, but because that one moment was simply a reflection of the way he had always lived his life.
The tragic passing only put a magnifying glass on a man who was truly humble when he had every reason not to be, and his character stretched far beyond that summer day in 1983.
According to current Chiefs head strength coach Barry Rubin, who has a special connection with Delaney as they were college teammates for three years at Northwestern State, the moment Delaney is most remembered for wasn't out of his character. It simply allowed the rest of the world, whether they were football fans or not, to learn of the man who never put himself above anyone else.
"He was very humble and came from a very humble background," Rubin recalled of Delaney. "I remember seeing him one day at practice and he wore these cowboy boots—they were huge. I said, 'Joe, what size shoe do you wear?' He goes, '9.' I said 'Joe, those are not size 9. They're 12 or 12 and a half.'
"He took them off and showed them to me and said he'd just stuff the inside with some newspaper."
(Joe Delaney and Barry Rubin (behind him) playing together at Northwestern State)
Delaney combined for more than 2,600 total yards with 21 touchdowns in his collegiate career. He was a two-time All-American and a member of the Division I National Champion 4x100 team at Northwestern State in 1981.
All that success in college and this small-town country kid from Haughton, Louisiana just found himself wearing some old boots that his uncle gave him. For Delaney, that was enough.
"It was so good to see somebody like that do so well," Rubin recalled. "Everybody loved old Joe. He wasn't a loud person. He was good to everybody.
"He just didn't walk around like he's the man."
Although there was little doubt that when the pads came on and it was time to compete, Delaney *was *the man.
Rubin, who was a tight end and punter for the Demons football team and is a member of the school's Athletic Hall of Fame as well, remembers the speed at which Delaney could get out and around the edge on the field.
He recalled one game they played against their rival—Northeast Louisiana, which is now Louisiana-Monroe, and Delaney's ability was put on display right from the start.
"We had it on our own 11-yard line and it was the first play of the game," Rubin recalled. "I remember I was blocking on the play and all of a sudden, I just kind of saw him go around the edge. It was such a great feeling watching him and I knew once he got out there, I said, 'That's six points. Nobody's going to catch him.'
"That's one special memory because it was the very first play of the game. It was close but we ended up beating them that day."
Coming out of high school and his freshman season, Delaney played receiver but made the switch to running back before his sophomore year because there was a need at the position. His breakout game came late in the 1978 season against Nicholls State. Delaney ran for 299 yards, including 265 in the second half, which is still a national record.
Delaney was eventually selected by the Chiefs in the second round (No. 41 overall) of the 1981 NFL Draft, and Rubin followed his former teammate's career.
It was just three years after they had finished playing together that Rubin was working as the strength coach at Northeast Louisiana in Monroe, and he'll never forget the day he heard about what happened.
"I was in the weight room and guys were lifting weights, and back then we didn't have a nice music system," Rubin explained. "We just had a jam box and we had it on the radio station and all of a sudden a news bulletin came on, and it said, 'Joe Delaney, the Kansas City Chiefs great running back has drowned in Monroe.'"
Rubin, who grew up in Monroe and was working there at the time, was stunned.
"It's like it's surreal," he remembered feeling. "Like, I'm really hearing that? It was just awful."
Delaney, who couldn't swim, attempted to save three young boys who were drowning in a nearby pond just days before he was to report back to Kansas City for the 1983 season.
He was posthumously awarded the Presidential Citizen's Medal from President Ronald Reagan, and nobody has worn the No. 37 for the Chiefs since his passing. He's a member of the Chiefs Ring of Honor and was inducted in the College Football Hall of Fame in 1997.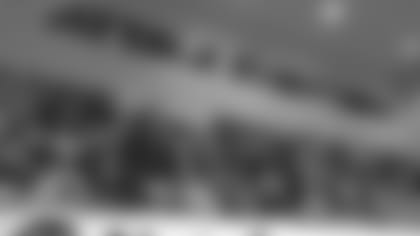 (Joe Delaney's picture in the Chiefs locker room)
Rubin, who is heading into his fifth year with the Chiefs and 21st year in the NFL overall, said he's often reminded of his former college teammate.
"I see his picture all the time, and I say that was my teammate right there," Rubin proudly explained. "It's very special. I think about him almost every Sunday when we play at Arrowhead because I see his name up in the Ring of Honor.
"People from my hometown and from my school, people that I still keep in touch with, they'll ask, 'How is Joe remembered up there?'
"And I'll say, 'He's a legend up here.'"
Former teammates of theirs will still visit Rubin and pay their respects to Delaney whenever they visit Kansas City.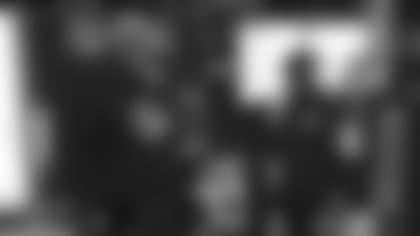 *Delaney's display at the Chiefs Hall of Honor *
(Former teammates pictured - Petey Perot, J.P. Dunbar, Gary Morgan)
Maybe it's best explained in the scripture on Delaney's tombstone, which reads, "Greater love has no man than to lay down his life for another."
"His legacy is just the man that he was, and he showed it in everything he did," Rubin noted.
Joe Delaney's legacy is that of a hero.