One day away from their Thursday night road test against the Philadelphia Eagles, the Kansas City Chiefs continue through this quick turnaround of a week by flying today to the City of Brotherly Love.
Although Chiefs head coach Andy Reid will always appreciate and respect the Philadelphia Eagles, the team he led the past 14 years, he isn't planning on taking strolls down memory lane anytime soon, but instead continuing with the specific preparations that hopefully lead his new team to victory.
"I haven't gone there," coach Reid said Tuesday. "That's not how my mind works. I'm pretty simple with that. They don't care whether I think about them or don't think about them; as a matter of fact, they'd probably be happy if I was thinking about them and getting caught up in the emotions as opposed to thinking about them as a good football team. I don't want to go there. That's not what I'm going to do. This is about our football team, it's not about me, it's not a one-man show. It has nothing to do with that. That was demonstrated when we had the opportunity to play the Cowboys. That was a team effort. This will take a team effort when we play the Philadelphia Eagles. That's what I believe in and I know."
Kansas City Chiefs QB Alex Smith is prepared for Thursday night's matchup, despite the quick turnaround between games this week.
"I've been on both sides of this, since they started this Thursday night thing," Smith said. "We don't make the rules. That's the schedule that is set up and we have to go play it. With a short turnaround, you have to be even more efficient with your time as a unit, because we do throw travel in there, so you give up another day."
Despite the busy schedule on a short week, once the Lincoln Financial Field lights go on, the Chiefs and Eagles will compete in front of a prime-time audience.
"It's a nationally televised game, so that's always big," Chiefs OL Donald Stephenson said. "But it's just like any other big game on Thursday or Monday, you've got to come with it, because you know everybody's watching. We've got to prepare that way too."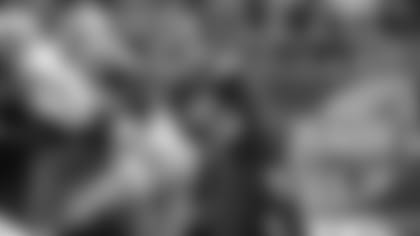 Each of the Chiefs players will be prepared for the Eagles, including LB Akeem Jordan, who played for coach Reid in Philadelphia. The seven-year veteran linebacker described his head coach.
"You know what you're going to expect from him," Jordan said. "He's going to work you hard; you're going to play hard for him. He's a good guy. He's not one of those guys that you can't go talk to. He's a coach that looks out for the player. He's a player's coach."
Fellow Chiefs LB Derrick Johnson, who plays alongside Jordan, described the fast-paced tempo of the Eagles offense.
"It's very different, that college style stuff," Johnson said. "They run a lot of plays. This is a different preparation week for us. Of course, it's a short week, but at the same time (it's different) getting ready for that offense. It's difficult, because it's different, but we'll simplify it. We have a good game plan."
Chiefs fans can't wait to watch as their favorite team takes to the national stage tomorrow night, beginning with at 7:25 CDT kickoff.