After missing all of training camp and the first two games of the preseason because of offseason knee surgery, Kansas City Chiefs' second-year defensive lineman Chris Jones made his preseason debut Friday night against the Seattle Seahawks.
In just 27 defensive snaps, Jones made his presence felt and looked like he was just picking up where he left off last year, when he finished the year as one of the most dominant interior defensive lineman in the league.
On Friday, Pro Football Focus had Jones as particularly dominant against the run, finishing with two run-stops in just eight opportunities.
In traditional numbers, Jones finished with four tackles and one really impressive sack.
The sack came early in the third quarter with the Chiefs trailing 16-10 and the Seahawks facing a second-and-10 from the Chiefs' 22-yard line. Jones was lined up at the right defensive end spot and quickly blew past the right tackle on an inside move and got to Seahawks' quarterback Russell Wilson for a loss of seven yards.
"It felt so good," Jones said after the game of getting back on the field. "I felt like I was back in school playing college guys again. Just getting the feel for the game, it was pretty good though."
Jones helped lead a Chiefs' defense that held the Seahawks to just 1 of 4 inside the red zone, despite giving up chunks of yards between the 20s.
"Preseason is not about running schemes," Jones explained. "It's about playing base defense. They knew what was coming."
Most importantly for Jones, the game ended and he felt good physically. He's obviously a huge part of this defense moving forward, and the Chiefs face the defending Super Bowl champion New England Patriots in less than two weeks.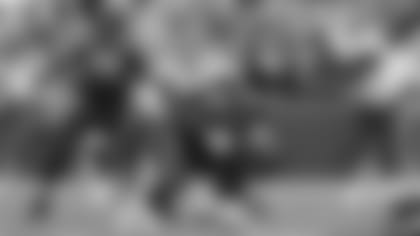 "I feel good," Jones added. "I've still got to get the pace of the game and be in game shape, but other than that I feel good."
The only projected starting defensive lineman who played more snaps Friday night than Jones was Allen Bailey, who had 32 snaps and finished with one tackle.
"We were able to get [Jones] in and get him those reps, and really all the guys, enough reps that you feel pretty comfortable going into the season," Chiefs coach Andy Reid said after the game. "But one thing that's tough to do is a rotation with those guys and keep it in sync when you're doing it, but they'll continue to work on it."
If Jones can build upon what we saw from him last year as a rookie—combined with a healthy-Justin Houston, who missed Friday's game because of an illness—the Chiefs defense, and particularly, their ability to get after the passer—will be a serious problem for opposing teams.
The Chiefs get back to work on Sunday as they prepare for the fourth and final preseason game of the year Thursday night against the Tennessee Titans at Arrowhead Stadium.