Just last month at the NFL spring meetings in Atlanta, the league adopted a few new rule changes that will have significant effects on the games this fall, and one of the changes will be evident to fans watching from the first few moments of the game.
It's a change that affects the kickoff coverage and return units. The most noticeable difference will be that the coverage unit players cannot begin running until the ball is kicked.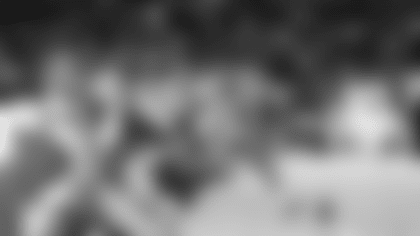 And that's not the only change.
Several other new rules were put in place to try and limit the forceful collisions that were happening down the field during a return. All of these rule changes were made in the spirit of trying to help alleviate that problem.
In addition to coverage unit players not getting a running start, the players on both sides will also start closer to each other moving forward.
The kick return team is now only allowed three players outside of the "setup zone," which begins 10 yards from where the ball is kicked (35-yard line) and spreads out 15 yards. So, the return team will basically only have three players who are allowed behind their own 40-yard line when the ball is kicked.
This video put out by the NFL explains in detail the new rules:
"It's going to change things up a bit," Chiefs' Special Teams Coordinator and Assistant Head Coach Dave Toub explained. "I think, at the end of the day, there are going to be more returns because the returner is going to feel a lot more space back there. When he catches the ball, the coverage won't be on him immediately. Guys are going to want to take their option as returning them."
Toub has long been considered one of the best special teams' coaches in the game, and rule changes like this will only put his abilities more info focus, which for the Chiefs, is actually a good thing.
"There are going to be more single blocks," Toub added of his kick return team. "You aren't going to have the point of attack where you're hitting it and you have a running back style, almost like an ISO play. It's going to be more of a big-field type, more like a punt return."
Toub said that two-time Pro Bowler Tyreek Hill will return punts again for the Chiefs this year, but that the kick returner job is currently up for grabs.
"I think it's a good thing, but I would love to have kickoffs to stay in the game," Chiefs' second-year kicker Harrison Butker explained. "When I heard they were maybe thinking about taking it out, I was definitely not excited about that. I mean that's my livelihood, that's my job.
"Luckily, they've kept it in for now and the hope is that it's a much safer play now and similar to a punt return without as much distance between the guys."
Some other players—like Chiefs' special teams' ace Anthony Sherman—weren't as excited about the new rule. In his own words, Sherman said the new rule is taking away the spirit of the game, but he knows it's going to take some time to feel out how teams will try and attack things moving forward.
"[Toub] has done a good job," Sherman said. "He was ahead of the game and he had us prepared before the rule changes were made. He let us know that this is probably what it's going to go to, and he just said let's see if we can figure it out.
"It's going to be like a punt return—wide open out in space, see if you can get out and run by dudes."
What teams are going to have to try and figure out now are the unintended consequences of these changes, which at first glance, might be something like more pooch kicks.
"A lot of the guys are going to be closer to the ball and there are going to be some pockets," Butker admitted of the fact that eight of the 11 guys on the return team will be closer to the ball—allowing more space behind them with just three players covering the other 40 yards back there.
It's these kinds of things that special teams coaches around the league have never had to try and draw up before, which lends itself to some surprises this fall.
"He's thinking some stuff up," Butker added of Toub. "He's definitely I think the smartest special teams coach in the league, and he's coming up with a lot of cool and interesting things to be doing. You've got to adapt with the game."
So, the trial and error period of what works and what doesn't in regards to kick coverage and kick return units should be a major storyline of the preseason across the league.
Right now, coaches and players can scheme all they want, but until the pads come on in training camp and we get into the preseason, nobody really knows how it's going to work.
"The first couple of weeks might be interesting," Sherman noted of this carrying over to the regular season. "Teams might be trying different things to see what's going on."