Coming off an 11-win season and the franchise's first playoff win in more than two decades last year has the folks over at ESPN feeling pretty good about the Kansas City Chiefs heading into 2016.
A season ago, the Chiefs won 10 straight regular season games after beginning the season at 1-5 to storm into the playoffs, ultimately shutting out the Houston Texans 30-0 in the Wild Card round of the AFC playoffs before falling to the Patriots in the Divisional round by a score of 27-20.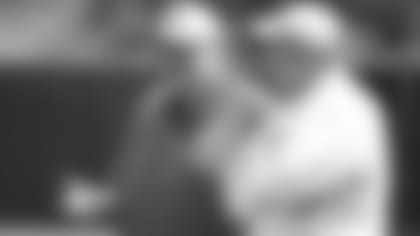 While these rankings don't mean much and even though we're still four months away from the start of the 2016 season, that doesn't keep many of us from wanting to know what people on the outside think about where our team stacks up right now.
So ESPN's NFL staff came up with their most recent Power Rankings, which have the Chiefs listed at No. 10, trailing only the New England Patriots (No. 1), Pittsburgh Steelers (No. 6), Cincinnati Bengals (No. 7) and Denver Broncos (No. 8) in the AFC.
It's consistent with where ESPN has had the Chiefs pegged this entire offseason.
The Chiefs have had a busy offseason with the re-signing of veteran linebackers and perennial Pro Bowlers Derrick Johnson and Tamba Hali, not to mention adding one of the best right tackles in all of football in former Cleveland Brown Mitch Schwartz in free agency, among other moves.
When that's combined with the fact that the Chiefs were so close last year—falling on the road in the playoffs by just a touchdown to the Patriots without starters Jeremy Maclin, Justin Houston, Jamaal Charles, Mitch Morse or Laurent Duvernay-Tardif, there's reason to feel good about where the team is headed as they look to improve upon last year's finish.
At this point, all 32 NFL teams feel good about what they've done over the offseason and where they're headed, but three straight winning seasons under general manager John Dorsey and head coach Andy Reid in their first three years together adds to the optimism that things will be even better in 2016.
Chiefs players and Chiefs Strength Coaches working out on Thursday.