After the Kansas City Chiefs announced the changes to their defensive coaching staff on Tuesday night via a press release, Steve Spagnuolo—the Chiefs' new defensive coordinator—spoke with the local media via a conference call on Wednesday afternoon.
It was the first media opportunity for the veteran defensive coach, who re-joins Andy Reid, with whom he spent eight years as a defensive assistant with the Philadelphia Eagles (1999-2006) before making stops with the New York Giants (2007-08, 2015-17) St. Louis Rams (2009-11), New Orleans Saints (2012) and Baltimore Ravens (2013-14).
Here are five things we learned on that call, which began with a statement from Spagnuolo:
"I want to in advance thank Clark (Hunt), the Hunt family, Coach (Andy) Reid and Brett (Veach) for allowing me this opportunity. I am excited as heck to be here. I feel really blessed to be a part of this organization, this team and what it's all about. Certainly, my association with Andy (Reid) goes way back. To be able to be back with him is just terrific and greatly appreciated."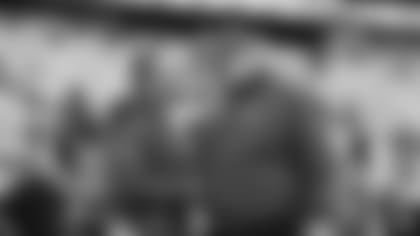 Question: How much do you know about the guys who are going to be playing for you next year, understanding some of them are yet to come through the draft and free agency?
"That's the exciting part about this time in the NFL calendar. You don't really know what you have yet, but you can anticipate what you are hoping to get. We have, as a coaching staff, had the opportunity to study last year's film, do the best assessment we can as to the talent we have and the type of players we have. With that, certainly, Brett Veach chimes in and help us out. I will say this is a long process to figure out who and what we have and how it fits.
"In today's NFL calendar, where you just have the nine weeks of offseason and then into training camp, and training camp is short, it takes a little time to figure it out. One thing I've always said, especially about defensive football, is you don't really get a good assessment of your players until you put pads on and watch them play real defensive football. We all know that doesn't happen until the end of July. It will be a step-by-step process, but we are certainly knee-deep into it and enjoying it."
Question: From what you've seen from the front seven, do you see guys versatile enough to play in whatever scheme you might put together?
"I do. We're not going to get hung up in scheme right now. The reason I say that is because I think what we first should do is find out what we have, how they fit and then decide exactly what that scheme is. I think today things get a little overblown. Let's all recognize that in today's football, they put a lot of wide-outs out there on offense, so we are in a lot of sub defenses. A lot of sub defenses are not classified as 4-3 or 3-4. You just get your best pass rushers out there and your best coverage people. Once we get that figured out, we will start slotting people where we think they should go."
Question: What did the year away (from football last year) do for you and what was it like?
"First off, I'm glad I did it. There might have been another year I should've done it. I found it to be both challenging and rewarding. The challenge was missing football and the comradery of coaches, players, not being at training camp where it's nice and hot and you are doing football, that was a challenge, was missing it. The rewards were sitting back and seeing a big picture view of the NFL and the game of football, as opposed to being in these buildings during the season and having the blinders on to the team you are about to play. I just thought a big picture view of the league, the game of football, the pluses and minuses, I have oodles of notes.
"I did have the opportunity because I was living in the Philadelphia area to go over to NFL Films every week and have access to film, so the young guys here in Kansas City already know I have a lot of plays that I wanted to pull because I gave it to them as soon as I got here. Again, I would go back and say it was challenging, yet very rewarding."
Question: How important was it for you to get a staff that you are comfortable with and have a history with?
"I do think that's always important. Coach (Andy) Reid was tremendous. A bunch of coaches had obviously left here for other jobs where there were openings. Andy and I put our heads together. It was a little bit of a long process, but I think it was long for a good reason. I think we got the right people. You're right in the fact that many of these guys I have a history with, and that's really, really important. Especially, when you start out this process, even in the meetings that we've had, we started right out with terminology because you can't fit in here and talk football unless you're all speaking the same language.
"Believe it or not, every team you go to has a little bit of a different language. We're all on the same page, we're advanced that way. In other words, the guys that are here working together have spoken a very similar language. We're trying to put something together that will work. Having guys that know each other a little bit I thought was really, really important."
Question: How attractive was this Chiefs defensive coordinator position for considering how high-powered the offense was last year?
"I think you won't talk to a defensive coach in the NFL that doesn't say they'd like to be on a team with A) a really good head football coach, and B) a really good quarterback. We all know in today's football in this league if you don't have that position, you don't feel good about that position the quarterback, you're always looking for one and the whole rest of the team is affected when you're looking for it.
"It goes without saying that I'm really excited to be part of an organization that has an elite quarterback, judging it by what he did last year, and quite frankly, to work for Andy Reid again and what he's all about, what he's meant certainly to this franchise and to the league as a whole is really, really special to me to be back and be a part of it. I had eight years in Philadelphia, loved it, and I've made my way back to working with Andy again and I'm really looking forward to it."