New Kansas City Chiefs' defensive end Frank Clark was introduced to the media on Friday afternoon alongside Chiefs' GM Brett Veach and Head Coach Andy Reid.
Here are five things that stood out from the presser.
1. Veach began the press conference by discussing why the Chiefs sought to bring Clark to Kansas City.
"…Trades in the NFL happen all the time, but a trade of this magnitude is not done unless it's for an elite player. Certainly, Frank is an elite player," Veach said. "Over the last four years, he's proven to be one of the four best pass-rushers in the NFL, a great run defender and overall just a disruptive defender."
Indeed, Clark has been one of the most productive edge-rushers in the league since entering the NFL as a second-round pick in 2015. His 32.0 sacks over the last three years rank ninth among all players and he's one of just seven defenders to bring down the opposing quarterback 9.0 or more times in each of the last three seasons.
What makes those numbers all the more impressive is where Clark came from originally. He was homeless for portions of his childhood and at times didn't know where his next meal was going to come from.
"Getting to know some of Frank's story over the last few days, it really is remarkable. Growing up in South Central L.A., living homeless, just finding his way in life to where he is now is just truly remarkable," Veach said. "One of the things that is equally remarkable is the work that he's done in the community up in Seattle in regard to giving back to the homeless, giving back to the people in need, the food drives, the Thanksgiving Day drives and spending time with kids in need. He is a great football player with a big heart that's going to do tremendous things for the Kansas City Chiefs both on and off the field."
2. Reid echoed that sentiment when asked about Clark, who impressed against the Chiefs just last season with three hits on quarterback Patrick Mahomes.
"He had a heck of a game against us, I think everybody here knows that. He was all over the place. You talk to [right tackle Mitchell Schwartz] and you talk to [left tackle Eric Fisher], and they'll tell you what kind of player he is," Reid said. "The one unique thing is that it's every play. Every down is an honest down. There's no time off where he's cruising at all. We have a great relationship with the Seahawks. Whether it's [head coach] Pete [Carroll] or [General Manager] John [Schneider], they've been very honest and they'll [tell] you like they did yesterday. They mentioned it yesterday in their press conference that he is going to bring it every snap in practice and he's going to bring it every snap during the game. He loves playing the game, and like he said, that's what coaches appreciate and they like."
3. Clark was then asked to describe what he's bringing to the Chiefs' defense next season, which has a new look heading into 2019.
"I feel like I bring a unique set of abilities like they spoke about before. I feel like I bring a type of attitude and swagger with my play that I feel like every coach loves and I feel like my teammates will love. I feel like it's infectious," Clark said. "When you can play and make plays on the field, and then bring other players with you, I feel like that's the key. I feel that's when you become a great player. It's not just about your individual stats, but when you can contribute and help in a whole other manner, which helps out players on your team, that's when I feel like you're doing your job."
4. Of course, the trade and Clark's new contract with Kansas City prompts expectations. The four-year veteran discussed how he's ready to handle that as he begins a new chapter with the Chiefs.
"…I want to be a better teammate more than I'm thinking about the dollars I'm going to make, honestly," Clark said. "I feel like that's my ultimate goal…it's much deeper to me here. I want to win some championships. I want to go to heights I've never been. The heights I dream about - stuff like that. Speaking of a dream I had, a few days actually before they came and got me, it was just amazing how everything happened. It happened just like I dreamed about it happening. [Veach] sitting here saying that I'm a guy who doesn't have any weaknesses, it just says a lot about his character. I look around and I see a lot of flaws all the time, but sometimes, it's not what you think about yourself, it's what others think."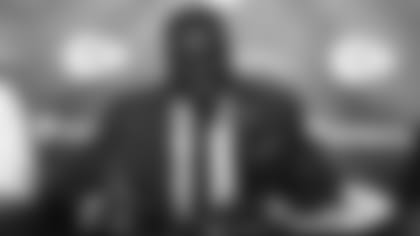 5. Finally, Clark was asked about his childhood and how those difficult times growing up still motivate him to this very day.
"…I'm going to tell you, you will never understand what a homeless person thinks at night when they don't have food, or they don't have the money or the housing, unless you have actually lived that life," Clark explained. "You see people on the side of freeways, you see people holding up signs on the street or with their shelters built on the side of the road - baskets and tarps. But you don't really see the way they think every day. I [wondered] every day when I was homeless, 'What is the purpose? What is my purpose here in life?' So, I am going through depression, I am battling all types of stuff. It was really a struggle for the longest [time] trying to find my purpose in life."
Clark continued, describing that purpose.
"It got to the point where I started understanding myself a little bit better as I got older and I started maturing. I don't want to say the last five years, but the last six years, that is the time it has taken for me to really understand my purpose in life and what I really need to be doing with everything. Especially now, when I can use my platform to touch many more people. When you are waking up and you're on the street or in the shelter and you're showering in a community shower with four or five hundred people, it's very humbling. Some nights, you aren't going to get the shower because it's packed or some nights, you don't get a meal because it might not be [possible] for some of us to eat or it might not be that good, but I am still thankful for what's in front of me. When you can take that step into seeing how they do things and being in that position, you will understand it a little bit more."
He concluded by parlaying those thoughts into action, suggesting how he wants to get involved here in his new community.
"I feel like that is my job, to help people who don't really understand it and to help those who do to feel a little bit better about it. It's a touchy subject, the topic of being homeless and just the homeless epidemic. Not just in Seattle or Los Angeles, but everywhere across the country. It touched me on the way to the building when I saw guys on the way here holding signs. It's just something in my head and in my heart I want to help change. I know it's a little change, but I feel like with a little change, it will lead to a lot more. That's really my goal here."