OPENING STATEMENT: "I want to thank all of you for taking the time here today. I just got back from three days of college all-star game review. I think right now this may give us a little bit of time to reflect on the season. I'm sure you guys will have questions about the future as well. Shoot away."
Q:Where would you say De'Anthony Thomas is right now with his concussion situation?
DORSEY: "Well, what I would say is, before the Oakland game, he passed the concussion protocol that the NFL sets out here, and then after that was when we as a group decided to place him on Non-Football Illness status. And then with that being said, there are some things that really tie my hands to really go into detail about this. But I just want to reaffirm to you all that I love this kid, he's a great kid and that's how we're going to stand and keep it at right now."
Q:How would you anticipate his participation coming up here in OTAs or will he be available for OTAs?
DORSEY: "I would expect him to be. Right now, he's still a Chief, so why wouldn't he be?"
Q:Have you had any contact with him since he left the team in the last week of the season?
DORSEY: "I have. I've talked to him a couple times."
Q:Do you get the sense that he still loves football and is in to being a football player?
DORSEY: "Yeah, all my conversations with him lead me to believe that."
Q:Tamba Hali, Eric Berry and Derrick Johnson all have deals coming up. What are your thoughts on the season each of them had and will there be a concerted effort to bring all three back?
DORSEY: "I couldn't be prouder of all three of the gentleman and what they have done this season. We start with Eric and what he has done. And I love that guy, there's a guy right there that I don't think any of us could have done what he overcame and I'm so proud of that – where he's come from. And then when I watch a Derrick Johnson fight back – he and Michael DeVito fight back – from the Achilles injury and look at the season that they had and you just shake my hat off and go 'those guys are Chiefs, man. That's what that thing's all about.' And then when you look at Tamba, I mean the sacrifice that Tamba made because the Kansas City Chiefs are very important for him and I understand that. I couldn't be prouder of those three gentlemen and the seasons that they had for this organization."
Q:What are your thoughts on the season Jaye Howard had and how hard will it be to retain he and Dontari Poe?
DORSEY: "You know what, I think Jaye Howard he came and played – as they said – he played like a grown man. Jaye came out this year and said, 'you know what, I'm a pretty good player, too.' And again, I think it's reflective of, you begin to mention not only those three guys, but then you mention Jaye. You know, our defense kind of played pretty good this year and those were parts of it. As we move forward here, we have decisions to make, we all know that – we're still into the evaluation process, we'll probably conclude that on Friday. And then we'll get together as different groups and begin to discuss long-term planning situations."
Q:There's a report that Brad Childress is the new offensive coordinator. Can you confirm that?
DORSEY: "I know this, I know Andy is working through the coordinator thing as we speak. I had just gotten back this morning and briefly had a chance to talk to Andy, but we didn't have a chance to talk about that component of it. I'm sure those guys will work through it and whatever comes up, I'll have no problems with that because I think this coaching staff, as a group, is as solid as anybody in the National Football League. And then the relationship that they have with the personnel staff, it's that family thing we talk about. We have an incredible working relationship between both departments."
Q:So is it safe to say that Brad Childress is the offensive coordinator or are you still working through that?
DORSEY: "I think that's a coaching component. And I think that's something – that's Andy's component. We'll see what happens there. I can't give an affirmative answer one way or another."
Q:As you reflect on the season, can you pinpoint a few things where you could have done better?
DORSEY: "I think when you reflect back on this team, from a personnel guy, maybe there were some moves that you could have made during the season that could have helped increase the depth of this roster. We laid out a plan early in 2015 and I thought we met a lot of the objectives that we had set out to meet. And then you move into the draft; I think we got a lot of the guys that we wanted in this draft. But as the season goes along, is there one or two moves that could have helped us? I think in hindsight, you could do that, but a team that goes 11-5, I think you did a pretty good job. I think we have made that progress that we talked about over a three-year period, we've made some positive steps in this thing. Of course we're going to have to build off of that and I understand that. Where we were and where we are today, I'm very happy with that."
Q:With the loss on Saturday, how much of that was the injuries to two key guys and how much of it was that there is a gap to close between you and New England?
DORSEY: "It could be a combination of both. I think any of us that aren't working this week are a little disappointed because we didn't reach our ultimate goal. From a personnel standpoint it's going to make me work harder because until you hit that ultimate goal, it really doesn't matter. I mean there is a lot to be proud about, but at the end of the day, we're going to have to move forward and understand what it takes. We're going to have to get better at that, I believe, in terms of moving forward. It was a challenging situation and I think guys played their hearts out in that game. They did everything they possibly could and at the end of the day, we came up a little bit short."
Q:How close are you to being a team that can play in an AFC Championship game or play in a Super Bowl?
DORSEY: "I think we have the makings of a good team. I think we have a core team. I said early on (that) I thought this was a better team this year than it was the year before and I still believe that. And I think at the end of the year, those guys showed that they're a pretty good team. When you're in adverse situations like they were and you have the steady hand and leadership of Andy – but what I was most proud of was, I watched that core nucleus within the locker room, they all came together and they believed and they said 'You know what, we're pretty good, we're going to move this thing forward.' That's to be applauded and the coaching staff is to be applauded of how they executed this thing."
Q: Is it reasonable to think you could get there next season?
DORSEY:"Well, as you well know, every season is different. I'm a very optimistic individual and I believe that, you know what, every year we're going to get better. So, I believe that."
Q: With the money you have now this offseason, compared to last, how aggressive do you anticipate being come free agency?
DORSEY:"Well, what I want to do is I want to do what's best for this organization in terms of long-term approach. With that being said, I think the first step is that we have to do a little self-evaluation with regards to the team and how we look moving forward. I think together, we have to sit down and develop our plan as we move forward. I don't think right now is the time to say we're going to be this, this or this. Right now, I'd like to say we're going to do what's in the best interest of the organization moving forward."
Q: Is it at least accurate to say that the cap situation this offseason gives you a little more flexibility than last offseason?
DORSEY:"Well, you know what I like to always say about this kind of question. It's, 'that's called the business of football.' You know, I have a hard time talking about the business of football every once in a while."
Q: What was your take on Steven Nelson as the season progressed, and what do you hope to see out of him in 2016?
DORSEY:"Well I thought the rookie class in itself played really well. Everybody has different learning curves and how they grow. I think towards the end of the season, I think Steven Nelson, he began to contribute. He began to contribute not only in nickel, dime situations, but on special teams. I like what he did when Marcus Peters blew out his shoe. He had to run on to the field and he makes a wonderful play in the end zone there against a very formidable receiver. I think late in the game what you saw is his ability to diagnose and read and drive on a play to break it up there in the fourth quarter. As I've always said, I believe that rookies take bigger steps from year one to year two, and I would expect this class to grow exponentially into year two, and I think they understand, culturally, what this organization is about."
Q: What does the Senior Bowl signify for you in your offseason?
DORSEY:"Well, it is a fun process. Last week, or this week, I'm sorry, I went to the NFLPA All-Star Game, but I think when you go to the Senior Bowl, you get to see the level of talent is a little bit bigger. It's the best of the senior class within this year's draft, so it gives you a chance to really put your hands on these players, watch them move around, watch them compete. It also gives you a chance to kind of, for the first time, really to see who they are as people as well. So it signifies to me that it's the beginning of the process of how we do our season. Our season of personnel starts now. That's what we're going to do. This is the beginning part of our season."
Q: Are you planning on Jamaal Charles being healthy and playing for the Chiefs next season?
DORSEY:"Well, as I look at it right now, Jamaal is, I think he may be ahead of schedule in terms of his rehabilitation. The guy is an extremely talented player. Love him to death. Love how dirty-tough he is. Yeah, he's a Chief."
Q: You say ahead of schedule. What is that schedule, and could we assume he'll be participating in any way in training camp?
DORSEY:"Well, as I was told he's ahead of schedule. That's more of a medical assessment. What I have to do if they say they're ahead of schedule, then I believe that he's ahead of schedule, which is very positive for this organization."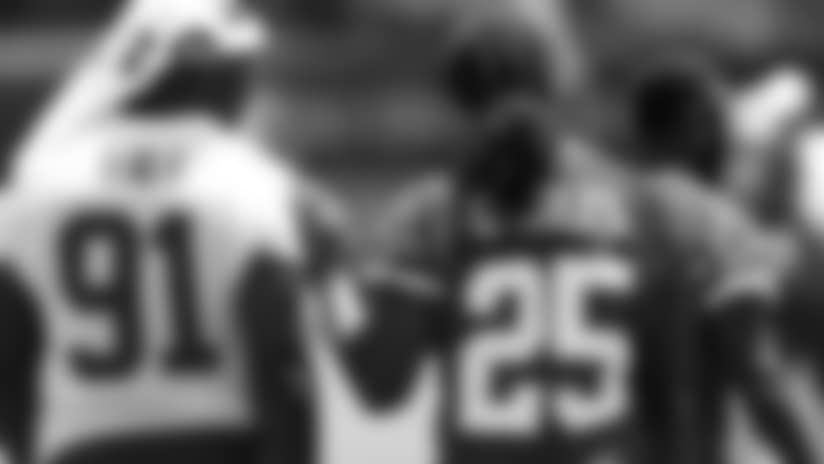 Q: With Donald Stephenson, what does his ability to be ready throughout this season say about his ability as a player?
DORSEY:"It means he's probably growing up. He's matured, he understands what it takes to fulfill his role with the offense. It allows him to mature and nurture and develop. I think when he stepped in at various roles, either at guard or at tackle, he played very well. I mean, he did what he was expected to do, and that's what we talk about, the next man up. When it was time for him to step up when he was needed, he stepped up and fulfilled his job."
Q: Did the hit De'Anthony took make him evaluate his situation or something? There is a lot out there about him and we are just looking for some clarity.
DORSEY:"All I know, and this is how I deal with it, this is the reality of how I look at it: he has passed the protocol, the NFL protocol of the concussion thing. That's good enough with me because that protocol thing is the best there is in sports. I mean, they take every delicate step because they care about player safety."
Q: How would you categorize the early talks with Eric Berry's agent?
DORSEY:"Well, I've had various discussions with his representatives, and we will continue to have conversations with his representatives."
Q: Do you anticipate utilizing the franchise tag this year?
DORSEY:"You know what, I would like to assess every situation. I haven't played the assessment game, where I can go and assess every different option available yet, so I haven't really done that yet. I will do that here within the next five to seven days, and I can give you a more concrete answer on that."
Q: What is the generally accepted time frame for a guy who tears an ACL?
DORSEY:"You know what, I have always thought it was in that nine to 10 month window, but with surgical procedures and the way they are today, guys have come back a lot faster than they have in years past. I think it's a case-by-case basis. It's the human body, it's got to be a case-by-case basis."