It was second down and short early in last Sunday's game against Denver, with only a single yard standing between the Broncos and a fresh set of downs.
A conversion was likely and not terribly consequential, as it was only the Broncos' opening series of the game deep inside their own territory, but based on what happened over the next two plays, it may as well have been the fourth quarter of the Super Bowl for defensive end Melvin Ingram.
The six-foot-two, 247-pound edge rusher stutter-stepped by Denver's right tackle with ease on second down before meeting tailback Javonte Williams in the backfield, blowing up the play for a loss. Then, just one snap later, Ingram exploded across the line of scrimmage and pounced on quarterback Teddy Bridgewater to thwart the Broncos' drive and ignite yet another stellar defensive performance for what's transformed into one of the best units in all of football.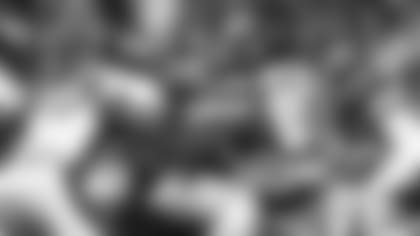 It was just another example of how Ingram – who the Chiefs acquired from Pittsburgh prior to Week 9 – has made his presence felt time and time again during his brief stay in Kansas City, both on and off the field.
"What's great about Melvin is watching him – not just on the field – but in the meeting rooms, around the building and around the guys, it's evident to me that this man loves football," said Defensive Coordinator Steve Spagnuolo. "He's always here. He's always around…I think he's been great in that way, in addition to what he's been doing on the field."
Ingram has tallied 10 pressures since donning the red and gold, but like Spagnuolo said, his impact has gone far beyond individual statistics. The veteran pass-rusher has seemingly made everyone else around him better, and the numbers support that theory. For example, through the first eight weeks of the season, the Chiefs tallied 125 individual pressures. Since Ingram arrived four games ago, they've already recorded 90 pressures. In other words, that's 70 percent of that previous production in half the time.
"He's playing angry. I say that to him all the time. I say, "You play angry – I love it – and you've got everybody else getting angry too,'" Spagnuolo said. "He's had a couple plays, there was one even in the Raiders game the last time where he just knocked people around, and I think that's contagious and that helps us."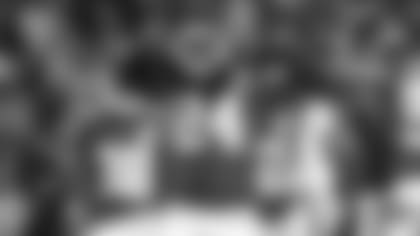 That mentality has certainly translated into results, as the Chiefs have allowed a ridiculous 9.8 points-per-game over Ingram's four outings with the team. Kansas City has surrendered just four touchdowns in that span, which is tied for the best mark in the NFL.
"It's been amazing here from Day 1. They embraced me with open arms and just let me come in and be me," Ingram said. "We make it fun, and that's the best thing about football. If you're having fun, it's so easy to succeed."
He appears to be having fun so far, as Ingram, who racked up 49 sacks as a member of the Los Angeles Chargers from 2012-2020, recorded his first sack with Kansas City when he took down Bridgewater on Sunday night. He's tallied at least 40 defensive snaps in each of his last two games, and as Ingram continues to get more comfortable in the Chiefs' scheme, his impact is only going to grow.
"It's not just about sacks, it's if he's demanding a double team or if he's driving somebody into the quarterback, the quarterback has to move his feet and then he falls into somebody else," Spagnuolo explained. "Those are the kinds of things that we're getting, and it's helping. It's helping a lot."
Ingram's presence has certainly made a difference for the likes of defensive linemen Chris Jones and Frank Clark – who have combined for 40 pressures between the two of them since Ingram arrived – but it's also paid dividends for the Chiefs' young group of defenders.
"I just try to share what I've learned over the years through my experience and my time playing. I'm trying to pass down what was passed down to me in regard to studying film and how to approach the game," Ingram said. "We have some great ones who have a chance to be special in this league, and the more time you spend with them, when it comes to that moment in the game when you need them, you're not worried about them. From the first day I got here, I knew they were special."
That's the kind of thing that won't show up in a box score, but that willingness to teach is arguably just as significant as anything Ingram does on the field. He's the oldest member of the defensive line, after all, and that desire to help his newest teammates has already caught the attention of the coaching staff.
"I see him on Saturday nights after we get done with our meetings. He tends to sit with a lot of different guys, and he's really good with the young guys," Spagnuolo said. "I've seen him over there sitting with [defensive lineman Tershawn Wharton] and [defensive end] Mike Danna, and I'll tell you what, if I were them, I'd have a little pad and pencil and I'd be all ears because that's when you can absorb some really good stuff."
It's all wrapped up into an eventful month for Ingram, from his performance on the field to his willingness to be a leader away from it. The Chiefs' defense has transformed into one of the best groups in the NFL in that time, and most importantly, Kansas City is undefeated with Ingram on the roster.
"I just think the more guys you can get like that, the better," Spagnuolo said. "It's contagious. I really [think it is]."