The primary subject of one of the Kansas City Chiefs' biggest offseason moves this year isn't having second thoughts about his decision to join the team.
Veteran playmaking receiver Sammy Watkins, who signed a lucrative multi-year deal with the Chiefs as an unrestricted free agent this offseason, is loving his time in Kansas City thus far, both on and off the field.
"When you sign a big contract—some guys can look at you different, but these guys welcomed me in," Watkins explained of joining the Chiefs. "I'm naturally—not shy, but a quiet guy, reserved, and I can actually joke around and have fun with these guys and no one is taking it personally. I think that's the good part.
"I've actually opened up now more than in the past previous years where I was like, 'I'm not talking to nobody, I'm not dealing with nobody.'
"I have fun with these guys."
And through a few weeks of Offseason Training Activities (OTAs), Watkins is having plenty of fun seeing his value in this Chiefs' offense grow as he becomes more familiar.
"I feel great," Watkins said. "I know what I'm doing now. I'm moving around. It's just a great feeling because I'm not just sitting at the X receiver spot on the backside looking at two-man or a double. I'm really playing against a slot (cornerback) and getting an advantage on the linebackers, getting an advantage on the safety, and those are the things that I didn't have access to (in the past), and now I do."
Watkins went on to say that he enjoys the fact that the Chiefs' offense teaches their receivers to be interchangeable—that everyone can play every spot.
"It's fun for me because I've never been able to learn slot routes and stuff like that—not because I couldn't, but I just didn't have an offense that was available to move me around to different places," he added. "It's been fun and I can actually visualize the offense and where it's going, and it's going to be something else."
Watkins joined a Chiefs' offense that was already full of playmakers with guys like All-Pro tight end Travis Kelce, the NFL's reigning rushing champion and second-year player Kareem Hunt, and also the league's fastest player and most dynamic threat, Tyreek Hill.
And when you add in the uber-talented second-year quarterback Patrick Mahomes, there's plenty of reason for optimism.
"The first day was crazy," quarterback Patrick Mahomes explained of what Watkins has shown during practices so far. "The first pass in OTAs he was running a go route and caught it in one hand. And then later on in the practice, I thought I overthrew him for an interception, but I just saw a hand come out of nowhere and he brought it down.
"He's someone that's going to help this offense tremendously. He works hard and you really respect guys who have that much talent but really get after it every single day."
Watkins does get after it. He's often the first one in the building during the work week—running routes on his own before the rest of the team joins him for practice later in the day.
It's all part of what he brings to the table, and the mental acuity to learn a new offense and everything that goes along with everyone being interchangeable isn't a problem for Watkins either, but that doesn't mean he hasn't needed to get help from his teammates—something he says has been easy to come by.
"In previous years, I just lined up in one position and only had to learn one position," Watkins noted. "I knew the other positions but some offenses and offensive coordinators have certain guys for certain things. These guys here are letting my talent be displayed. I have the whole route tree. It's not like I'm being held back and honestly, that makes me want to work harder and learn even more.
"I feel like a complete receiver now running those quick routes, those option routes, getting in on screens and speed sweeps—that's how I was in college and I'm starting to get that feeling back of being in college and being an all-around player."
"Every day he does something a little better than he did the day before," Chiefs' coach Andy Reid said of Watkins. "You see the quickness, the speed, and the strength, and his ability to catch the football is incredible."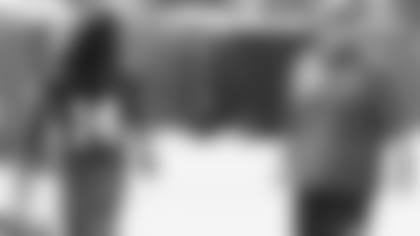 Over his four-year career, Watkins has averaged 15.9 yards per reception, which ranks sixth-best in the league since he entered it as the No. 4 overall pick by the Buffalo Bills in 2014 out of Clemson.
And last year—his one season with the Los Angeles Rams after being traded there by the Bills right before the season—Watkins was one of just seven receivers in the league who had at least 500 yards receiving, averaged more than 15 yards per reception, and also scored at least seven touchdowns.
The Chiefs actually now have two of those seven players in Watkins and Hill.
"I'm the type of guy that I need to be challenged because in my mind everything is easy," Watkins added. "I realized it's definitely challenging when you're trying to learn every position and you've got to do it at the rate that the coaches here want you to do it at, and that's honestly been a blessing.
"I've never been with a coaching staff that literally watches and critiques your shoulder and what you're doing with it, and those are the types of things I've been applying in practice. And it really works. I do stuff now on the field that I'm not even conscious of or even thinking about, and then in film sessions, I'm like, 'Is that even me?'
"So, yeah, it's definitely helpful."
He's comfortable with his teammates. He's comfortable with this offense.
It's fair to say that it's been a great start for Watkins and the Chiefs.