It's done. The best football player in the world will stay in Kansas City for the foreseeable future.
The news of Patrick Mahomes' historic contract extension hit the internet Monday morning and social media caught fire, and for good reason.
It wasn't a surprise that it happened – nobody thought it wouldn't eventually, but the deal still raised plenty of eyebrows all across the country, and for multiple reasons.
The guy with the best start of any player in NFL history – the NFL MVP Award in his first year as a starter, and then a Super Bowl MVP following three-straight playoff comeback wins of double-digits in his follow-up campaign, was always going to be the highest paid player in football.
It's the nature of the position and his resume to this point. But the details – mainly the length of 12 years he's now under contract – means the professional career and continued story of the best football player any of us have ever seen (to this point) will forever be a Chiefs' story - a Kansas City story.
It means the kind of moments we've all experienced over the last two years have just begun. The crazy throws, the electrifying runs and improbable comebacks, are just getting started.
Kids who can't read right now will be driving cars when Mahomes' newest contract is up. Husbands and wives who haven't even met yet will get married and start a family before he could even possibly go to another team. And Mahomes' future Chiefs' teammates who will be a part of his 2030 Super Bowl run – to be watched by more than 100 million people – aren't barely teenagers and haven't yet played in front of even 1,000 people.
In addition to that, Mahomes didn't just sign the largest contract for a football player of all-time, he signed the biggest contract for any athlete, ever – surpassing the Los Angeles Angels' outfielder Mike Trout's mega-contract signed last year.
It's the same word – dynasty – that players like Travis Kelce, Frank Clark and Tyreek Hill were using on the field and in the locker room following the Super Bowl victory down in Miami a few months ago.
No team has won back-to-back Super Bowls since the 2004-05 New England Patriots, and no team has ever won three Super Bowls in a row. In fact, the prop bets have already begun on the over/under on number of titles the Chiefs will win between now and the end of this contract.
This contract, which Mahomes made sure would be structured in a way that his teammates can still get paid and talent can still be added around him, will be talked about forever. It's history-making.
If you're a college kid wanting to be a sports agent, you're going to learn about what Mahomes' representatives - Chris Cabott, Leigh Steinberg and the folks at Steinberg Sports and Entertainment – were able to pull off.
A football player is the highest paid athlete in the world for the first time, ever. They negotiated the biggest deal anyone has ever seen, and everyone came out looking good.
You'll also learn about what Brett Veach, Brandt Tilis, Chris Shea and company were able to do on the Chiefs' side. It's the longest deal in football history. It's the biggest deal in football history, and from all accounts by those familiar with contracts, salary caps and future business planning, the deal is a win-win for both parties.
Neither side comes out looking selfish or bad—something Veach noted in his media availability is unique considering the size and impact of the deal.
Veach shared the story of Tilis coming down to his office last Spring, not long after Trout's deal with the Angels was signed and said that Mahomes "was going to get a baseball contract."
He did, and current and former players across the league have been united in saying, "He's worth every penny."
It took years to negotiate this deal, and the price kept going up with each touchdown and comeback win—something Veach said they all laughed about over the past couple of years, but now it's done, and the Chiefs say they have flexibility to win in the present, and the future.
This was a "legacy-deal, not a cash deal," Veach noted.
But one of the underrated storylines of this contract is also the validation it gives Mahomes for a decision he made years ago as a teenager – giving up the guarantee of more than a million dollars to pursue professional baseball right out of high school.
Mahomes had that opportunity, but he wanted to chance to continue his passion of playing football in college at Texas Tech and so he passed it up. He bet big on himself in a way that a lot of others might not have, and he was rewarded for it.
Less than six years later and only five as a "full-time football player," Mahomes surpassed that financial mark by more than 500X's and doesn't seem fazed by any of it.
Before Mahomes, the Chiefs hadn't drafted a quarterback that started and actually won a game for them in more than three decades. They had never drafted a quarterback who won a playoff game for them.
It was a thing. It was discussed every year around the draft.
"Would the Chiefs draft a quarterback in the first round for the first time since 1983?
Well, they did, and it was worth the wait.
In his two years as a starter, Mahomes has started five postseason games – going 4-1 while scoring 16 touchdowns and tossing just two interceptions—just to hit the tip of his long and distinguished resume—at 24 years old.
The record books will keep being written by the reigning Super Bowl MVP and current face of the NFL.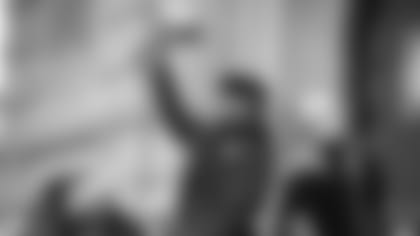 There's another big reason this move just hits differently for Chiefs' fans. They've had to endure some of the worst playoff losses and off-the-field tragedies of any fan base in the entire league over the past few decades. They deserve this time.
From Joe Delaney and Derrick Thomas, to the no-punt game, missed field goals, phantom hits to the quarterback's head and the most-sudden "forward progress" call in football history, any many, many more, through it all, this fan base has remained loyal.
They show up to games – not to watch, but to participate – and created an atmosphere that's praised by outsiders who pop in to visit Arrowhead Stadium to see what the fuss is all about. They quickly learn and the mystique carries on.
But now, that same stadium - born of a defensive identity led by the tenacity of No. 58 coming off the edge – will continue to echo the cheers and shouts of disbelief in watching another player born of special skill and character, and another one they can call their own.
Patrick Mahomes is the best player in football. He loves being a Chief and absolutely loves being a part of this community—something he mentioned multiple times as to why he signed a deal that would keep him in town for the next 12 years.
He's chasing a dynasty, and we get to witness the journey—something we should never take for granted, because after all, we know better than most how rare this really is.