From an entirely new coaching staff to an abundance of fresh faces on the field, there have been plenty of changes on defense this offseason for the Kansas Chiefs.
That includes the hiring of new Defensive Coordinator Steve Spagnuolo and the acquisition of top-tier talents such as safety Tyrann Mathieu and defensive end Frank Clark – completely reshaping the unit headed into 2019 – and as the second week of Organized Team Activities (OTAs) wrapped up on Thursday, Spagnuolo's focus is clear.
It's all about the basics.
"What I really look for right now is building a foundation. I've talked extensively with the guys about that. It's been all about building a foundation of fundamentals, communication and believing in the system," Spagnuolo said. "I've talked extensively about mastering the things that take very little talent. It doesn't take a lot of talent to communicate or get aligned. We need to take care of those little things now, otherwise it creates holes, and then you have a problem. That's what I'm focused on right now."
Spagnuolo has been at this for 36 years, coaching in the college ranks before breaking into the NFL under Chiefs' Head Coach Andy Reid with Philadelphia back in 1999. He's led a Super Bowl-champion defense – knocking off the 18-1 New England Patriots in 2007 as the defensive coordinator for the New York Giants – and has been a head coach himself.
The guy has been around the block, and his hands-on coaching style has been on full display during OTAs. Spagnuolo has been right in the middle of drills, even lining up at quarterback when the situation calls for an opposing signal caller.
"I do that mostly to keep the drill going. Typically, if I snap the ball and get ready to go fast, they'll go fast," Spagnuolo said. "Those particular periods in practice are all mental, and I'm just looking to see how fast they can think. If I can keep it going fast, they'll think a little faster, and hopefully, that will carry over to the game."
His style has also been evident when mistakes are made, vying for a one-on-one approach with the player in question.
"We function differently throughout a practice – I don't always do that – but I think if you have a teaching moment - when somebody makes a mistake and you have an opportunity to teach them something - I just think it sinks in a little bit more if it's one-on-one," Spagnuolo explained. "You're not trying to yell over the music or from far away, so I've just kind of always done it like that."
It has been moments like those – coupled with the significant energy being channeled by the slew of new defensive assistants patrolling the various drills in practice – that have impressed the likes of Clark, who racked up 13.0 sacks for the Seattle Seahawks last season.
"I feel like they want to win," Clark said last week. "The leadership and the coaches, the mindset is just winning and competition and getting better. I feel like those are steps to where you want to become as a franchise and, specifically, on defense."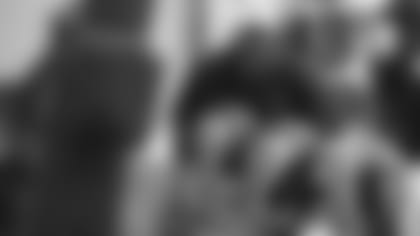 Of course, having the likes of Clark and Mathieu – two playmakers known for their enthusiasm – certainly helps, as well.
"The first thing that sticks out with those two guys is that they're elite competitors…they're both 100 miles per hour when they practice. I see them finish, I see them taking a lot of pride in what they do, and I see them picking up other guys. Those are all examples of leaders," Spagnuolo said. "They're team guys, they're leaders and they have all the intangibles."
Those intangibles are just as critical this time of year as they are on game day, as Spagnuolo tries to establish a culture on defense here in his first season with the Chiefs. That process is fluid, and when asked what he expects from this group when the games begin to count in September, his answer was simple enough.
"I could throw out all the superlatives, and I'd like to be all of those, but I'm not going to label [the defense] right now," Spagnuolo said. "This is where we're at and I don't get too far forward. We need to build a rock-solid foundation now, or those superlatives won't mean anything."