It's the calm before the storm. 
The Kansas City Chiefs finished up their offseason program last week, and now the coaches, players, and support staff will all take a step back over the next month to relax before they report to training camp on the campus of Missouri Western State University in late-July.
The rookies, quarterbacks, and select players coming off injury will report to camp on Sunday, July 22, with the rest of the veterans reporting on Wednesday, July 25.
The first camp practice that's open to the public will be Thursday, July 26 at 3:30 p.m. CT.
Following last week's mandatory minicamp, Chiefs' coach Andy Reid said he was proud of the work his team did this offseason.
"We had great attendance and the effort was great," Reid noted. "They get a few weeks off here. It's important that they continue to condition and ramp it up for training camp, but I think we've got the right kind of guys to do that."
Here are 10 things we learned during the Chiefs' offseason program:
1. Several key Chiefs returned to the field
Veteran safety Eric Berry, receiver Chris Conley, linebacker Dee Ford, and running back Spencer Ware are all players who finished last season on injured reserve, and each of them participated in some capacity during the Chiefs' offseason workouts.
It's a great sign for four players who could figure to have integral parts of the Chiefs' success in 2018.
Berry and Conley did some of the 11-on-11 team drills, which is normally a sign that the players are fully back and ready to go.
Ford, who Reid said should be good to go by training camp, did the individual portions of practice but didn't participate in any of the team work, and Ware just started doing some individual work during last week's minicamp.
There were also a couple of players who didn't participate in any of the offseason practices as they work their way back from injury. They were receiver De'Anthony Thomas and offensive lineman Mitch Morse.
Reid said Thomas is making progress but still can't do much, and that Morse recently had a screw removed from his ankle but is also making progress.
Running back Kareem Hunt was held out of minicamp with a hamstring issue, but Reid said it's nothing to worry about and that he'll be ready to go by camp.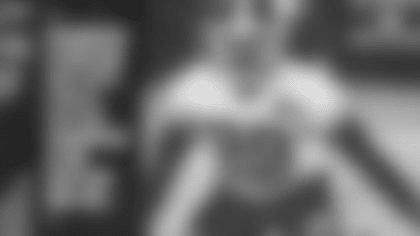 2. There are a lot of new faces on the defense
If there was one thing that stood out about the Chiefs' defense this offseason is that many of the guys running around weren't there at the end of last season.
It's an entirely new look, and that's intriguing.
In the backfield, Berry returns off the injury and there were the offseason additions of cornerbacks Kendall Fuller and David Amerson, who will both be counted upon to help lead this defense.
Fuller came over in the trade with the Washington Redskins for quarterback Alex Smith, and Amerson was signed as a free agent after spending the last couple of years with the Oakland Raiders.
And in the front seven, the Chiefs went out and signed coveted free agent linebacker Anthony Hitchens and defensive lineman Xavier Williams, who should both make an immediate impact for the Chiefs defense, particularly against the run. That's what they're both known for as players.
And the Chiefs' first selection in this year's draft, versatile edge rusher Breeland Speaks out of Ole Miss, should find his way into the mix sooner rather than later as well.
That's a total of six new guys to a defense that can only have 11 on the field at any given time. That also doesn't include rookies like safety Armani Watts, defensive lineman Derrick Nnadi, and linebacker Dorian O'Daniel.
In any case, it's going to be an entirely new look on defense for the Chiefs next season.
3. They're adjusting to new kickoff rule
Last month at the NFL spring meetings in Atlanta, the league adopted a few new rule changes that will have significant effects on the games this fall, and one of the changes affects the kickoff coverage and return units.
The most noticeable difference will be that the coverage unit players cannot begin running until the ball is kicked.
"It's going to change things up a bit," Chiefs' Special Teams Coordinator and Assistant Head Coach Dave Toub explained. "I think, at the end of the day, there are going to be more returns because the returner is going to feel a lot more space back there. When he catches the ball, the coverage won't be on him immediately. Guys are going to want to take their option as returning them."
Toub has long been considered one of the best special teams' coaches in the game, and rule changes like this will only put his abilities more info focus, which for the Chiefs, is a good thing.
"[Toub] has done a good job," fullback and special teams' ace Anthony Sherman said. "He was ahead of the game and he had us prepared before the rule changes were made. It's going to be like a punt return—wide open out in space, see if you can get out and run by dudes."
Toub said Tyreek Hill would once-again return punts but added that the kick return job is currently up for grabs, which makes it something to watch for during camp. He also didn't rule out the possibility of Hill taking on that responsibility again either.
4. Patrick Mahomes is looking and acting the part of an NFL quarterback
With all the optimism surrounding the natural playmaking ability of second-year quarterback Patrick Mahomes, it could easily get lost in the conversation that he's still got just one career start under his belt and he plays the hardest and most-demanding position in all of sports.
But he has a lot of things going for him as well.
Mahomes had a year-long internship with a pro's pro in veteran Alex Smith, he grew up around professional athletes as his father played Major League Baseball for 11 years, and he's working with a head coach who has had success working with young and talented quarterbacks in the past.
Plus, he's got some elite offensive weapons around him, including a fantastic running game and a veteran offensive line.
And perhaps most importantly, Mahomes' teammates have lauded his leadership this offseason—organizing throwing sessions at local high school fields and commanding the huddle each day with confidence and conviction.
He even impressed his head coach, who was trying to challenge him during OTAs and minicamp by throwing a lot of defensive looks at him.
"We wanted to come in and make sure we challenged him," Reid explained of Mahomes. "I thought he handled that very well. One of the big things for young kids is just the blitz game, so we put a big emphasis on that and tried to give him a lot of different looks there.
"(Chiefs' Defensive Coordinator) Bob [Sutton] can do that. He's got a pretty good package with blitzes. I thought [Mahomes] handled that very well, even better than I expected."
5. Eric Berry likes what he's seen so far from the Chiefs' defense
When Eric Berry speaks, people stop and listen, and his words are taken to heart.
So, when asked about the moves made this offseason by Chiefs' general manager Brett Veach, who has routinely spoken of adding defensive guys with a certain attitude or an edge to their game, Berry was adamantly on board.
"My defensive backs' coach is Emmitt Thomas, and he played in some of the greatest games that were ever played here," Berry explained of Thomas—the Pro Football Hall of Fame defensive backs' coach and Chiefs' legend who still holds the franchise record for most career interceptions with 58.
"So, there's a lot of history—a lot of tradition," he added. "He was on a great defense and he tells me about his teammates, and he had some tough cats on his teams back then. He was just talking about that edge about the guys they brought in (this offseason), and we can't really compare ourselves to the guys back then, but that edge you see when you watch those old highlights of the Chiefs, I think some of these guys have that."
6. Splitting the linebacker coaching duties into two should help
The Chiefs changed up the structure of their defensive coaching staff a little bit this offseason—breaking the linebackers room into two with two different coaches.
In the past under longtime assistant Gary Gibbs, who won't return this season, the Chiefs' linebackers all worked together under one coach.
Now, the Chiefs have both an inside linebackers coach in Mark DeLeone, and also an outside linebackers coach in Mike Smith. Both coaches came up in the league under defensive coordinator Bob Sutton, who worked with each of them before joining the Chiefs when they were all with the New York Jets together.
The change means more individualized attention, position-specific drills, and more efficient meetings.
"I think it's great just to have an outside linebackers coach," veteran Justin Houston explained. "There's so much we get to do now just focusing on ourselves and the little things we need to work on. I think last year, we had a lot going on—you had to coach a lot of guys, both inside and out. It's hard to do that in the little bit of time we had.
"Now you have a separate coach, so we can just focus on one thing."
The early returns on the decision to split them up have been fantastic from both sides.
"He's very smart," inside linebacker Reggie Ragland explained of DeLeone. "He understands us and he's relatable. Off the field, he's funny and likes to joke around with us. On the field, he's serious and he knows his stuff. As a coach, I respect that. He knows when to turn it on and off."
7. Sammy Watkins is fitting in nicely
There hasn't been a shortage of discussion this offseason surrounding the potential ceiling of the Chiefs' offense, which features an All-Pro tight end in Travis Kelce, the league's reigning rushing champion in Hunt, and the league's most dynamic playmaker in Hill, and a plethora of other playmakers as well.
And one of those "other" playmakers is Sammy Watkins—the coveted free agent receiver who is the only receiver in the NFL since 2014 to average at least 15 yards-per-catch and score at least 25 touchdowns, and he's quickly getting comfortable with his teammates, and this offense.
Conley recently said Watkins is picking up the offense "as fast as anyone I've seen," and cornerback Steve Nelson said he saw Watkins at the facility over a weekend working out on his own—just putting in some extra time.
"When you sign a big contract—some guys can look at you different, but these guys welcomed me in," Watkins explained of joining the Chiefs. "I'm naturally—not shy, but a quiet guy, reserved, and I can actually joke around and have fun with these guys.
"I've actually opened up now more than I have in the past. I have fun with these guys."
Watkins is having fun in this offense, too.
"It's fun for me because I've never been able to learn slot routes and stuff like that—not because I couldn't, but I just didn't have an offense that was available to move me around to different places," he added. "It's been fun and I can actually visualize the offense and where it's going, and it's going to be something else."
"The first day was crazy," Mahomes explained of what Watkins has shown. "The first pass in OTAs he was running a go route and caught it in one hand. And then later on in practice, I thought I overthrew him for an interception, but I just saw a hand come out of nowhere and he brought it down.
"He's someone that's going to help this offense tremendously, and you really respect guys who have that much talent but really get after it every single day."
8. Laurent Duvernay-Tardif is now officially a doctor
It's a story that's been well-documented ever since Laurent Duvernay-Tardif first joined the Chiefs as one of their sixth-round picks back in the 2014 NFL Draft out of McGill University in Canada.
He was in med school studying to become a doctor—balancing those responsibilities along with playing football at the highest level in the world.
"It was such a great feeling to be back home with family and friends and get that M.D. that I was waiting for for the past four years," Duvernay-Tardif explained. "When I got drafted in 2014, it was a promise that I made to myself that I was going to keep grinding and keep pushing to combine my two passions at the highest level and show people it was possible.
"With the help of Coach Reid and the Faculty of Medicine from McGill, it was possible to do it."
9. Cam Erving appreciative of the opportunity
With veteran Mitch Morse missing all of the offseason workouts as he works his way back from a foot injury that cost him most of last season, the next man up for the Chiefs at center is former Cleveland Browns' first-round pick Cam Erving, who Veach traded for at the end of the preseason last year.
Erving made four starts last year for the Chiefs—three at right guard and one at left tackle in Week 17 against the Denver Broncos. The fourth-year pro has started at least one game at every position along the offensive line in his career, and he's looking to take advantage of his opportunity this year.
"I think he's done a heck of a job," Reid said of Erving early in OTAs. "That's a tough position. He's got a lot of responsibility as a transmitter between the right and the left side and making sure the protections are right and so on. He's done a good job with that."
Erving said he feels more comfortable in this offense now that he's had a year to learn the nuances of what's being asked of him, adding it was difficult to step in a week before the season began and learn a complex offense under an offensive-line-minded head coach like Reid.
"I learned a lot over the season from the coaches and the players, and this offseason has been going really well with just learning everything in detail and going through all of the installs with the guys," Erving said. "And (Chiefs' offensive line coach Andy Heck) makes things simple. He does a good job working with each guy and knowing how each guy—on and off the field. He can connect with each guy on a different level. He knows how to affect each guy.
"He's definitely the best offensive line coach I've had since I've been in the NFL."
10. Steve Nelson is ready to earn his respect
If there's one player on the Chiefs' roster that's ready for his opportunity next season more than another, it's fourth-year cornerback Steve Nelson. He's the only returning contributor at cornerback after several others left via trade, free agency, or were outright released.
"It fueled me because they believed in me," Nelson explained of the offseason moves and his mindset. "I plan on having one of the biggest years of my career—not only competing with myself but other guys around the league. It's a big year for me. I've just always been doubted and slept on. I haven't been giving anything, so every year I have something to prove.
"I have to work hard no matter what, that's just my nature."
The fact that Nelson, who is just 25 years old, is now the veteran and leader in that cornerbacks' room with the most experience in this defense is one that he embraces, and one that his teammates understand.
"Intensity and accountability," veteran All-Pro safety Eric Berry, who added Nelson 'never' gets the credit he deserves, explained of the only cornerback currently on the Chiefs' roster who was drafted by the team and has played in an NFL game. "What he brings to the practice field and workouts, it's crazy. He gets feisty. I call him, 'Little Scrappy.' He's a scrappy little dude. He can get intense.
"He demands the best out of himself and the best out of his teammates. I think that's cool."