The Chiefs Cheerleaders returned from their calendar trip last week and just finished their poster shoot over the weekend at Arrowhead Stadium. The 33 ladies arrived at 7a.m. for an all day photo shoot on Saturday, including individual shots, a group shot, cheer group shots and a shoot with all the captains.
"Poster shoot is a long and tedious process," Stephanie Judah, Chiefs Cheerleader Director, explained. "You can't rush and you need to make sure you get the best shot of each girl. It's fun, but takes a lot of work. Thankfully, we have a huge team to help make this day run smoothly. From our amazing photographer, to Beauty Brands styling hair and doing make-up, to Alumni Cheerleaders helping and guiding poses and positions, it takes all of us to create this amazing piece of history."
The Chiefs Cheerleader posters are used throughout the year. The girls bring these posters on appearances, to community events, on game days or on military tours; they autograph each one and distribute them to the Chiefs Kingdom.
To kickoff the day, each girl took a headshot and a full body shot in the Chiefs Cheerleader uniform and for some, this was when a dream became a reality.
"Poster shoot is a very exciting time for all of our Cheerleaders," Judah noted. "It is when the rookies put on that uniform and realize their dreams have come true. For veterans, it is that moment of excitement to be part of history for another year. It is so special to watch all of them come together and become the 2014 team. It is truly a special moment."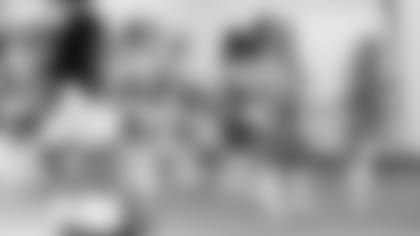 During the poster shoot, it is a chance for the veterans to work closely with the rookies and is the first time they are all able to wear the Chiefs Cheerleader uniform.
"Poster shoot is the moment when it all hits you and you realize that we are the current team, we are the 2014 squad," Krissy, Chiefs Cheerleader Captain, explained. "For the rookies, poster shoot is their 'pinch me, I really made the squad' moment and as a veteran, I love seeing the rookies blossom and their eyes twinkle with excitement. We take so much pride in these posters and it's an incredible experience with the team."
Following individual shots is the group shot, which includes all 33 ladies and takes much longer than you would think.
"Most people don't realize how much goes into shooting that group photo," Summer, Chiefs Cheerleader Captain, said. "Every detail has to be perfect, including the spacing of the formation, angles of the bodies, uniforms laying the right way, hair and makeup and more. Having 33 people take a great photo all at once is not an easy task, but we want to give this organization the representation that it deserves and we always end up getting an incredible shot."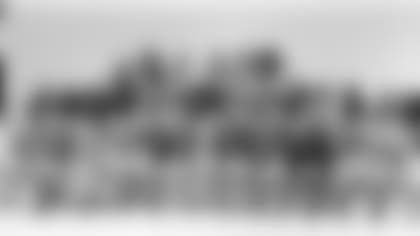 There is also the captain photo shoot; these photos will appear on the back of the poster, while the group shot is on the front. The girls also pose with their cheer groups and to end the day, they have their individual athletic shots.
"The last shoot of the day is our rendition of 'Sporty Chick'," Krissy said. "It's our opportunity to show our fashion personalities with a sporty twist and is probably the shot that the girls enjoy the most. I love watching the ladies during these individual shots; I feel I learn so much about their personalities and fashion taste and we all have a lot of fun with these shots."
It was a long day and a lot of hard work but the girl's love seeing the final product and being able to hand out those poster to Chiefs fans around the world.
"These posters become a piece of history that lives on forever," Judah noted. "This 2014 squad did a phenomenal job. I truly appreciate everyone's hard work and can't wait to see the finished product."