A photograph can be powerful.
It has the ability to capture the raw emotion of a singular moment – whether that be the thrill of a Super Bowl victory or a fan simply experiencing their first game at Arrowhead Stadium.
We're exploring some of those moments from the 2019 season over the next several weeks along with commentary from Chiefs' photographer Steve Sanders.
Sanders hand selected each of the photos we'll feature in this series as his personal favorites, covering everything from the dramatic to the hilarious.
We'll continue with No. 10.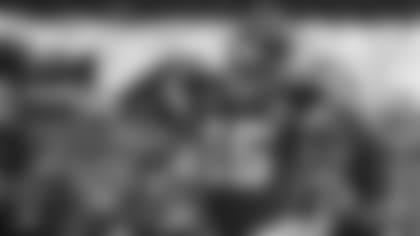 Game: AFC Championship Game, Chiefs vs. Titans
The Subject: Chiefs' quarterback Patrick Mahomes flexes in the end zone following an incredible, 27-yard touchdown run to put Kansas City in front.
Camera Model: Canon EOS-1D X
Q: What do you recall about this moment?
Sanders: "This was in the AFC Championship Game after Patrick made one of the most amazing plays of the season league-wide. It was a run down the sideline where he fought off getting knocked out of bounds, tip-toed the sideline and ran it in for a touchdown. I think he made six or seven defenders miss. The run showed the confidence, the strength and the will that he has to help this team win. It really solidified our momentum and got the whole stadium fired up to win that game. It was a big play."
Q: While this isn't a photo of the actual play itself, how can it be just as powerful?
Sanders: "We have pictures of the run, but this one just really shows Patrick's personality. The flex is his thing and it just sells more of him than the pictures of the run. The play looks great on video, but it may not be as impactful in a still frame when compared to something like this."