A photograph can be powerful.
It has the ability to capture the raw emotion of a singular moment – whether that be the thrill of a Super Bowl victory or a fan simply experiencing their first game at Arrowhead Stadium.
We're going to explore some of those moments from the 2019 season over the next several weeks along with commentary from Chiefs' photographer Steve Sanders.
Sanders hand selected each of the photos we'll feature in this series as his personal favorites, covering everything from the dramatic to the hilarious.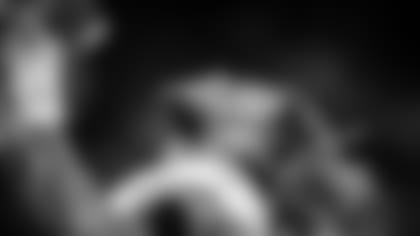 The Subject: Chiefs' safety Tyrann Mathieu throws back his hair as he puts on his helmet.
Camera Model: Canon EOS-1D X Mark II
Q: What do you love about this photo?
Sanders: "This is one of my favorite portraits from the whole year. It worked out well to be put into black and white just because of the texture I thought this had with the tattoos on his arm and his hair. This photo just had a lot of feeling. His eyes were closed and he's just really preparing for the game. He's looking up, collecting his thoughts and I thought it had a lot of emotion to it. I thought it played well in black and white to bring out more of that depth and texture."
Q: Tell us more about utilizing black and white here, what can that technique do for a photo?
Sanders: "By choosing to put it in black and white, it just really enhances the detail and the emotion that the photograph brings. You can't use it every time, but with the right photograph, it can really strengthen the photo."