A photograph can be powerful.
It has the ability to capture the raw emotion of a singular moment – whether that be the thrill of a Super Bowl victory or a fan simply experiencing their first game at Arrowhead Stadium.
We're exploring some of those moments from the 2019 season over the next several weeks along with commentary from Chiefs' photographer Steve Sanders.
Sanders hand selected each of the photos we'll feature in this series as his personal favorites, covering everything from the dramatic to the hilarious.
Here's a look at what we've covered so far: No. 12
We'll continue with No. 11.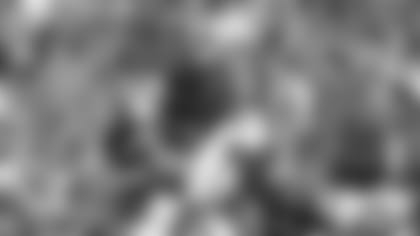 The Subject: Chiefs' wide receiver Tyreek Hill makes an incredible leaping catch between two defenders for a touchdown.
Camera Model: Canon EOS-1D X Mark II
Q: What do you recall about this moment?
Sanders: "What I remember about this play is that Patrick [Mahomes] was on the run, he made a big throw over the middle of the field and Tyreek just went up and got it. Then, when he came down, he got away from both of those defenders for a touchdown. It was a big play and really set the tone. It was just a great play, and this is one of my favorite action photos of the year because of the way Tyreek went up to get the ball. Most players wouldn't have made this catch, but he made it happen."
Q: How did you capture this?
Sanders: "The longer passes give you a better opportunity of getting a great shot of the catch just because you can track the ball and have an idea of where it's going. I was on Patrick, but once I saw his shoulder shift to a longer angle, I could tell it was going to be a long pass. I tracked the ball and looked away from the camera for a moment to see who the target was, then I put the camera on Tyreek and set things up. I was looking up from the ground, which made for a better background because it was all crowd, and I think this was right at the peak moment of him snagging that ball out from the defensive back."