A photograph can be powerful. It possesses the ability to capture the raw emotion of a singular moment through an otherwise fleeting snippet of time, whether that be the thrill of a postseason victory or a fan simply experiencing their first Chiefs' game.
We began to explore several of those moments a few weeks ago and will continue to do so moving forward along with commentary from Chiefs' team photographer Steve Sanders, who has been on the job for 12 years. Sanders hand-selected each of the eight photos featured in this series as his personal favorites, picking a variety of images from the 2020 campaign.
We'll continue with No. 6: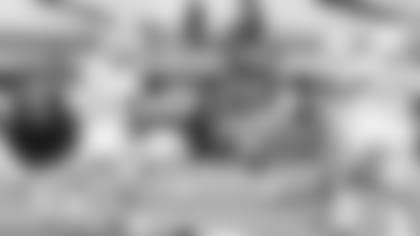 Game: Week 2 at Los Angeles
The Subject: Quarterback Patrick Mahomes finds wide receiver Mecole Hardman for an acrobatic, game-tying two-point conversion.
Camera Model: Canon EOS-1D X Mark II
Q: What was going on in this moment?
Sanders: "This was the two-point conversion play that tied up our Week 2 matchup with the Chargers, and this was one of those shots that you get and you don't even realize you have it until you go back through," Sanders said. "Think about what Patrick had to recognize for this play to happen – it's amazing - and he's making a hook-shot, which is what I titled this one. He's firing that ball into the perfect spot for Mecole. The window opened, and you can see Patrick with that crazy form making the play happen. He just shot a bullet in there."
Q: How exciting was it to look down at your camera and realize that you got this shot?
Sanders: "It was awesome. You look down and just think, 'Wow, what just happened?' You want to roll back through the pictures just to see the play, then you watch the video up on the big board, but I think I had the best angle of everybody," Sanders said. "Nobody else had a picture like this – it's totally unique."
Q: What are some of your favorite details in this photo?
Sanders: "I really like how the turf is coming up with Patrick trying to slow down," Sanders said. "He's faking out the defender who's already jumped, the defensive linemen are kind of just watching the play, and then you have the corner who's anticipating Patrick to roll. You can see the whole motion of the picture is going left – they all think he's rolling - but he finds a way to stop and fire it in."