A photograph can be powerful. It possesses the ability to capture the raw emotion of a singular moment through an otherwise fleeting snippet of time, whether that be the thrill of a postseason victory or a fan simply experiencing their first Chiefs' game.
We began to explore several of those moments last week and will continue to do so moving forward along with commentary from Chiefs' team photographer Steve Sanders, who has been on the job for 12 years. Sanders hand-selected each of the eight photos featured in this series as his personal favorites, picking a variety of images from the 2020 campaign.
We'll continue with No. 7: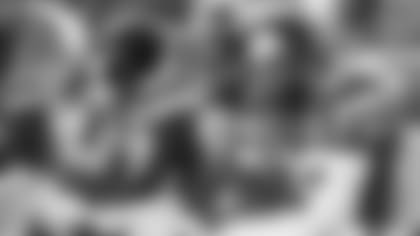 The Subject: Safety Tyrann Mathieu raises a fist for the camera prior to kickoff
Camera Model: Canon EOS-1D X Mark III
Q: What was going on in this moment?
Sanders: "This was right before the season kickoff game against the Texans. We were getting ready to start the season, so there were nerves and those kinds of things on the sideline, but Tyrann just looked at me and gave me a little bit of a cheer with that side eye look," Sanders said. "It just made a good picture. There's a lot going on in the background that I don't love, but I love the way that Tyrann looks – all the way down to the little logo on his glove."
Q: What does this photo say about Tyrann and his personality?
Sanders: "He's focused, but he also has a little bit of that 'honey badger' attitude," Sanders said. "He's ready to go."
Q: As the team photographer, how beneficial is it to have built relationships with the players so that when Tyrann looks over at you, he feels comfortable showing some personality?
Sanders: "It definitely helps. I want the guys to be themselves, and building those relationships helps that," Sanders said. "If they want to show you a little bit of their personality, it'll show through."