A photograph can be powerful. It possesses the ability to capture the raw emotion of a singular moment through an otherwise fleeting snippet of time, whether that be the thrill of a postseason victory or a fan simply experiencing their first Chiefs' game.
We're going to explore several of those moments over the next several weeks along with commentary from Chiefs' team photographer Steve Sanders, who has been on the job for 12 years. Sanders hand-selected each of the eight photos featured in this series as his personal favorites, picking a variety of images from the 2020 campaign.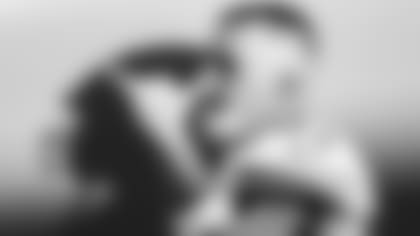 The Subject: Tight end Travis Kelce walks off the field following the Chiefs' victory over the Dolphins
Camera Model: Canon EOS-1D X Mark II
Q: Tell us what's happening in this photo and why you chose to include it in this collection?
Sanders: "This is a really unique picture because of the shadow. It's this portrait of Kelce walking off the field after the Miami game, and the light was amazing," Sanders explained. "So, this crazy shadow of a player in a helmet popped up behind him, and I'm still not even sure where the person who made the shadow was, but it was such a unique shot because it made it look like it was Kelce the person and Kelce the football player all together in one photo. I thought it was really unique, so I wanted to include it."
Q: Why did you decide to make it black and white?
Sanders: "It really enhanced the shadow. That wall back there is green, so it was pretty distracting," Sanders said. "By turning it black and white, it gave it more direction and focus."
Q: You mentioned how the shadow works as a metaphor to illustrate the two sides of Travis Kelce. How much fun is it to capture a photo like this that carries deeper meaning?
Sanders: "It just allows you to really dive into the picture and think about everything that's going on with Travis, the depth of the shadow and the details," Sanders said. "You can really see a lot of different things going on there."
Q: And you still don't know who cast the shadow?
Sanders: "It's still a mystery!"