More than 80 special guests congregated on the field at The University of Kansas Hospital Training Complex last Thursday night. There they were addressed by Chiefs Chairman and CEO Clark Hunt in celebration of the official launch of the 2014-2015 Community Report.
The Community Report is a 34-page book that summarizes the organization's impact throughout Chiefs Kingdom this past year.
The guests in attendance were made up of the more than 20 children featured in the journal, their families and representatives from various charitable groups.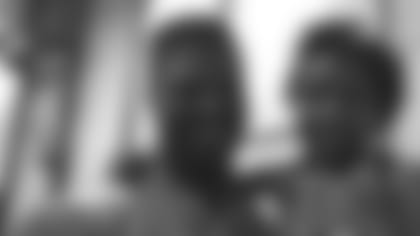 "I would really like to take this opportunity to share how excited we are to have you here," Hunt told the guests. "Thank you for your willingness to participate in our Community Report. We could not have put this publication together without your support and participation, and we hope that you enjoy receiving your copy of the Community Report.
"The work that you all do throughout our community is truly what makes Chiefs Kingdom such a special place."
10-year-old Vincent Houseman, who attended a training camp practice with a YMCA Challenger football team, participated in a helmet walk with Chiefs quarterback Alex Smith and is featured on the cover of this year's report.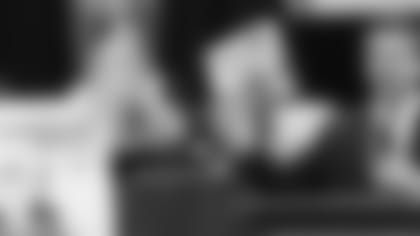 His mother and longtime season ticket member, Kim Maloney-Houseman, described Vincent's reaction to the night.
"It was phenomenal. He loved every minute of it," she said. "Walking into the training facility seeing his picture up there, he was in awe the rest of the night and people coming up to him asking 'Is that you on the book?'
"I mean he was ecstatic. He said, 'I'm a celebrity tonight mom.' He had a ball. It was great."
After Hunt spoke to the guests, they were treated to a tour of the locker room by Chiefs assistant equipment manager Kyle Crumbaugh, who then explained the equipment staff's role on a normal game day.
Following that presentation, Chiefs Ambassador LB Shawn Barber distributed a personal copy of the Community Report to each guest. They were then invited to join the rest of the fans in attendance for the Draft Day Party.