More than four dozen names stand watch above that hallowed grass, positioned forever to gaze upon generations to come. They represent triumph, glory, and the kind of euphoria that only a fourth quarter can capture through more than six decades of professional football.
It's the Ring of Honor – one of the greatest traditions that Chiefs Kingdom has to offer – and as the Chiefs take on the New York Giants, longtime center Tim Grunhard will have his name immortalized among the all-time greats in franchise lore.
This journey began way back in 1990, when a second-round pick from Notre Dame ventured out onto the Arrowhead Stadium grass for the very first time. Kansas City had just spent the No. 40 overall selection on Grunhard, and as he met some of his newest fans over lunch, Chiefs' General Manager Carl Peterson made him a promise.
"He pointed up at those names in the Ring of Honor and explained that they were the great players who were here before," Grunhard recalled. "He said, 'If you do things right and develop into the player we think you can be, you could have your name up there one day, too.'"
Grunhard certainly held up his end of the bargain, appearing in 169 games (164 starts) across 11 professional seasons – all with Kansas City. He started 120 straight games at one point – the fourth-longest streak in franchise history – as an anchor for the third-most winningest team in the NFL of the 1990s.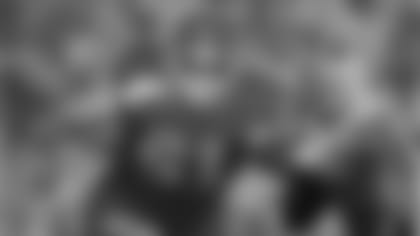 And – as fate nearly had it – this story almost never began.
"On Draft Day, I got a call from the San Francisco 49ers saying that they were going to take me with the last pick in the first round. I wasn't even close to a first-round projection, so we were thrilled," Grunhard recalled. "Well, as it turned out, their pick came up and they took Dexter Carter from Florida State instead."
San Francisco then called and informed Grunhard that he was still in their plans, as they didn't expect Carter to fall to them but still envisioned the former Notre Dame star blocking for 49ers' quarterback Joe Montana that season. If he was still on the board when the final pick of the second round came around, he would be their selection.
"I was still thrilled – I wasn't supposed to go until the fourth or fifth round," Grunhard explained. "Then, about 45 minutes later, the Kansas City Chiefs called."
Kansas City made the 49ers pay for their gamble by selecting Grunhard 13 spots ahead of his assumed landing spot. A whirlwind of a day ended with a ticket to America's Heartland to play for Chiefs' Head Coach Marty Schottenheimer.
"My head was spinning. I talked to Carl, Marty and [offensive line coach] Howard Mudd on the phone, then when I got off, I looked at my future wife, Sarah, and told her that I just got drafted by the Kansas City Chiefs," Grunhard said. "We looked at each other for a moment before asking ourselves, 'Where's Kansas City?'"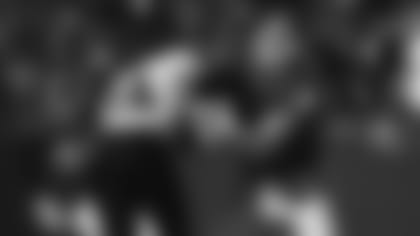 He found out soon enough, seeing action in Week 1 of his rookie year before starting for the first time in Week 3. Grunhard joined a locker room that featured stability and leadership, as veteran center and eventual Pro Football Hall of Famer Mike Webster brought Grunhard – 16 years his junior – under his wing from the moment he arrived in town. That was important, too, because Grunhard – while an All-American at Notre Dame – had never played a snap at center in college.
"Mike Webster was one of the top centers of all-time – he's in that conversation – and when we arrived in Kansas City, he was our mentor. He was the role model for what we wanted to be as players in the NFL," said fellow offensive lineman Dave Szott, who spent 11 seasons with the Chiefs from 1990-2000. "Mike would stay after practice and show us how to break down film, but he was also the guy who would invite us over to his house on Thanksgiving because we had nowhere to go. He was just instrumental in helping Tim develop both on and off the field."
Under Webster's guidance, the 22-year-old Grunhard went on to appear in 14 games that year, making nine starts and earning a spot on the All-Rookie Team following the campaign. His career was off to a strong start, but it was the conversation that he had after the season that took things to the next level.
"Marty sat me down for my end-of-season interview and explained that one of the things I had to be careful about was a sophomore slump. He said that he was going to be even harder on me moving forward because he thought I could do this job for a long, long time," Grunhard recalled. "That was so important to me. In this game, you must keep your focus, your hunger, and your intensity. It was just great advice."
And it worked in a big way. Grunhard started all 16 games during his second season and tallied 155 total starts over the next decade, missing a grand total of six games in that time. He was a fixture on an offensive line that blocked for legends such as Rich Gannon, Marcus Allen, Christian Okoye and even – after nearly joining forces in 1990 – Joe Montana.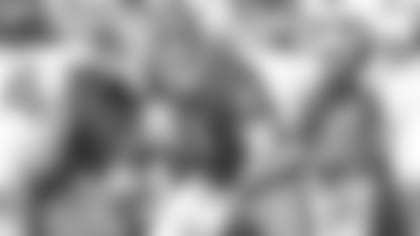 The Chiefs won 109 games in that span, trailing only San Francisco and Buffalo in the win column between 1990 and 2000, with Grunhard touching the football on nearly every offensive snap. In fact, from 1993 until midway through the 2000 campaign, the man they called "Grunny" didn't miss a start.
"It was a mindset. Unless something was really bothering me, I was going to practice, and it was going to take a lot to keep me out of a game," Grunhard said. "As an offensive lineman, it's five guys working as one, and all five guys have to be on the same page to have success. So, I just always thought that I had to be in there. I didn't want to let them down."
"It was a mantra that we had that started with Tim and permeated out to all of us," Szott added. "It really came down to his leadership and how much he valued the team's success, because in his heart, he knew that if he was at 80 percent, he was still better than the next guy. All of us took that mentality to heart."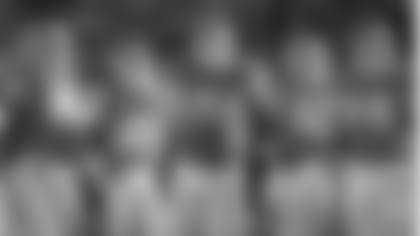 The relationship between Grunhard and Szott went beyond the field, too. The duo lived together for two years and roomed together on the road for the entirety of their collective time in Kansas City.
"We went through the trials and tribulations together. I leaned on him and he leaned on me," Grunhard said. "It was like Forrest Gump and Bubba."
One of those trials was just a few years into Grunhard's career, when the Chiefs traveled to Houston to take on the Oilers in the Divisional Round of the 1993-94 postseason. Kansas City had just rallied to defeat Pittsburgh in overtime the week prior, but the national media wasn't giving the Chiefs a chance against the highly-favored Oilers, who shutout Kansas City earlier that year.
"Everybody thought we were going to get beat," Grunhard said. "I remember being on my radio show, and it probably wasn't the smartest thing that I've ever done, but I made a prediction that we were going to win the game, and it made national news."
Grunhard went on to back up his prediction on the field, helping Kansas City to defeat Houston in the Astrodome and advance to the AFC Championship Game. It was one of seven postseason runs for the Chiefs during Grunhard's tenure, including six straight playoff appearances between 1990 and 1995.
Altogether, the trio of Grunhard, Szott and Pro Football Hall of Fame guard Will Shields formed the backbone for one of the top offenses in the NFL throughout that time, but even after his retirement following the 2000 campaign, Grunhard wasn't done with Kansas City.
"Lamar Hunt and the Chiefs gave me an opportunity to come play the game that I love. They gave me an opportunity to make a living in Kansas City, and when I was done, it was time to pay them back," Grunhard explained. "I had so much support from the fans throughout my career, so I figured that when I was done, it was my turn to support them."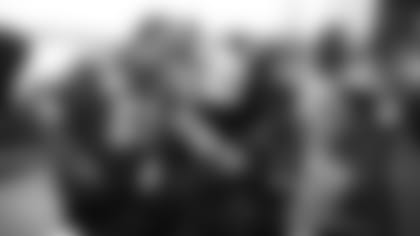 He did just that and is still doing so today as an active member of the Kansas City Ambassadors, which is a collection of former players who remain active in the Kansas City community through various charitable endeavors. Grunhard even served as the group's president for two years from 2019-20.
"It's something that's in his heart – it's how he's wired," Szott said. "I think he understands how blessed he was to have played this game as long as he did, and this is his way of giving back. The community there in Kansas City is a very special place, and this is his way of showing his gratitude to those who helped and supported him through all these years."
It's a continuation of a career that's spanned three decades representing the red and gold - whether that be on the field or at a local hospital seeing a patient in need of a visit – and it's ultimately why Grunhard's name will officially join the Ring of Honor sometime during the 2021 season. He'll stand on the grass where he once played, many of his teammates by his side, as the covering concealing this long-awaited honor will be pulled away.
It's impossible to capture the emotions Grunhard will feel in that moment, but he's certain of the thoughts that will be running through his mind. He'll think of those who we've lost – legends like Lamar Hunt, Derrick Thomas, and Marty Schottenheimer. He'll think of the players and coaches who helped him grow not only as a player, but as a man. He'll reflect on the greats who came before him and who laid the foundation for his success.
And he'll think about that conversation he had all those years ago.
"I'll be thinking about what Carl told me when I first got to Kansas City," Grunhard said. "Well, it happened."