When I got to Kansas City in 1963, it was difficult for me to buy a house in a nice neighborhood. I looked at something like 250 houses before I got one – they kept turning me down. I couldn't even eat in some restaurants because they refused to serve me.
That's what life was like. A lot of people nowadays don't understand that because the folks who lived through it are old or have passed away, but if you don't keep up with the history of it, it'll go away. People will forget.
Well, I'm here to talk about it. That's all I ask people to do. If we communicate with each other, life will be better for everyone. It's just like a football team, and a great example of that is how our team – the Kansas City Chiefs – helped start the conversation back in the early days that nobody wanted to have.
First, though, let me tell you a little bit about Bobby Bell.
I played high school football in North Carolina, which was segregated. We played six-man football at my school because we didn't have enough kids for 11-man. I worked at a golf course in town, but I wasn't allowed to play there. I rode in the back of the bus and had to use a certain water fountain. I couldn't even attend the University of North Carolina or Duke because they didn't allow black football players.
Where I grew up – a town called Shelby – you got your high school diploma, found a job, got married and had kids. That was it. It was my dad who told me that if I wanted to see the world, I needed to get out of Shelby as fast as I could.
So, I did. I went to the University of Minnesota, where I played against and with white kids for the first time in my life. I played quarterback, defensive end, offensive tackle, and center. I was an All-American and finished third in Heisman Trophy voting, but when I left college, I didn't think I was going to have the opportunity to play in the NFL. That's just what everybody told me. Even when the Minnesota Vikings drafted me in the second round and the Kansas City Chiefs of the AFL picked me in the seventh round, people still told me that I wasn't going to be able to play because there just weren't many black players at the time.
That's when I met Lamar Hunt, who visited me at the University of Minnesota. I didn't talk to the coaches or the scouts – just Lamar – and these were his words: "Bobby, I'd like for you to be a part of my family." That's how Lamar approached everybody. He wanted me to be a part of his family, and that's what he meant.
As time went on, he kept asking me what it was going to take for me to sign with the Chiefs. At the same time, the Vikings offered me a contract, but they wouldn't guarantee it. Lamar ended up giving me a big contract and he guaranteed it.
Lamar didn't care what color you were. He was recruiting black athletes from universities like Grambling, Prairie View A&M and Morgan State – historically black colleges. There were some great players out there. Willie Lanier came in from Morgan State. Emmitt Thomas came in from Bishop College.
If you asked the guys at those schools, they'd tell you that they wanted to play for the Kansas City Chiefs. Why? Because they had black players. That's what it was all about. We had six, seven, eight guys on defense who were black. On offense, we had guys like Otis Taylor and Mike Garrett. The NFL was sitting there wondering where we were getting these players, and they soon realized that we were getting them from historically black universities. At that time, they had never recruited from places like that.
I tell people all the time that the best thing that ever happened to professional football was that Lamar Hunt started the AFL. The NFL would not be where it is today if it hadn't been for Lamar because he gave black players from historically black universities an opportunity to play the game. The organization was about family, and you were treated like family no matter who you were.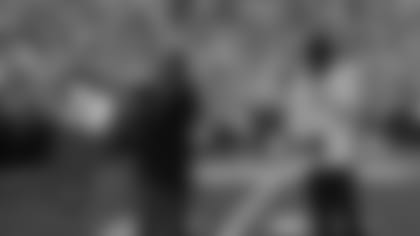 We wanted to win, too, and in order to win, we had to be a team. One guy can't win by himself. It takes more than one guy to win this game. It's like kicking a field goal. In order for that ball to go through the uprights, my snap had to be on the money, Lenny Dawson had to hold that ball in the right place, and Jan Stenerud had to kick the ball just right. As a team, we each ended up in the Pro Football Hall of Fame.
We helped each other, and if one guy was doing something wrong, we told him. That worked because we all had respect for one another. That leadership started at the top with Lamar, and it trickled down to us both on and off the field.
When the Chiefs made it clear that they were here to stay in Kansas City, Lamar and Coach Stram sent us out into the community to meet people and to shake their hands. They wanted to make it visible that we were here and part of their town. I remember when Martin Luther King Jr. was killed, they sent us out in Kansas City just to talk to people. So, that's what we did – we talked to one another.
I treat people the way that I want to be treated – whether you're black or white. That's what I preach in my life. If you're not sure of something, go somewhere and get the right answer. Sometimes, people are scared to do the right thing because they think there's going to be kick back, but if you do the right thing, don't worry about that. That's what I tell people when they ask me questions: Let's talk. Let's get answers. Let's treat each other like family.
That's what Lamar Hunt did for me – a skinny kid from North Carolina who played six-man football – and they're still my family today.