They devote their lives to protecting those that they've never met, selflessly stepping forward to defend all that we hold dear in this country.
These individuals don't join the service for recognition or fame, it's just simply what they feel called to do, forgoing personal ambition in the private sector to become a part of something much larger than themselves. 
They're the brave few who make up our Armed Forces, and some of the nation's very best are stationed right here in Chiefs Kingdom.
The Chiefs have a rich history of supporting our men and women in uniform throughout the years, and that tradition continues this season through the "Tribute to the Troops" program at GEHA Field at Arrowhead Stadium, which recognizes the real heroes in our community during every home game.
That initiative continues on Sunday, as Staff Sergeant Seth Bembrick will be recognized as the "Tribute to the Troops" honoree presented by Crown Royal during the Chiefs' matchup with the Pittsburgh Steelers.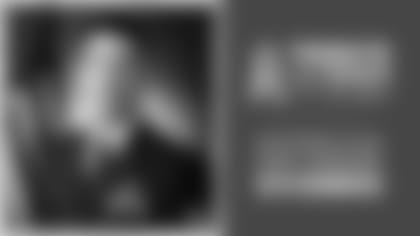 A native of a small town just outside nearby St. Joseph, Bembrick joined the Air National Guard in 2015 after years of watching aircraft from Rosecrans Air National Guard Base fly overhead.
"I initially joined because of the education benefits, and growing up near St. Joe, I got to see the unit a lot as a kid when they'd fly around the area," Bembrick said. "I also had some family ties to the unit. My dad's best friend is now the wing commander there, and I also had some cousins who spent time there."
Bembrick has been employed by the 139th Airlift Wing in the time since joining, where he works as an Aircrew Flight Equipment Repairer aboard massive, Lockheed C-130 Hercules aircraft. Essentially, Bembrick's role centers around making sure that his fellow airmen are equipped with everything they may need – from parachutes to survival vests – in order to complete their mission.
"Initially, my choice was based on wanting to be a pilot. I chose a career field that would let me interact with the air crew members on a regular basis, so that's why I went with it," Bembrick explained. "Honestly, I think it was the best choice I ever made, not just for the networking, but also for the satisfaction of knowing that I could potentially save somebody's life."
He's performed those duties overseas twice, deploying to Kuwait as part of two separate operations during his time in the service.
"A lot of the stuff that we did was hauling troops or supplies from one location to the next. We're a C-130 unit, so the that's the basis of what we do," Bembrick said. "It was awesome. Being able to see our airmen do what we're trained to do consistently was incredible."
Bembrick's talents have caught the attention of his superiors lately, too. In fact, he was recognized as the Non-Commissioned Officer of the Year for the state of Missouri in 2020.
"I had a big year in 2020. I deployed, I graduated from college, I got my pilot license and I earned more responsibilities within my unit," Bembrick explained. "They're basically just recognizing that."
His pilot license now in-hand, Bembrick is waiting to go to school in order to fulfil his original dream of flying the aircraft that he grew up watching overhead. He's on the fast track to achieving that goal, and in the meantime, he'll be cheering on his childhood team at GEHA Field at Arrowhead Stadium this weekend.
"Being up here in St. Joe, I never thought I'd be recognized by an organization as big as the Chiefs," Bembrick said. "As a small-town guy, you never think you'll be recognized in front of that many people for something that you're doing on a daily basis, so it's a huge honor."