The Kansas City Chiefs finished up offseason workouts last Thursday with the conclusion of their mandatory three-day minicamp, and now the players are off until they report back to training camp in late July.
Over the last couple of months, there have been a handful of things we've learned about how this team will look in 2017
Here are 10 takeaways from the Chiefs' offseason workouts:
1.     An update on the injured players
Chiefs head coach Andy Reid said in one of his last press conferences that he believes tight end Travis Kelce, who had offseason shoulder surgery and didn't participate in any of the workouts, should be ready for training camp. Kelce was present and standing on the sideline throughout OTAs and minicamp.
The same can be said for veteran linebacker Derrick Johnson, who has consistently stated all offseason that he should be ready for camp. Johnson participated in individual drills during minicamp, but didn't do any of the 11-on-11 work.
One player to keep an eye on as we get closer to camp is second-year left guard Parker Ehinger, whom Reid mentioned as a guy he's not counting on being ready at the beginning of camp.
Ehinger suffered a torn ACL during the Chiefs' Week 8 victory over the Indianapolis Colts last season.
A few of the other players who didn't participate in parts of minicamp, including Eric Berry (heel), D.J. Alexander (back), Steve Nelson, Kenneth Acker (groin), Spencer Ware (hamstring) and Phillip Gaines (knee), didn't seem to have serious injuries.
2.     Justin Houston says he's healthy
Houston only played in five games last season as he was recovering from a knee injury, and while everyone remembers his dominant performance on national television on the road against the Denver Broncos, the seventh-year linebacker said he's feeling even better heading into this season.
Houston is looking to bounce back after a season in which he finished with a career-low 20 tackles, four sacks, and six quarterback hits.
"The day I feel like I can't get better is the day I'm going to retire," he added. "I know there's plenty I can get better at and be more consistent—every game and every play."
When healthy, Houston has proven to be one of the league's most dominant defensive players.
3.     Tyreek Hill is going to be used a lot
Last year, Hill, who is listed at 5 feet 10 and 185 pounds, played 418 snaps on offense, which equated to about 40 percent of the total plays. It's part of a storyline that will be talked about a lot as we get closer to the season.
Obviously, with veteran Jeremy Maclin gone and the production everyone saw from Hill last season, the goal would be for an increased workload for Hill in 2017, which leads to the question of whether or not that'd affect his dynamic ability in the return game.
Reid, who has a history of working through this kind of situation, said it shouldn't be an issue.
"I have dealt with this with (Brian) Westbrook and DeSean Jackson," Reid explained of his time with the Philadelphia Eagles. "You can balance that out; you can do both. You just have to be aware of their workload and what's going on, but there is nothing that says you can't do both."
At 5 feet 10 and 175 pounds, Jackson, who was a second-round pick by Reid and the Eagles in 2008, is a good comparison for Hill in that way.
In four of his five seasons with Reid (2008-12), Jackson had at least 900 yards receiving.
In his top two seasons (2009-10), Jackson had over 1,000 yards receiving while also averaging over 11.6 yards per punt return. He ranked in the top 12 in the NFL in each category in both years.
From what we could see during offseason practices and workouts, Hill was getting plenty of attention.
4.     Reid was happy with the progress of the rookies
"We had a good camp," Reid said last week. "It was productive—most productive probably with the young guys, the improvement that they made. All the rookies took steps forward. In today's world and today's NFL, those guys, in some cases, are going to contribute for us, so it's important to stay right on top of that.
"It's also important that when they leave here, that they don't lose that, so we put a big emphasis on that. We'll stay on top of it so when they come back, [they don't] have to start from scratch."
5.     There was plenty of trash talking during minicamp
It's a culture of competition Reid has brought to the organization, which has led this team to a level of sustained success over the past four years that rivals any stretch over the past four decades for this franchise.
"A little more chirping, that's for sure," quarterback admitted hearing during practice. "I heard a little more talk on that side of the ball. I don't want to name names, but there was definitely more talking."
"That's football baby," cornerback Marcus Peters explained of the "chirping" when talking with the media after a minicamp practice. "We're getting back into the swing of it. We're here for a couple of days before we've got to be back at camp. We've got a mentality, and we're interested in one thing – the Super Bowl."
"That's just what we do," safety Eric Berry added of the friendly banter. "We're on the same team, but it's like having a house full of brothers, you all are going to fight inside the house, you'll wrestle, you'll argue, you'll talk smack, but as soon as somebody else from another neighborhood or someone up the street tries to try you, we're all together.
"We make each other stronger while we're in the building."
6.     The rookies shared what they learned
Quarterback Patrick Mahomes admitted that coming from college, he knew basic protection principles, but it's the area of his development that's at the forefront right now.
"To me, the most exciting part of practice is when I get a protection right," Mahomes explained. "Right now, if I switch a protection and it's right, that's probably the happiest I am. I'll go straight to coach [Mike] Kafka or coach [Matt] Nagy and be like, "Hey, did you see that? I got that guy right there."
It's not a huge throw down the field or a scramble play that leads to a first down during an 11-on-11 period, and Mahomes is most excited about showing a level of understanding in the offense and the responsibilities that go along with playing the position at this level than anything else.
Most of the teaching moments and the ones that are critical in Mahomes' development don't even happen on the field, but in the classroom.
And after a minicamp practice, Mahomes shared a story of one of those moments.
"It was with coach Chilly (Brad Childress)—talking about my protections," Mahomes explained. "He said something I hadn't thought about in that way."
Basically, Childress was able to relate, in a basic way, the Chiefs' offensive protections to what Mahomes did at Texas Tech.
Childress used a language Mahomes could better understand to describe how to identify and think about one of his blockers. It's not something Childress has done often—speaking the language Mahomes used in college—but he could just tell what Mahomes was trying to say and saw it as a teaching moment.
"I think he just saw how I was describing the plays on the board and how I was thinking about the protections," Mahomes explained, "but right when he said it, everything just clicked and I understood our protections way better."
For second-round pick Tanoh Kpassagnon, the difference between what he was asked to do at Villanova, and what he's asked to do at the NFL level has been a learning experience.
"There's just a lot more to begin with, a lot more to learn and we do a lot more reading of the offense," Kpassagnon explained. "Right before the play, we're trying to see what they're going to run and we try to predict it. We try to make an educated guess on how we can play it."
Following rookie minicamp, which took place the week after the draft, running back Kareem Hunt recalled a conversation he had with Chiefs general manager John Dorsey, who had a message that's stayed with him.
Hunt, who accomplished about everything one could at the collegiate level from an individual standpoint, was one of the trendy names in a deep running back class in this year's draft.
The folks at Pro Football Focus had Hunt as the highest-graded running back in last year's class with an overall grade of 94.9. They had him forcing 76 missed tackles last year at Toledo, which ranked second among all FBS running backs.
Despite the impressive résumé, Hunt knows none of that matters now.
"I was the type of guy that thought they knew everything about football," Hunt explained. "And when I got here, I've learned there's so much more to football, so much more to the game. A lot of college kids think they've got football down, but it's not as easy. There's so much more to it."
7.     Reid is confident in the young receivers group
"I have a ton of trust in the young guys that they will step up and do a good job for us," Reid said after a workout. "The point that we have here is we have some good players. I believe everyone has to be ready to go. I've never said we have a number one guy, that's just never where I have been with this thing. We try to mix it and mix it up the best way we possibly can.
"A few years ago you saw [Jeremy Maclin] catch a lot of passes, last year you saw [Travis Kelce] with a lot of catches, and Tyreek [Hill] had a few. So, you try to spread it around and put enough pressure on defense as you possibly can.
"We have enough talent right here to do whatever we need to do."
At his final press conference, Reid specifically mentioned Seantavius Jones as a guy who has impressed him this offseason.
Jones, who is hard to miss at 6 feet 3 and 200 pounds, originally came into the NFL as an undrafted free agent with the New Orleans Saints out of Valdosta State. He also spent time with the Philadelphia Eagles. Jones was on the Chiefs' practice squad last year.
Another young guy who was making plays during offseason workouts is second-year receiver Demarcus Robinson, who was selected in the fourth round (No. 126 overall) of the 2016 NFL Draft out of the University of Florida.
Robinson was focused on showing the coaches he was ready for this opportunity by the work he put in this offseason.
"Just letting them know that I'm well acquainted with the playbook—the plays, the audibles and everything we're going to call," Robinson explained. "It was just getting into the playbook more to let them know that I know what I'm doing."
8.     Veteran defensive lineman Allen Bailey is back and ready
Bailey's six-month rehab process from the pectoral injury that cost him most of last season concluded about a week before OTAs began. He said he's 100 percent right now and has his full strength and motion back.
"The rehab went well," Bailey—crediting head athletic trainer Rick Burkholder and the guy he worked with every day—assistant trainer Evan Craft—for getting him right, explained. "The staff did a really good job and didn't rush me back, and we got the strength and motion back, and now we're back into it.
"I was itching to get on the field. The injury sucks, a lot of free time with nothing to do."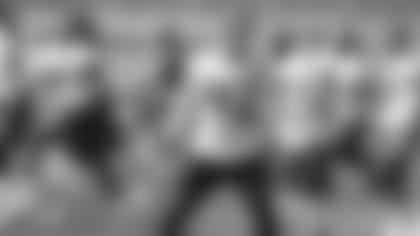 With a handful of young guys in the defensive line room and the fact that fellow veterans Dontari Poe and Jaye Howard aren't with the Chiefs anymore, Bailey understands what's expected of him.
"I don't think it's about being vocal," Bailey explained of his leadership style. "It's a silent thing in there. Everybody knows what we have to do. We shouldn't have to hoot and holler—especially at D-line. We already know our job and what we have to do to set the tone.
"If we aren't setting the tone, things aren't going to go very well."
9.     The offensive line has plenty of continuity
The Chiefs head to training camp with every offensive lineman who played even one snap last year, and that kind of continuity is a recipe for success.
Outside of the left guard position, which saw a rotation of players with Zach Fulton and Bryan Witzmann mixing in there during offseason workouts, and eventually Ehinger, who began last year as the starter but has yet to participate in offseason workouts because of the knee injury, the offensive line should be a strength in 2017.
"We might have the grand scheme of how to work with one another, now we're working on tiny nuances of how to complement each other's play," center explained.
10.  Reid sees an improved confidence in cornerback Terrance Mitchell, while Steve Nelson continues to shine
One of the top stories for the Chiefs last season, particularly at the end of the year, was the play of Mitchell, who ranked among the top players in the league at that position over the final few weeks of the regular season.
From Week 13 to the end of the year, Mitchell had five passes defensed, which ranked fifth in the league, and opposing quarterbacks completed just 45.5 percent (15 of 33) of passes thrown in his direction, which ranked 10th.
"He's more confident than when he got here, even though he was pretty good then," Reid explained of Mitchell. "He's a very good athlete and he was sort of thrown in the fire last season and he did a pretty good job.
"Now, people have had an opportunity to study him, so we'll find out. He understands that so we'll work through the challenge."
Mitchell's performance at training camp will be something to watch.
One player who proved last year that he could be accountable to his teammates was third-year cornerback Steven Nelson, who led all defensive backs with 1,128 snaps played (including special teams).
Over the course of offseason workouts, Nelson has continued to shine for the Chiefs' defense, consistently find his way around the ball.