Quarterback Alex Smith said that more of the playbook has been installed in this offseason than either of his first two years at this time.
General manager John Dorsey, head coach Andy Reid and starting quarterback Alex Smith enter their third consecutive season together in 2015.
Smith explained that has allowed the team to grasp much more of the playbook at this time this season than either of the previous two.
"This is hands down the most football that we've had in the OTAs as far as install and hands down the most if you were going to put a percentage on the playbook," he said during the last week of minicamp.
Reid, who is widely known for an extensive and complex playbook, seemed confident in his quarterback in his final press conference of the offseason.
"I think he is obviously in full command of it," Reid said of Smith and the offense. "He understands it and gets it, he has a lot of trust in the guys around him, which is a good thing."* *
Wide receiver Jeremy Maclin and QB Alex Smith have done as much as they have possibly could to get in sync, and they have agreed that they are.
Wide receiver Jeremy Maclin was brought in from the Philadelphia Eagles this offseason to be the Chiefs' new No. 1 receiving target on offense.
What that means is that developing chemistry between him and Smith will be the key to early and consistent success when the regular season begins.
The good news for Chiefs fans is that both seem to believe they are well on their way to building that essential quarterback-wide receiver harmony.
"I feel really good about where things are right now, where they're going, how they have progressed," Smith said towards the end of Chiefs mandatory minicamp. "I think with all of the restrictions and stuff that are in place now in the offseason, I don't see how we could have done any more."
Maclin shared in that view.
"I think me and Alex are off to a great start," he said. "I think our comfort level with each other is pretty high. It kind of feels like this is not our first rodeo. I think we've hooked up a lot in practice on timing, on plays where he is just kind of throwing the ball and trusting me to make the play and stuff like that.
"I think we'll want to continue to get better but I think we're off to a great, great start."
Tight end Travis Kelce is doing things to actively seek the ball out more this offseason.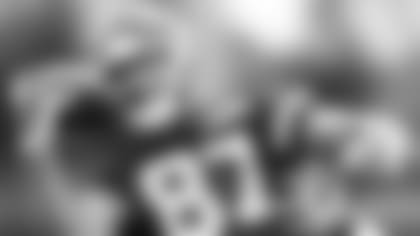 A team-leading 67 receptions, 862 yards receiving and five touchdowns—a very respectable 2014 stat line for a second-year player whose rookie season was washed away with injuries.
But the scary thing for the AFC West, and really, the rest of the league, is that Kelce does not appeared to be satisfied.
"Every single day, every single week, I'm trying to get better at the small things, detail work," Kelce said at the start of OTAs. "I was telling someone that that's probably the biggest thing that I learned from (Anthony) Fasano is that coming out here and detailing my work and just becoming better and better every single day on the small things."
We would find out about three weeks later that Kelce was backing up his personal creed with tangible proof.
"I think the thing for me is really it's been this OTA," Smith said of Kelce. "He popped his head in today into the QB meeting and we're talking about looks and he already wants adjustments to get the ball, and you're doing things at the line of scrimmage, changing plays with him."
Smith even provided a specific example.
"Yesterday in practice, I can hear him make calls at the line of scrimmage because he wants the football. Things like that, it's encouraging because he's obviously a tremendous player, but it's so great to see that confidence there on the field, calling for when he wants the football."* *
De'Anthony Thomas worked with David Culley in the wide receiver room this offseason after working with Eric Bieniemy in the running back room last season.
When De'Anthony Thomas showed up for training camp, he was greeted with what he took as a pleasant surprise.
"When we got back, I was just surprised when they told me I was in Coach Culley's [wide receiver] room," he said during OTAs. "It's amazing just to have a great year with [running backs] coach EB (Eric Bieniemy) and then to come to Culley and just try to maintain that great work ethic."
Reid later explained the switch.
"Really, last year, he ended up being more of a receiver than running back," he said. "He is still taking the ball-handling, still doing stuff in the running back position, but the majority of his snaps were from that receiver position. So we said, 'You know what? Let's just put him there.'
"We know he can get back there; he does ball-handling, so he works on the runs, but we put the major emphasis on him getting to know those routes better as a receiver."
The offensive line will look very different when the 2015 regular season starts, and coach Andy Reid reaffirmed that he'll go with the best five players.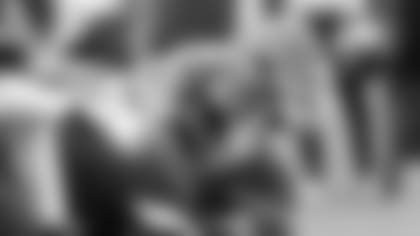 Three Chiefs offensive line starters from last season, Rodney Hudson (Raiders), Ryan Harris (Broncos) and Mike McGlynn (Saints) will not be back. That leaves left tackle Eric Fisher and right guard Zach Fulton as the only returning starters, and Reid has once again said he will go with the "best five."
Here are the current candidates on the roster: 
"I think they competed like crazy," Reid said of all the offensive linemen at the conclusion of minicamp. "They'll continue to do that through training camp and then we'll see. I've said it before—we'll play the five best and we'll see how it works out through camp."
Center Eric Kush has taken the lead in building camaraderie among the line.
A departed Rodney Hudson to the Raiders leaves third-year center Eric Kush as the "next man up" on the roster.
"We got together a little bit for Memorial Day, cooked up some burgers and some hot dogs and everything and had a good time," he said. "We're definitely going to continue that, hanging out on weekends and bonding as a unit."
Linebacker Derrick Johnson and defensive lineman Mike DeVito have returned from their season-ending injuries and are 100 percent.
After the long road back, they said the very first thing they did was high five each other the first day on the field. Then, it was back to business.
"I'm feeling great," Johnson told the media. "I've been out for a while. Very excited to be back with the guys.
"It's one thing to be healthy and having all your strength, but the camaraderie that you have with the guys, your brothers, your teammates, that's even better to be back with them."
DeVito said his return brought him back to his earlier playing days.
"It reminded me of when I was like back in high school, you know what I mean?" he said. "I'm just so grateful for another opportunity to be out here." 
DeVito was fully healthy through the offseason programs and Johnson, after sitting for a few practices with a sore knee, was back to 100 percent before the team broke until training camp.
First-round pick Marcus Peters and third-round pick Steve Nelson adjusted well despite having had to miss OTAs due to college obligations.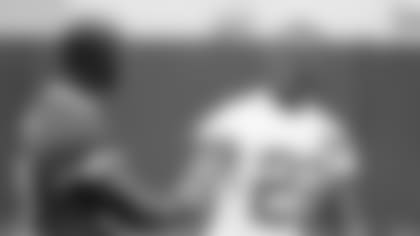 "I thought they did a pretty nice job, actually," Reid said of the duo at his last press conference "Are they rusty? Yeah, they've got to get caught up. I say rusty, they haven't had a chance to get rusty because they haven't been in the place to get rusty yet.
"They're getting caught up with the speed of the game, which looks like they adjusted to very well."
Despite missing that time, Peters exuded confidence in his first chat with the media upon returning to the team.
"No pressure at all," Peters explained when asked if he felt any anxiety about being behind. "I'm going to come out here and compete the best that I can and take these three days (minicamp) as a learning [process] being around the vets and get some more information about the playbook. Once it's time for training camp, it's on."* *
The team's vacant long snapper position will likely come down to either Andrew East or James Winchester.
Thomas Gafford, who was with the Chiefs for seven seasons, departed for the Chicago Bears in the offseason, leaving a vacancy at a very important special teams position.
The candidates to replace Gafford right now are Andrew East, an undrafted rookie out of Vanderbilt University, and James Winchester, who attended Oklahoma and has been around the league (with the Bills and Eagles) since 2013.
"I know that their both very athletic, they both have excellent snaps and they both have good speed on the ball," special teams coordinator Dave Toub said when asked about East and Winchester during OTAs. "The thing that we don't know is how they're going to protect when there are live bullets coming out. Those are things we're not going to be able to know until we get to a preseason game or training camp."
All that said, as of June 2, Toub said he believed the next long snapper is already on the roster.
"I'm comfortable that one of these two guys is going to be our long snapper," he said. "I feel good about that."
The Chiefs have a plan to now enter a recovery period, work out individually, then recover again headed into training camp beginning in early August.
Before closing out the offseason, Reid outlined the upcoming schedule for the players moving forward heading to training camp.
"They have a program that they stay on," he said. "They'll take a week here and do a recovery program and get right back into their intense workout and then there's another recover program at the end of that three and a half weeks that they'll go through and then you're in camp.
"It's all laid out for them. They just need to follow that."
A look at the third and final mandatory minicamp day held at The University of Kansas Hospital Training Complex.