It used to be the Indianapolis Colts.
Whenever you thought of the blue and the white, you synonymously pictured quarterback Peyton Manning, his methodical pass game and how it seemingly led to every Colts victory.
Since 2012, that thought has stayed the same, but now there's a bit more orange involved.
As a 38-year-old member of the Denver Broncos, he's still doing it. Already this year, Manning leads the league with 34 passing touchdowns and only nine interceptions. Head coach John Fox is calling 62.3 percent pass plays and of the 42 offensive touchdowns the Broncos have scored, only eight have been rushing. Montee Ball, the Broncos' leading rusher the first time against the Chiefs in Week 2, was only called upon 12 times to do so in that game.
It's that play-calling style that has led the Broncos to an 8-3 record and a standalone place on top of the AFC West division.
But in the game coming up Sunday, the Broncos cannot be considered one-dimensional, especially after last week's effort.
In their 39-36 comeback victory over the Miami Dolphins on Sunday, the Broncos were led by second-year running back and former seventh-round draft pick C.J. Anderson, who ran the ball 27 times for 167 yards, season highs for Denver in both categories.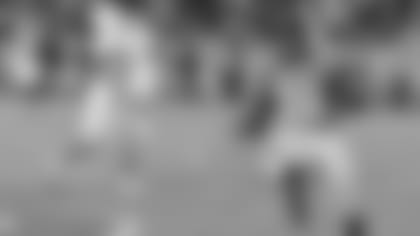 "He's played really well when he's been in there," Chiefs defensive coordinator Bob Sutton said of Anderson. "He's doing a really good job in all phases. He's not just a runner, he's a good protection guy. He's a stout guy so his protection is pretty good and he's done a really good job."
Seeing what Anderson could do, the Chiefs will have to prepare for variability in play calling by the Broncos that they may not have expected before last week. Peyton Manning is a smart quarterback, and that doesn't stop with what he can do with his throwing arm.
"He doesn't allow you to focus on just one phase of their game and that's one of his great strengths I think," Sutton added about Manning. "He's very patient. He's drop the ball off, drop the ball off, run, drop the ball off."
Defensive lineman Kevin Vickerson, who played with him from 2012-2013 on the Broncos, knows that although Manning may sometimes look to show a tendency, he offers a capability of altering strategies quickly and will do so any time.
"Peyton changes things like he changes clothes every week to week. That I do know," Vickerson said assuredly. "What we have to do is just read our keys and play what we see in front of us. Can't get out there and think too much."
When it comes to Manning, everyone thinks about his game-managing ability and the ways he can hurt an opposing team through the air.
But as the Chiefs took the field indoors at the University of Kansas Hospital Training Complex on Wednesday, they realized that preparation was necessary for all facets.
Manning "changes things like he changes his clothes," and whether it's by his arm or Anderson's legs, the Chiefs defense will need to be alert and ready for anything.
TE Anthony Fasano (knee), WR Junior Hemingway (concussion) and DT Kevin Vickerson (calf) did not practice.
P Dustin Colquitt (calf), LB Tamba Hali (knee) and CB Chris Owens (knee/abdomen) were limited.
Take a look through the Chiefs vs. Broncos history.