Justin Houston, the NFL's standalone sack leader after bringing down Ben Roethlisberger for his 18th of the year Sunday, shared something with fellow teammate Kevin Vickerson last week on the team bus that stuck with him.
"He said he wanted to be a Hall of Famer and put on the yellow jacket," Vickerson said. "That's big coming from a young player. This being year nine or ten [for me], seeing a younger guy talk like that and actually making strides doing it is real rare."
Evaluating the quality of a player while watching a football game isn't always easy from the broadcast.  That statement holds true even live at the game.
The small nuances of the sport—positioning, footwork, quickness and awareness, just to name a few—call for a trained eye for recognition.  Sometimes, they take a trained eye from multiple replay angles.
But with Houston, throw that out the window.
Take a fan to his or her first ever football game and he or she would be able to identify who the scariest player on the field is.
"He's just relentless," Alex Smith said. "He plays such good football in all situations. That's the thing that I see."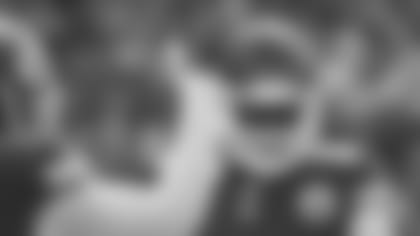 The Chiefs drafted Houston, a first-team All-American at Georgia (2010), in the third round of the 2011 NFL Draft.
He didn't have a sack through 12 games that first year, and then the Chiefs visited the Chicago Bears in Week 13. Houston took down then-Bears quarterback Caleb Hanie three times, and wound up finishing the season with 5.5.
Since then, he's never looked back.
His rookie year would be the last he registered less than 10 sacks in a given season, as in 2012 and 2013, he had 10 and 11 respectively, and now has 18-and-counting in 2014.
Chiefs head coach Andy Reid, who is usually one to focus primarily on team achievement, did not shy away from discussing Houston's potential to finish first in the league in sacks Tuesday.
Reid knows his players well, and with that in mind, he realizes that personal accomplishment is something Houston would never mention, a topic he would quickly divert to what's at stake for the team.
"I know that's not the most important thing for him; he wants to win the game," Reid explained. "But at the same time, he sure has done a nice job with it.
Reid credits the linebacker's incessant work ethic.
"You guys aren't out there after practice but he stays out another half hour after practice just working different moves and the pass game," Reid told the media. "Him and Tamba (Hali), anytime the offense is up, they are on the sideline working all their hand games. The two and a half hours that he's out there, he's out there practicing his trade so you respect that."
When Derrick Johnson went down with an injury early on this year, Houston took over the vacant leadership role of the defense. Before the unit splits into individual position groups, Houston is the one breaking down the huddle.
"Family on three," he says, and he means it. That's why you now see the number 29 under his jersey after every sack. The 25-year-old believes what he preaches.
"What a leader he is for this team," Smith said. "He's really selfless, he puts the team first."
On Tuesday night, Houston found out that he will be going to his third Pro Bowl in a row. On Sunday against the Chargers, if he can get two more sacks, he will tie Derrick Thomas' franchise record of 20 in a season.
While many players in the league would be satisfied, you can bet that Houston will just grow hungrier.
"Some guys are just happy to be in the NFL," Vickerson said. "He wants to make a legacy and make a name for himself."
---
The Chiefs participated in their first of three practices in preparation for the San Diego Chargers on Tuesday at the University of Kansas Hospital Training Complex.* *
WR Dwayne Bowe (foot), TE Anthony Fasano (knee) and OL Zach Fulton (foot) did not practice Tuesday; there was no official injury report released.
Kansas City Chiefs practice outside on a chilly December 23, 2014 in preparation for their game against the Chargers at home sunday