Jamaal Charles, Tamba Hali, Justin Houston and Dontari Poe took the practice field with a familiar feeling on Wednesday afternoon.
All four are once again headed to the annual National Football League Pro Bowl.
"It's awesome to get compliments, especially from the fans and the coaches around the league and the players," Charles explained. "I'm truly blessed."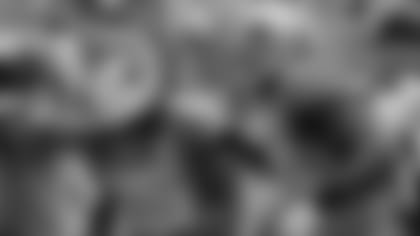 Charles is again having an outstanding season. With 14 overall touchdowns, he is tied in second for the league lead, only trailing Seahawks running back Marshawn Lynch, who has 16.
Knile Davis, the Chiefs' second running back, spoke to the media about how proud he was of his teammate Friday.
"I'm just happy for him. It's well deserved," Davis said of Charles. "I do look up to him, I do learn from him."
In an effort to continue to learn from his elder veteran, Davis plans to attend the Pro Bowl to support Charles.
"I am going to the Pro Bowl with him just to kind of get the experience and be around him. So definitely, congrats to him."
On the defensive side of the ball, Houston, Hali and Poe are ranked first, second and third respectively on the Chiefs in sacks and of course, Houston leads the league with 18.
"He's produced a lot of sacks, but I think the other part of all of those once you get a player playing like he is, he also affects how an [opposing] team protects," Sutton described of Houston's potentially unnoticed upside. "What they have to do to protect him and that helps our entire defense because it obviously singles other people up or allows them some things in protection to attack them in certain things.
"His impact isn't just in the number of sacks he gets, that's certainly a huge factor, but it also helps us totally in defense."
For the first time since 2010, the Pro Bowl will not be played in Hawaii and instead will be held at the Super Bowl site—this year that's the University of Phoenix Stadium in Glendale, Ariz.
2015 will mark the second year in a row that the it will take a draft-style approach. Last year, opposing Pro Bowl teams were selected by Hall of Famers Jerry Rice and Barry Sanders and there wound up being five Chiefs on each side.
The two alumni captains this season are Cris Carter and Michael Irvin.
Hali said Friday that he thought the 2014 change to the format worked nicely.
"I actually like it," Hali said. "Last year, the guys competed more. Other years I was there, we weren't into it. Last year you did the draft and some guys were on different teams that are on the same team and went out there and competed."
That format pitted linebacker Derrick Johnson, who wound up winning Defensive MVP, against Charles last year. This year, due to his unfortunate injury, Johnson will obviously not be in attendance.
Reporters asked Charles Wednesday if he's relieved Johnson will not be there to hit him.
"Hopefully I won't have any of my teammates hitting me," Charles said. "Hopefully we can make a run [in the playoffs]. That's the goal right now."
Charles and Hali are heading to their fourth Pro Bowls, Houston his third and Poe his second.
---
The 2015 Pro Bowl is scheduled for January 25, 2015.
WR Dwayne Bowe (foot), OL Zach Fulton (foot) and LB Tamba Hali (knee) did not practice.
RB Jamaal Charles (hamstring/ankle), TE Anthony Fasano (knee), CB Phillip Gaines (illness) and LB Joe Mays (knee) were limited.
The Chiefs will be off Thursday for the Christmas holiday and return to the practice field for their final day of preparation for the San Diego Chargers on Friday.
Kansas City Chiefs practice outside on a chilly December 23, 2014 in preparation for their game against the Chargers at home sunday