Every rookie in the National Football League could use someone to look up to. With the professional game being one vastly different from that of college, a veteran who has been there before can ease the rookie's transition, allowing for a better chance of success early on in a young player's career.
There is no better example of this in Kansas City than wide receiver Dwayne Bowe's taking of 21-year-old De'Anthony Thomas under his wing.
Bowe, who was drafted by the Chiefs in 2007, is one of the team's longest-tenured players and currently the leader of a young wide receiver corps. When Bowe looks at Thomas, he sees the future, a player who could one day fill his shoes.
"He's raw," he said of the rookie.  "You don't have to do much to get him to go. He's a natural-born leader."
It's that feeling that has made Bowe pay special attention to Thomas.
"I told him, I said 'Your time will come when you're going to be just like me.' I said 'You just understand and watch how I do it and you emulate your own little style.'"
Thomas' "little style" has served him well so far in his young career. He was named the team's starting punt returner out of training camp and with an average of 9.8 yards per return this season, he ranks as eighth best in the NFL.
Thomas says he owes much of that success to Bowe.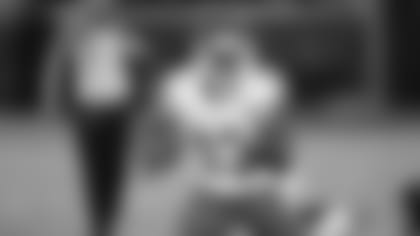 "He's been my motivation since I've been here to come to work every day," Thomas said, before outlining Bowe's teachings. "Going hard, staying focused and just staying in that playbook."
Learning the importance of those traits early on has been critical to Thomas' development. As the team's only hybrid running back-wide receiver, he impressively owns one of the Chiefs' most unique skillsets, and that has led Bowe to ensure that Thomas, even as a rookie, is as confident as anyone in the entire locker room.
"You have to tell yourself you're the best person on this team," Bowe said he tells him. "You're being pulled in every room. Every room wants a piece of you."
It's easy to tell that Thomas has taken everything Bowe has taught him seriously when you take a second to watch him on the practice field, whether it be with the special teams, running backs or wide receivers group.
Thomas, like his teacher, genuinely enjoys what he does and works hard at it, and he continued to do so on Wednesday as the team practiced in pads outside in the cold in preparation for Sunday's game against the Arizona Cardinals.
When you watch Bowe, then look at Thomas, you can understand their relationship.
Thomas has taken Bowe's lessons to heart; he loves being a professional football player for the Kansas City Chiefs.
"He's played several years in league," Thomas explained of Bowe. "Whatever [Bowe and the veterans] can teach me, I just suck it all up, suck it in and keep it going, keep doing what I'm doing and stay focused."
Bowe believes that one day Thomas could be the one giving locker room speeches.
Only time will tell, but he may just be right.
DE Allen Bailey (concussion), WR Junior Hemingway (concussion) and G Mike McGlynn (quad) did not practice.
WR Donnie Avery (groin), TE Anthony Fasano (knee) and LB Tamba Hali (knee) were limited.
Practice photos from Wednesday, getting prepped for the Cardinals.