In their consecutive losses to the Raiders and the Broncos, the Chiefs gave up a combined 386 yards rushing, or a rate of 193 yards per game. Compare that number with what it was during their five-game winning streak (121.4), just about 72 yards less, and it becomes clear that the Chiefs had a problem to address this week.
First, on Wednesday, the Chiefs used one of their 14 padded practices in order to get back to the fundamentals of tackling.
"We haven't done too well on it the past couple weeks," head coach Andy Reid said. "We're going to put an emphasis on the best you can do right now but we've got to get better."
While the Chiefs would never tackle each other at 100 percent midseason, pads allowed the team to work on run fits, which are crucial to improving run defense.
"So much of it's gap control and how you handle that and staying disciplined in your gaps," Reid added. "Teams are going to try to distort that linebacker level with the defensive front--level one and level two-- to create seams, and then it's our responsibility to stay as square as we can and take away those lanes for the runners."
Defensive coordinator Bob Sutton, like any defensive coach would, loved the switch to pads. At the beginning of the week, Reid said that in skids like this, the key is getting back to the basics, and of course, Sutton agreed.
It's easier to reteach fundamentals when players can be more physical. Pads allow for that.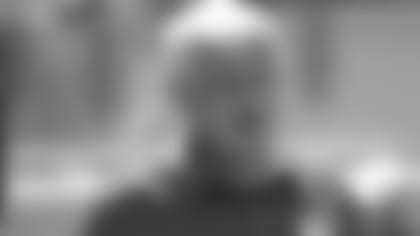 "The challenge is when you don't have pads, you can't let your technique suffer because it will suffer," Sutton said. "When a guy has pads you know he's coming off and getting you. You know when there's no pads he can't come off as hard."
Sutton went on, underlining the points he is stressing to his defense this week.
"You have to improve you're technique, there's no escaping that. That's just the truth of it and we've got to do it. Tackling and get your tail off the field on third down will help you or help all the causes."
On a week in which the Chiefs will play indoors, the team was back outside Thursday at the University of Kansas Hospital Training Complex.
While this time it was without pads, the players have bought into the message: get back to technique and the winning ways may not be far from making a much-welcomed return.
"Sometimes you get sidetracked by some wins and some other things that happen over the course of the season," defensive end Kevin Vickerson admitted. "That might sidetrack you, you might want to take this way out, but sometimes you've got to go the hard way.
"There is nothing wrong with the hard way. We just have to know it's going to be hard and we've got to be able to get through that."
DE Allen Bailey (concussion) and WR Junior Hemingway (concussion) did not practice.
WR Donnie Avery (groin), TE Anthony Fasasno (knee), LB Tamba Hali (knee) and OL Mike McGlynn (quad) were limited.
Practice photos from Wednesday, getting prepped for the Cardinals.