There hasn't been a lack of action on the part of Kansas City Chiefs general manager Brett Veach over the past few days.
The roster is turning over and his stamp on what this team will look like in the future is quickly coming into picture. And to be fair, none of this should come as a surprise because as we've seen since he took over the job last summer, Veach isn't afraid to be aggressive.
As evidenced by the fact that the Chiefs have made multiple trades and came to terms with multiple key free agents over the past 24 hours, it's obvious that trend has continued.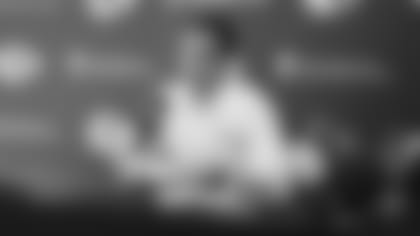 Veach had the opportunity to talk with the media about those moves on Wednesday afternoon.
Here are 12 things we learned:
1. Veach spoke about the move to trade Alex Smith to the Washington Redskins for cornerback Kendall Fuller and a third-round pick:
"We're really extremely excited about Kendall. He's an ascending player with a tremendous amount of potential, I mean this kid's got versatility, instincts, and ball skills…We knew exactly what we wanted and we wanted Kendall Fuller, and we wanted compensation for a quarterback."
2. Veach gave an update on veteran free agent punter Dustin Colquitt:
"I feel like [Colquitt] is something that's moving in a positive direction, and that should be announced soon."
3. Veach spoke about the opportunity to go through free agency for the first time as general manager with coach Reid:
"We speak the same language. We have a bunch of differences, we see players differently a lot of times but we have trust. We know at the end of the day what's best for the team and we have a plan, a vision, and we know how to attack it and we know how to be aggressive about it."
4. Veach spoke about the confidence he has in second-year quarterback Patrick Mahomes :
"We made a move to go up and get him for a reason because his talent is unique and special. He's a special person. We're excited to give him some tools to work with and it's going to be a lot of fun next year. You have an innovative head coach and an innovative staff. You have a bunch of weapons and we're looking to have fun. This is something for the fans, too. We have the best fans in the NFL and we want to go out there and put on a show. We want them to be excited and watch the scoreboard light up."
5. Veach admitted to trying to trade for linebacker Anthony Hitchens and receiver Sammy Watkins last year during training camp:
"When I took over in July, I got with (Director of Player Personnel) Mike Borgonzi and the first call I made was to Dallas about Anthony Hitchens. We went into the last camp and there is only so much you can do once you get to July. There is not a lot of space and rosters are set. I knew that Derrick [Johnson] was coming off another injury and just knew that we would have some potential depth issues. We went through all the teams that had linebackers with one year left on their deal. Those are teams that if they haven't reached a deal with their player, they are in their last year so maybe they will move them…They said they weren't going to move [Hitchens]. Then we went on and a month later when it was made aware that Sammy was going to be dealt from Buffalo, I talked to (Bills' general manager) Brandon Beane about doing a trade. Problem is, he wanted a (second-round pick), and being a first-year GM, then going into the draft without a (first-round pick) or a (second-round pick) I would have put myself in a bind. We offered a (third-round pick) and it didn't get it done."
6. Veach spoke about what they're getting in Watkins:
"Don't let the production fool you. If you watch the tape, the guy is open all the time. Literally, open all the time. You are talking about 6'0" tall and change, a 4.38 (40-yard dash), tremendous hands, ball skills, really a refined player. There really isn't anything you can't do. Now, he had some injuries and bounced around a couple different places, and sometimes it takes some time to develop a cohesive deal with the quarterback and the offensive and the rhythm and the timing. You talk about a full offseason with this guy, it is going to be exciting. From a skill standpoint, he was the best player on our board in free agency."
7. Veach spoke about the fact that the Chiefs have just one quarterback on their roster right now and the importance of a quality backup:
"It's extremely important. We've always had that here. We've had that with Nick Foles and Chase Daniel, and I'm sure we'll get something done soon."
8. Veach spoke about going younger, considering all the new guys they signed to the roster are 25 years old or younger:
"You have your philosophies in the draft and certainly you have your core philosophies and principles in the free agency period. One of those is the guys that are young, the guys that can grow and develop within your culture and with your vision for this team. This is a tough, violent league, and the more wear and tear you have the harder it is to produce and play. The younger you are the more juice you have. Those guys, like you said, would the level of interest have been the same if they were 30 years old? No, for sure."
9. Veach gave an update on linebacker Dee Ford, who ended his season last year on IR (back):
"Dee's doing very well. He had the back and I spoke to Rick (Burkholder) last week and I think he's going to be 100 percent come April 1st so we should see him out there at OTAs. I actually saw him today in the locker room. He looks great and I think he's going to have a big year. I really do."
10. Veach spoke about his overall philosophy for building the Chiefs' roster right now:
"Just to win a Super Bowl. We're doing everything we can to win a Super Bowl. We're not trying to win a Super Bowl four years from now, we're going out there and we're trying to win a Super Bowl next year. Whether that happens I don't know but I know that we're going to do everything we can to put our team and our roster in a position to do so. If we have shortcomings we'll continue to work on those things. We have a lot of talent here. It's a lot of young talent which is exciting for the fans, but we realize there may be some growing pains, but we have guys that can straight-up play football and they're exciting. I think our fans are going to love the product we produce."
11. Veach spoke about what's next:
"I'm excited to get back on the road and hit some pro days up and I'm excited about the draft. Who knows maybe we'll get back in the first round before it's all said and done."
12. Veach ended with a follow-up about what he thinks Watkins could do with an entire offseason to prepare to play in Reid's offense:
"Sammy went to LA and helped them achieve great things, and keep in mind that he got there a few weeks before the season started. There's a lot of dialogue, a lot of verbiages, a lot of intricacies of an offense that you throw someone out there it's hard. Yet he was still able to go out there, produce and do some great things. Imagine him coming here and we have the whole offseason and he can just absorb everything and go out there and play fast. I think it's going to be a lot of fun. I think the sky's the limit with this and that's the way we kind of viewed it."