Offensive coordinator Doug Pederson
Kansas City Chiefs offensive coordinator Doug Pederson said he feels confident in offensive lineman Donald Stephenson at the left tackle position.
"I think the fact that when Fish got hurt – and Donald's had experience over there, you've seen that over his career, that's a comfortable spot for him," he said. "Fish is athletic and smart and as knowledgeable of our system as he is, he's played both spots. It kind of makes that decision little easier."
Pederson added that he thinks Stephenson has made a great deal of progress over the last year and a half.
"I just look back to last year and some of the struggles he had. He went into this offseason with a great mindset, a great attitude; he came into camp ready to go," Pederson explained. "He's in shape, sort of took the bull by the horns. For him, I think it's a rejuvenation of his career right now and he's playing at a high level. I'm very happy to see that."
Pederson described the play of right guard Laurent Duvernay-Tardif.
"He's a smart kid, athletic kid, very strong," Pederson said. "He's a guy that, once he gets his hands on you, it's hard to get away. He's learned to process the information that we're giving him, he's learned to slow his game down and really kind of solidify that spot, that right guard spot for us. Just the maturity of understanding the more reps that he gets, the better he's going to become – and that goes without saying for any position. We're excited to go watch him play and see how he does now that the bullets will fly for real."
Pederson said he is looking forward to the matchup of center Mitch Morse against defensive tackle Vince Wilfork.
"Mitch is such a competitor that I know he's going to do well and he's going to battle and fight," Pederson said. "Will he be perfect? No, nobody's perfect in this game. But you know what, he's going to wipe the dust off and he's going to get back in there the next play. He'll learn from his mistakes and he'll move on."
Defensive coordinator Bob Sutton
Defensive coordinator Bob Sutton said he really looks forward to opening days.
"No matter how many players return, how many don't return, you're never really sure exactly what's going to happen until you get out there," he explained, "because you don't totally know your team and you're not exactly sure what's going to happen – especially when something happens that maybe you don't want to. That's one of the processes of the whole thing, you find out about your team. I think the other part of it is that any opening game is important, but it's one of 16, too, you have to keep track of that. I think it's just the finality of finally getting to do it that I think really* *excited everybody. You just want to go see and find out where you're at."
Sutton shared where the team is at with safety Eric Berry.
"He's going to be in the rotation, pretty much like the preseason," he said. "We haven't made any of those clear-cut decisions. EB has come along, I think, really well. I think us listening to him and understanding where he's at has been really good. I think he feels good and confident in what he's doing."
Sutton said nose tackle Dontari Poe looked "good" at practice.
"I thought his reactions to blocks and protections were very good – that's one of the hardest things to know," he said. "Obviously, Dontari has played a lot of football, but sometimes you just need some reps in there to get back in the swing of things."
Special teams coordinator Dave Toub
Special teams coordinator Dave Toub said that he believes punt returner De'Anthony Thomas will be fine despite missing time this preseason with an injured calf. "We probably wouldn't have gotten him much at punt returner anyway, maybe one more catch maybe the whole time, but that's about it," he said. "He looked good in practice, every day he's been out there catching balls and hitting them like we like. He's an experienced guys so he's bringing that year of experience back, so we're expecting some things from him."
Linebacker Derrick Johnson
Linebacker Derrick Johnson feels that his game is coming together at exactly the right time. "I think my eyes have caught up to where my physical body is," Johnson said. "My physical body was there first, of course, because I had a long while to get it ready for the offseason and for training camp, but training my eyes during training camp and the preseason really helped me. I felt like I played better each game in the preseason, as far as recognizing plays and anticipating what's going on. We'll see in the first game how well those eyes are trained. I can't wait, I've been waiting since I got hurt for this moment, so it's going to be special."
Johnson was asked whether he's nervous headed into the game Sunday.
"I'm more anxious than anything, not nervous, not scared, because I know that my body can hold up," he said. "That's one thing I have to put out of my mind, which is very important for a guy that's been out for the whole season from an injury. We have a pretty good team. As long as we get our chemistry together, we can do some special things, so I'm excited."
Johnson said that this preseason was critical for his career.
"This last year—this year—2015 preseason has been tremendous for me," he said. "Like I said, training my eyes, training where to go, trying to get back to where I was, I think I'm there. This game in Houston is going to give me a big test and I can't wait."
Linebacker Justin Houston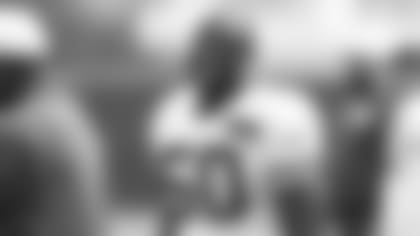 Linebacker Justin Houston said he's put the work in and now he's prepared to compete.
"I'm just ready to put it on the field," he said. "I know I'm more than prepared, I've been working hard this offseason. When you're working hard and you've been putting a lot of work in, you're just ready to let it go. It's go time and I'm ready to put it out there."
Houston said the "special feeling" that has been discussed lately comes from the family atmosphere in the locker room.
"I think it's the family," he said. "You can go in there, sit at any table, any time, and talk to anybody, anytime about anything. If you can do that with the team, I think that's very important. I think it's very rare. My first couple years, we didn't have that. You couldn't go sit at the lunch table with anybody and have a good conversation, and I think it's rare. I think this is probably the first year I'm able to do that."
Houston was asked what his sack goal is for 2015.
"To beat last year, if I can," he said. "My job is to pressure the quarterback, so anytime I can pressure the quarterback, I'm more than happy to do that."
Defensive lineman Mike DeVito
Defensive lineman Mike DeVito weighed in on the "special feeling."
"There's just something about this group," he said. "I think this group really embodies that family mentality. When I get out there on the field, whether it be [Derrick Johnson] or Justin [Houston] or Dontari [Poe], you really want to play for those guys, not just because they're coworkers, but they're really family. You want to go out there and work hard and do your best, not just to put your best product out there, but because the other guy's counting on you."
Safety Husain Abdullah said that he still gets excited for opening day.
"After an entire offseason, you get to kind of sit there and review and critique yourself from last year," he said." Then you get back into working out, get back into OTAs, then you go through training camp and now it's like football is finally here. We're all excited about it."
Abdullah truly thinks that rookie Marcus Peters is a sight to watch. "He can play," Abdullah said of Peters. "He can flat out play. It's going to be a joy to watch him