We're just days away from the 2013 NFL Draft, with the Kansas City Chiefs currently on the clock.
Rewind nearly one year ago, when the Chiefs owned the 11th overall pick and selected former Memphis DT Dontari Poe.
I recently caught up with Dontari to revisit his 2012 draft night and began by asking who from the Chiefs called him as NFL commissioner Roger Goodell announced his name.
"Mitch," Poe said. "I talked to Mitch (Reynolds, Chiefs football operations coordinator); he was the first person I talked to. That was a big thing for me; once I got the call, it's kind of a surreal situation that you're in, so I don't know if I remember it all, but I know I was just thanking God for the day, trying not to cry, but it was a blessing that turned out in a positive way for me, so, it was all good."
During the recent promotional spots for the upcoming draft, there are highlights of Dontari, surrounded by people at his draft table, inside Radio City Music Hall. He quickly recalled every person with him, as each helped make his NFL dream become reality.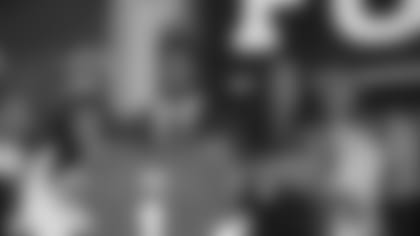 ](http://www.kcchiefs.com/media-center/photo-gallery/Foto-Friday-Dontari-Poe/8364ad44-ba44-4289-9dfb-608f3a7d17be)"My mom, dad, auntie, two cousins and my big brother," Poe immediately recalled.
When asked how he was feeling as soon as he heard his name called by Roger Goodell, Poe needed one word.
"Unbelievable," Poe admitted. "I was focused on trying not to cry on TV, but it was bound to come out sooner or later, which it did, but they were tears of joy. It was a good thing for me."
Now with a full NFL season under his belt, Poe has priceless advice that he plans to offer this year's top pick.
"Do what you've been doing," Poe shared. "Football is football; he's been playing since he's been young, I'm pretty sure, high school (and) college, so, it's the same thing, just on a bigger scale. As long as he works hard and just keeps focused, day in and day out, make sure he's ready to get better day in and day out, he'll earn respect from his peers and his coaches and he'll be alright from there."
Poe admitted how much he personally plans to do to welcome the team's newest draft choice.
"A lot," Poe admitted. "Because when I came in, they embraced me like a band of brothers, so I feel like it's up to me to do the same thing for the new guy coming in. When he comes, he'll be welcomed with open arms but at the same time, he'll know that it's go time."