After what seemed like an excruciatingly long wait for football to return to Kansas City, fans don't have to wait any longer as Chiefs coach Andy Reid and company report to the campus of Missouri Western State University in St. Joseph, Missouri for training camp.
As players and coaches had almost a month off since the end of OTAs, Reid is anxious to get things going this season.
"I'm ready to go," Reid said. "I'm telling you. Like you guys are and the fans. There's just a certain feel you get around this time of year. It's time to roll."
Rookies, quarterbacks and injured players reported to camp on Sunday, and will have the opportunity to review the offense and defense over the next three days before their veteran teammates arrive on Wednesday.
"We'll install tonight," Reid said. "When you setup the last part of your minicamps and OTAs, you set them up as basically the same install that we're going to start tonight. So the rookies will get the first three days of what they got in minicamp, and then they're going to get it again when the vets come in, so they get double-dipped here."
One of the rookies set to go is first-round pick Dee Ford, the outside linebacker who spent most of the break between OTAs and training camp working on the physical aspect of his game.
"You're getting more powerful, getting stronger and just staying in shape," Ford said. "In that you incorporate some time to study key things you had trouble with."
While Ford said his focus was on his strength, speed and quickness, there was also time to review the playbook and stay comfortable with his responsibilities so he's ready when training camp begins.
He explained the process in which he learns that side of the game.
"The way I do it is I watch practice," Ford said. "Anything I can do to make it make sense. The biggest thing for myself is visualizing myself doing it at practice."
Another player who is set and ready to roll is quarterback Aaron Murray, who admitted to being a "film rat" and enjoyed diving into the playbook over break.
"I love watching film. I love studying," Murray said. "You have to as a quarterback. If you don't love it then you're not going to be successful. I love getting in there and grinding, especially with a new playbook."
Between a hard copy of the playbook and a digital version on an iPad, Murray had everything he needed over break to be ready to go here at camp.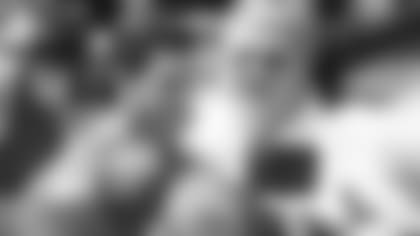 "The best way to do it is to obviously look over the playbook but I like watching film from last year, being able to see the play, not only on a piece of paper but to actually see it executed out on the football field," Murray explained. "I like to take notes on our hard copy playbook, and then look at the notes and get out my iPad or computer and see exactly what's going on."
Murray joins veteran quarterbacks Alex Smith and Chase Daniel, as well as second-year player Tyler Bray, here at camp.
But with so much being thrown at the rookies throughout OTAs and minicamps, Reid knows the dynamic of this team and that veterans will help younger guys get up to speed when needed.
"Our veterans do a great job of that," Reid said.  "They're all in and they help out with that, which the coaches appreciate."
In regards to what a successful first day would look like to coach Reid, albeit with no pads.
"(Laughs) Well there's no contact, but you want to see execution," Reid said. "You don't want to see guys jumping off sides, you want to see the balls caught and you want to see the defense work their drops properly. There's not a lot of run-game going on because they're not in pads, but it's about execution in all three phases."
The quarterbacks, rookies, and injured players arrived at Training Camp on Sunday at Missouri Western State University.