Though the on-the-field events such as the 40-yard dash and the vertical jump don't start until Friday, the 2015 NFL Scouting Combine was in full swing today as media and teams descended upon Indianapolis, IN to begin discussing the draft and who's taking whom.
Here are some interesting items of note:
Andy Reid took the podium
*Bleacher Report's Matt Miller posed his thoughts on the Chiefs offseason and even gave an early draft prediction *
New Jets head coach Todd Bowles shared quite the compliment about coach Reid
Todd Bowles, who was just named the head coach of the New York Jets, coached with Chiefs head coach Andy Reid during his last season in Philadelphia, when the team went 4-12.
He was asked about the adversity of that season on Wednesday and it led to a short story about his admiration for coach Reid.
"I think it helped me grow stronger," Bowles said. "Going through all the adversity, really seeing coach Reid go through all the adversity and him coming to work every day, being the same guy, making sure the team is taken care of, the coaches are taken of no matter what happened around him, with all the things he went through.
"I have learned more from that year from adversity and from a respect standpoint than I have from anybody I've been around.
"Hats off to coach Reid for teaching me a lot about humility, a lot about leadership, a lot about character and determination. I think that helped me going forward."
Raiders head coach Jack Del Rio was asked about Oakland missing the playoffs for so long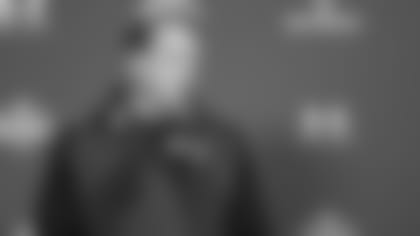 Jack Del Rio is one of the new faces of Raider Week, and right away, he was asked about Oakland's 12-year playoff drought.
"I'm really not spending a whole lot of time worrying about what was, I'm really focused on what needs to be going forward," he answered. "We're here because this basically begins the new year. You come here; you begin your draft preparations. You begin to bring your coaches in and close your draft preparation as you prepare for that day. You acquire that talent and then you go out there and compete.
"We're going to have a very competitive mentality throughout our organization and everything we're doing. We want to make sure that we're competing to be the very best. The goal from day one is to win the division."
Broncos coach Gary Kubiak doesn't know if Peyton Manning will be back, but if he is, they will run his offense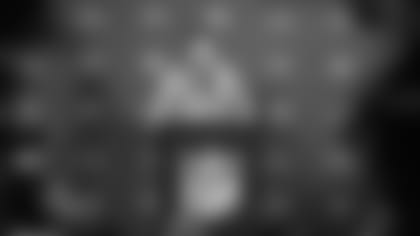 Broncos head coach Gary Kubiak was questioned as to whether quarterback Peyton Manning has assured him that he will be back. * *
"I don't think there have been any assurances or anything," he answered. "It's been about a process that he and John [Elway] have been working through the course of the last month. When I came in … I knew all along they were going to take some time, that Peyton was going to take some time away."
If Manning does stay, there probably won't be a change in the offense despite the coaching change.
"I think he can do anything he wants to do. You do what your players do best," Kubiak said. "We're going to run the Denver Broncos offense. That's a big challenge for me right now--meshing things together and getting ready to go do the things that Peyton does so well and has for many, many years."
The Bucs aren't committing to anything
The Tampa Bay Buccaneers hold the number one pick in the draft, and people want to know what they think of quarterbacks Jameis Winston and Marcus Mariota.
"I don't want to get specific on a player right now," Bucs general manager Jason Licht said. "I think it's really cool, though, that there's chatter now that they are going to both work out and I think it speaks to their competitiveness and things that we know about both of them. As different as those two are, there are a lot of similarities in terms of their winning pedigree and the Heisman, obviously, but they are both ultra-competitors, so it will be cool just to see them compete against each other."
"What do you judge quarterbacks on?" Bucs head coach Lovie Smith asked. "Accuracy, decision-making, leadership, and both of these players—the two win football games. Jameis, and Marcus, they've won a lot of games.
"Jameis didn't lose a game until the last one he played. That says a lot about him."