The 2016 NFL Scouting Combine has officially gotten underway at Lucas Oil Stadium in Indianapolis, Ind.
More than 330 NFL draft hopefuls have descended upon the Midwestern town to try and impress NFL decision-makers, who will evaluate these players over the next several days.
Here are a few notes from Wednesday:
Offensive linemen, running backs and special teamers arrived on Tuesday and went through their official measurements, medical examinations and met with the media
Quarterbacks, wide receivers and tight ends arrived in Indianapolis, registered and went through X-Ray and medical checks, as well as an orientation
Former Kansas City Chiefs OL and Pro Football Hall of Famer Will Shields is in Indianapolis as part of the "Legends" group that will meet with these prospects about life as an NFL player
Select head coaches and general managers met with the media in 15-minute increments on Wednesday with the rest scheduled to meet with the media on Thursday, including Chiefs general manager John Dorsey, who will speak at 4:15 p.m. CT
Most of the national media make their way to the hallways outside of where the interviews are taking place, and we'll have plenty of interviews with them posted this week at Chiefs.com
---
NFL Network's Ian Rapoport on the Chiefs defensive free agents:
"I mean, Eric Berry's staying. I have no doubt that he's going to be on the Chiefs next year, and he should. The story is amazing. You know, he's a great guy. Everybody loves him. He plugged through so much to stay where he is, and he's a great player. So I would expect him to stay.
"Then it's really a question of value. (Jaye) Howard's a really good player. I expect him to get some sizable money on the free agent market if he's interested. But you know, this is a team that you sort of hope drafts replacements for guys. Now, I think the Chiefs would like to keep him, but how much is he going to get elsewhere? I think Sean Smith, now I wouldn't be surprised if he tests free agency pretty heavily. Again, I mean, you draft your corner—a number one corner who sure filled that spot. But it was a great three years and I think everyone's probably happy with what the Chiefs got out of him."
Rapoport on his reporting of why Robert Griffin III would be a good fit in Kansas City:
"I think there's a couple of reasons. One, I would imagine the Chiefs would have to fill a hole for a backup quarterback now with Chase Daniel becoming a free agent (on March 9). He's going to be pretty coveted. It's funny. It's like when he signed that contract three years ago, it seemed like a big contract. Turns out it was absolutely worth it. He's a really good backup.
"Plus, a lot of it has to do with Andy Reid's history. It's hard for me to find someone who is better at making quarterbacks viable at teaching them how to be quarterbacks. Just countless times, you know. And from what I understand, RGIII's focus now is that. Not for this year, but for the next 10 years, how can I learn to be a pocket NFL quarterback? And Kansas City is also a place where, not like all of the big lights are going to come. It's not going to be a crazy media environment. He can just be. And plus, with the way that Reid and John Dorsey are, nothing's that big of a deal. Everything's kind of just handled.
"I like that environment for him. I think he could be a good backup there, and then after that, I don't know. Maybe he becomes a franchise quarterback again, or maybe [they] just get a good backup for a couple of years, but I kind of like that fit there."
Oakland Raiders head coach Jack Del Rio on Marcus Peters' rookie season:
"Obviously he's a local guy—an Oakland guy. So I followed him very closely and had a lot of interest in him. So Andy [Reid] has a good player there. Happy for the year he had. He did a real nice job with his opportunities and gained confidence as the year went on. He played at a real high level for him. So congratulations to him, and to his start to his career."
Green Bay Packers color radio analyst Larry McCarren, who is also a member of their Hall of Fame and played with Chiefs general manager John Dorsey in 1984, spoke about his old teammate:
"He was just coming in, I was just going out," he explained of playing with Dorsey. "I remember him being described by the Packers chief of personnel when he was drafted out of UConn, he said he's like a rodeo rider. He's a rough and tumble guy, and he is that. But John got into the personnel business—tireless worker and has really immersed himself. I mean he lives, breaths and dies this stuff. And yet, there's a humbleness to him that resonates really very well. I think it resonates really well with coaches, with players, with the people watching the team the fans and so forth.
"Don't mistake that for lack of expertise. He'll downplay it. But he really knows his personnel business. And let's face it. Kansas City had a really nice looking football team this year.
McCarren said he's not surprised by the success Reid and Dorsey have had thus far in Kansas City:
"The Chiefs are one the of the NFL's legacy teams. They have a foundation. I mean, they have the same colors. They don't go chartreuse every other year for marketing. They have that Kansas City Chiefs look. So you've got an organization with a foundation, and then you look at those two people. Leadership is no accident. It starts from the bottom, it doesn't start from the top. And having known those two key players, John Dorsey and Andy Reid. No it doesn't come as a surprise. They've known success in the National Football League, they know the blueprint for success and they're executing it in Kansas City."
NFL Network analyst Bucky Brooks on the Chiefs:
"Alex Smith began to look like a big-time playmaker. Jeremy Maclin coming over played well. Travis Kelce emerged as one of the top young tight ends. This is a team that has a promising future. I love what they did on defense. They're young guys running around making plays.
"It's a team that's poised to have a long run in the AFC West. They've got to surpass the Denver Broncos, but I think they're right there in the mix.
NFL.com's Gil Brandt on how important what John Dorsey did 20 years ago and how he treated people to build the relationships that he relies upon now as general manager of the Chiefs:
"It was extremely important. He's a personable guy that takes enough time to say hello to everybody. And no matter how busy he is, I call him and he'll call me back at 10 o'clock at night. He goes out of his way to be nice to people, and people go out of their way to be honest with him."
---
PLAYER SPOTLIGHT: LSU OL Vadal Alexander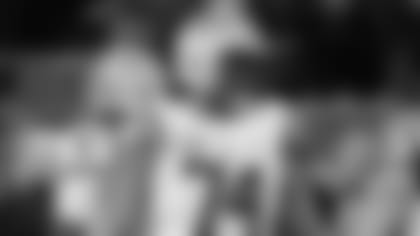 Alexander started as a true freshman in the SEC, accumulating 46 starts throughout his career, which included plenty of time at both left guard (25 starts) and right tackle (21 starts).
It's the same kind of versatility the Chiefs have seen from veteran Jeff Allen over the past four years.
Allen is scheduled to become a free agent on March 9 when the new league year begins, so with that, a player like Alexander could fit the same kind of mold if Allen is not re-signed.
Alexander knows that versatility is a key for him throughout this process.
"It's absolutely very important," Alexander explained of showing versatility to NFL teams. "I think on film you'll see I can play both (guard and tackle). I think the drills on Friday, you'll see I'm athletic enough to be used as a tackle and powerful enough to play guard.
"I think that is a big deal for teams and a big deal for me to show it."
For the Chiefs last year, specifically, versatility was almost a must.
Five different players played multiple positions along the offensive line, and the group saw nine different starting combinations in the 18 games they played.
Alexander confirmed on Wednesday afternoon that he has already met informally with the Chiefs. The formal interviews at the Combine begin on Wednesday night.
Over the past couple of years, LSU has done pretty good job putting out quality offensive linemen and guys who have contributed early in their careers.
The Dallas Cowboys' La'el Collins and Carolina Panthers' Trai Turner are two examples, and along with former players like Walter Jones and Steve Hutchinson, they are players Alexander admitted to watching and studying, he's constantly trying to evolve his game.
"Guys like that I just look at and try to take a little piece from each guy's game and try to implement it in mine," he said.
He's been evolving his game since he was 10 years old, which was the point Alexander decided that he was going to be a big-time college football player.
LSU was always his favorite team, and now he's at the Combine trying to help fulfill his next dream of playing in the NFL.
"It started with my dad," he explained of his love for football. "My dad is my biggest mentor—my best friend. He's always been there for me. It started with just going outside and throwing the football. Him being my coach growing up.
"I grew that love for the game because he kind of instilled that in me—that work ethic of [being a football player]."
Alexander was a freshman in 2012 during Spencer Ware's final season at LSU in 2012, and Alexander was happy about Ware's performance this year for the Chiefs.
"That's my man right there," he said of Ware. "I was so happy for him. He's such a hard runner and I think y'all saw that in Kansas City.
"He gets the yards he needs to get. No doubt."
The Chiefs have selected at least one offensive lineman in each of Dorsey's three drafts thus far in Kansas City, and Alexander looks to have the kind of versatility they covet.