It was a day for the quarterbacks on Friday at the NFL Scouting Combine in Indianapolis, as the top signal callers available in the upcoming draft spoke with the media.
A consensus among the top draft analysts out there, the top four quarterbacks in this year's class are Clemson's Deshaun Watson, Notre Dame's Deshone Kizer, North Carolina's Mitchell Trubisky and Texas Tech's Pat Mahomes II.
Watson, Mahomes and Kizer all confirmed on Friday they have met or will meet formally with the Kansas City Chiefs sometime this week in Indianapolis, although there shouldn't be too much read into that—teams can have 60 formal interviews with any of the 330 players in attendance this week.
For the Chiefs and the quarterback position, it needs to be noted that the comments over the past few months from Chiefs Chairman and CEO Clark Hunt, general manager John Dorsey and head coach Andy Reid, are that Alex Smith, who has led the Chiefs through one of the winningest four-year stretches in franchise history, will remain the starting quarterback heading into next season.
Smith has earned that and it shouldn't come as a surprise, but it doesn't mean the Chiefs couldn't add a young quarterback to the mix, considering Dorsey's two quarterback picks in the last four years—Aaron Murray and Kevin Hogan—are no longer with the team.
Combined with the fact that the Chiefs haven't selected a quarterback in the first round of a draft since 1983, the buzz is there for the Chiefs to potentially take a guy this year.
"I see a lot of spread-option quarterbacks," Dorsey said on Thursday of this quarterback class. "I see a lot of athletic guys. I see a lot of guys that—you know, have a little work to do. I mean there are some talented players in this draft class, but there are some mechanics and flaws they're going to have to work through to translate to the pro game."
NFL Network's Bucky Brooks gave his thoughts on the top four quarterbacks in this class and if he sees a potential fit in Kansas City.
"With Kizer, you're talking about a blue-chip player who has all the prototypical arm talent and athleticism that you look for," Brooks explained. "Mitch Trubisky to me is very much like Alex Smith—athletic playmaker, accurate, has the arm strength, and then Deshaun Watson is the ultimate winner—he's a guy you can't dispute, a 32-3 record, back-to-back national title games and won the following one with an epic game-winning drive—he brings a lot to the table.
"I think it's a matter of surrounding those guys with the right pieces, and giving them a chance. If you're a team like Kansas City, who already has a veteran in place, you have the luxury of being able to take one of those guys—maybe at the bottom of the first round, and allow them to kind of grow into that role."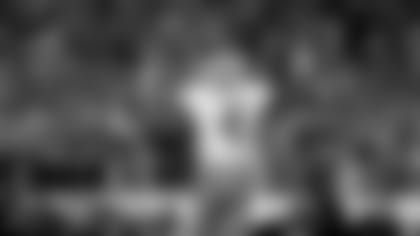 Brooks said his "best case scenario" for the draft is for the Chiefs to have the opportunity to select one of those four quarterbacks when the first round rolls around on Thursday, April 27.
"If I'm the Kansas City Chiefs, I would look for a quarterback of the future at that point—bottom of the first round, you can get a guy and have him on that lengthy deal, where he can play behind an Alex Smith and maybe in his second or third year, he can take over for him.
"I think Deshaun Watson would fit in that situation because Andy Reid has done a great job developing athletic quarterbacks, but any of those three would fit in that. If I can find a quarterback in this draft, I think I'm going to pull the trigger because I think they have an opportunity to really build it slowly and allow them to grow into the role behind Alex."
CBS Sports' Dane Brugler also offered his take on this quarterback class.
"We have plenty of teams in the top 10 who need a quarterback, but they're going to be passing because of the uncertainty at the quarterback position. With that said, there certainly is talent. This isn't a bad quarterback class. It isn't a great one, but it's not bad either with Kizer, Trubisky, Watson and Mahomes.
"So, for the Chiefs—picking late in the first round, they're in a unique position where if one of those quarterbacks may fall to them, or maybe there's a certain point in the draft where they feel comfortable trading up five or six spots, to try and get that guy, sure, it has to be a possibility.
"You can't rule out quarterback for the Chiefs in the first round."
Brugler also believes the Chiefs are a great fit for a young quarterback to sit and develop.
"I think [Reid] has a great history of understanding the strengths of his quarterback," Brugler added. "And then, the play-calling, the personnel, reflect that. He put his quarterbacks in the right positions to succeed, and that's the name of the game. That's why Andy has been a long-time successful head coach in this league, and the most successful head coaches have been that way. They don't make their quarterback fit what they want to do. They adjust to their quarterback.
"If you're a quarterback and you land to the Chiefs in the first round, you know you don't have to start right away and you know you're going to get good coaching—that's a great situation."