When it comes to trying to guess what's going to happen with the Kansas City Chiefs' selection in the first round of the 2017 NFL Draft, which takes place on Thursday, April 27, that's obviously not an easy thing to do.
In recent mock drafts, the experts have had the Chiefs going in any number of directions with that No. 27 overall pick, and the fact that there's not a real consensus is a good thing because it means the roster is balanced and without a lot of holes.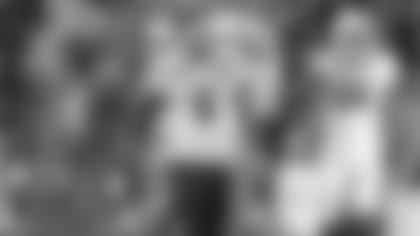 While a lot can still change between now and the start of the draft with free agents still signing with new teams, including the Chiefs, who recently added a defensive lineman and safety, the possibilities of what an ideal first round would look like if you're the Chiefs is still worth discussing.
One thing we did learn last year is that picking so late in the first round also allows for the possibility of all kinds of things to happen, including trading down.
Last year, the Chiefs traded out of the first round with the San Francisco 49ers and still managed to pick up defensive lineman Chris Jones (No. 37 overall,) and Jones went on to have a fantastic rookie season.
The additional picks the Chiefs gained from the 49ers by moving down nine spots (No. 28 to No. 37) in that trade were used to select starting left guard Parker Ehinger (No. 105 overall) and cornerback D.J. White (No. 178 overall), both of whom found the field and made an impact as rookies.
Outside of any trade-down scenarios like the one last year, which are obviously hard to predict, the answers below from some of the most respected draft analysts out there are about what they believe is the best-case scenario for the Chiefs by the time it gets to the No. 27 overall pick.
CBS Sports' Dane Brugler: "I think there's always a chance that one of these (quarterbacks) could fall to you, so I'd say, quarterback. Go after Deshaun Watson or Pat Mahomes if they're there. You would have to feel good about your future knowing that you have this talent on your roster developing. It also gives you some insurance. We've seen some other teams do that with quarterbacks. Carson Wentz was thrown into the action earlier than most anticipated and I think Alex Smith is the guy right now, but if there's an injury or if something were to happen, you have that quarterback ready to go. You're not having to worry about who the quarterback of the future is. So, in that scenario, if we see a quarterback fall a little bit, we're going to be hearing a lot about these quarterbacks and you'll have to do your due diligence, but I think that would be a good marriage for one of these quarterbacks if they were to fall into the 20s."
Bleacher Report's Matt Miller: "The best-case scenario is that there's a run on quarterbacks and running backs, and I feel like Haason Reddick is such a perfect fit for the Chiefs. As of a couple weeks ago, that seemed realistic, and now, as we get closer to the draft, [Reddick] might not be there. So, if there's a run on some of those other positions that will push a guy like Reddick down the board, as [Johnson's] future is kind of in doubt as he gets older, [it's] getting someone that has the athleticism and range that really makes that defense go. You can't replace DJ (Derrick Johnson), but Reddick is a really good start in fixing that defense in his absence."
NFL Network's Charles Davis: "That's a tough one to answer because there's so much that goes into it. You're just hoping that you can identify three, four or five guys as your best players available and see how they fall to you."
NFL Network's Daniel Jeremiah: "I think when you look at what could happen for them, you want players at the positions where you're strong to go. I know everybody seems to want to replace Alex Smith, but I think he's a pretty darn good player. If I were the Chiefs, I would hope that all of these quarterbacks go and that we could have another player at a position that could help us drop into our lap."
NFL Network's Bucky Brooks: "Best-case scenario for me if I'm the Kansas City Chiefs, I would look for a quarterback of the future at that point—bottom of the first round, you can get a guy and have him on that lengthy deal, where he can play behind an Alex Smith and maybe in his second or third year, he can take over for him. I think Deshaun Watson would fit in that situation because Andy Reid has done a great job developing athletic quarterbacks, but any of those three (Kizer, Watson, Trubisky) would fit. If I can find a quarterback in this draft, I think I'm going to pull the trigger because I think they have an opportunity to really build it slowly and allow them to grow into the role behind Alex."
CBS Sports' Will Brinson: "I think this is similar to the 2011 draft in that there's a ton of defensive talent. I mean, J.J. Watt fell between Christian Ponder and Blaine Gabbert—say that out loud in 2017. I think if Mahomes, Watson, Trubisky and Kizer all go, and that's a possibility—not a likelihood but a possibility— or even three of those guys go, you're going to see somebody fall. I think [Haason] Reddick is the guy. You look at him and he just pops off that tape, and he's explosive off the edge. To me, that's the spot. If I can get a playmaker who I can really develop and spend a year really building into a quality pass rusher, if I'm (John) Dorsey, that's the pull I want to pull."