As the music was blaring for the first time during training camp, the Chiefs were practicing for the last time without pads Friday morning on the campus of Missouri Western State University.
Most likely due to the offense working on some no-huddle in team work, fans in attendance were treated to some Metallica and other music blaring throughout the fields Friday morning for a portion of practice.
In what also provided some energy to the fans, the quarterbacks had to work in a game-like environment working through the loud distraction.
Along with the quarterbacks, the offensive line had to make sure they were on the same page with their assignments in dealing with the music, something they were working on throughout the day.
Having a chance to follow around the offensive linemen today, much of the early part of their day was going through pass-protection responsibilities. They worked pad drills with a focus on their hand placement and punch.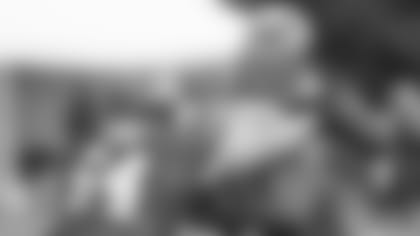 With the pads coming on tomorrow, the offensive line will finally be going up against players in pads and helmets instead of a guy holding a pad, something defensive end Mike DeVito is excited about.
"You're itching for tomorrow—when you put the pads on," DeVito said. "It's been what? Seven months now? Eight months now? It's time to roll."
DeVito, a NFL veteran of seven years, likes his role in defensive coordinator Bob Sutton's scheme. It's something he's familiar with going back to their time together with the New York Jets, where Sutton and DeVito were together before coming to Kansas City last year.
"It's been great," DeVito said. "I had been in this defense since 2009, so that's really helped me to take on more of a leadership role and I don't have to think as much because I've been doing these plays for so long, so that's really a big benefit."
Another player who is ready to go is receiver Dwayne Bowe, who looks noticeably leaner here at training camp.
"I always felt that I was at the tip top of my game but I feel lighter, I feel faster and I owe it to my coaches, trainers and the staff for believing in me and letting me do what I do," Bowe said. "As you get older, talking to the old vets, they'll you, every year you should lose more weight and that's the way you stay in the game. That's what I'm trying to do."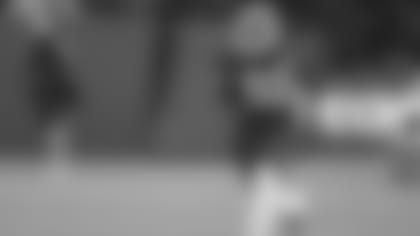 One way a leaner Bowe could take advantage of his new physical traits are with passes down the field, something offensive coordinator Doug Pederson wants his offense to continue to feel confident about.
"We keep harping on the guys to maintain your ability to continue to push the ball down the field and maintain that level of excellence in the passing game," Pederson said. "I think everybody saw how explosive we became towards the end of the year in those last eight or nine ball games."
Pederson will see how explosive that offense can be Saturday morning as the Chiefs strap it up at 8:15 for practice for the first time with pads.
We're expecting a great crowd for Family Fun Day as the pads get popping for the first time this season.
Sanders Commings did not practice again due to a foot strain
David Van Dyke (hamstring) and Joe McKnight (knee) continue to work off to the side with trainers
Sean McGrath was not present for practice for the second straight day
Photos from day 2 of Chiefs Training Camp from St. Joseph, Missouri