On WR Frankie Hammond: "Frankie has come in here since day one [of] OTAs and just continued to work hard. He's showed flashes last year actually on the service team against our defense and worked there and he's just put himself in a good position. He's a smart kid. He's put on some weight, some strength and he had a nice game the other night. You never know what the roster is going to look like game one. We're still in the process of evaluating every player and he definitely put himself in a position to do some good things and warrant some more playing time."
On how the offense against the Panthers changed without RB Jamaal Charles: "It didn't change at all. We went into that game plan just [knowing] the next guy had to step up and Knile (Davis) was that guy and we have the running back by committee right now. There's a lot of guys vying for some spots and it was good to see Knile get out there and Cyrus (Gray) and those guys work and compete. And Charcandrick (West) out there late in the game. They all did a nice job, so [the] next man has to step up."
On getting the screen game going: "It's something we've worked on [during] OTAs and even into training camp. It's just fundamentals. It's just a matter of understanding of where the ball is being complete, getting vertical, not drifting one way or the other whether it's the back or the offensive line and there's some timing involved with screens and there's a little bit of deception. So we've got to continue to work that area and get better because the screens are a bit part of what we do."
On RB Knile Davis' ball security: "He's come a long way. He's made it a conscious effort to protect the football and he understands that. He's a professional and he continues to work on that in practice. We asked the defensive guys when they came to go after the football and try to knock it loose. He's conscious of it, he's done a great job so far and hopefully he keeps that going."
On T Eric Fisher: "Eric Fisher has done a great job. Again, he's battling. It's that part of camp where everybody's a little bit tired but he's fighting through it. He's in a good spot, still has to work on his fundamentals and details just like everybody else, but he's in a good position right now."
On T Eric Fisher's play so far: "He's getting used to the left side over there and then just coming back and battling back from that injury he had and just focusing in and understanding what he needs to do to get better as a professional and just continue to detail his work. Coach (Andy) Heck does a great job with him individually and then in our team setting, he's going to continue to work hard and we got all the confidence in the world in him and look forward to the season."
On offensive line taking penalties: "We don't make any excuses for it. The emphasis comes with the huddle. The quarterback has to emphasize the snap count in the huddle and it starts with him and the center and guys just have to focus in on detail. They get in the heat of the battle and sometimes, they get a little fatigued in the game but they still have to concentrate and understand how we're snapping the ball [and] when we're snapping the ball. We got to eliminate those types of penalties—the holding penalties and then obviously the sacks and turnovers."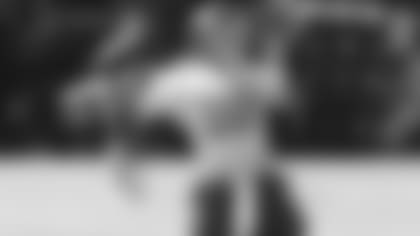 On where he is at in training camp: "I feel very comfortable right now. I've always played a lot in the preseason. I'm going on my sixth year in the league and feel very well where I'm at. I feel like I had a good camp so far. I felt like us as a quarterback group, we've all had a great camp and we're just focused right now on getting ready for Minnesota, tightening up some loose ends these past two games and get rolling against Tennessee here pretty quick."
On what loose ends he's referring to: "I think the first game you look at turnovers. From the quarterback room we had three—two fumbles and an interception. And some of the sacks, some of the protection issues where we're at fault for it."
On what WR Frankie Hammond brings to the game: "He's just making the most of his opportunities. He's excited to go out there, play week-in and week-out [and] you can see what he brings to the meetings; you can see the confidence he brings and the speed he brings on the football field."
On the Chiefs screen game: "I think the screen game, especially with a little bit newer and younger offensive line is just getting the timing right. We did an excellent job last year with our screen game and we need to continue it and I think that's something that Coach Reid has been harping on us lately about is to really focus on getting the ball in the back's hands as much as possible. With our backs like Jamaal Charles, Knile Davis, Cyrus Gray [and] DAT, you want the ball in their hands at all times."
On whether the quarterbacks are comfortable with where they are at:"Yeah. I think you look at last year at this time—our first year in coach Reid's offense to right now, a full year knowing what he expects—I think that we are light years ahead of where we were last year."