Mike Rathet was the AFL's publicity director early on in the league's history. He had been an Associated Press sports writer and ended his career as sports editor of the Philadelphia Daily News, considered to be one of the best sports pages in the country, when Rathet was there with a wealth of columnists and beat reporters to include Mark Whicker, Ray Didinger, Bill Conlin, and Stan Hochman, among others.
In his role, Rathet wrote about many of the characters the AFL attracted –  actually all professional sports teams had more than their share of characters back then, when character had a different meaning than we know it today.
EJ Holub, the Chiefs famous cowboy, played both offense and defense over his 10-year career in Dallas and Kansas City.
Holub didn't have a phone growing up in Texas, admitting to Rathet he was "sort of a hillbilly," chewing away on an ever-present wad of chewing tobacco he always seems to have in his mouth. His family didn't have a phone and it wasn't because they didn't want one; it was, as he said, "complicated by living 170 miles from the closest telephone facility." Holub made this comment in 1966, not 1866.
"Yeah, the guys kid me, because I'm sort of a hillbilly," Holub admitted as he chomped away on more chewing tobacco.
At the time, Holub was living on his ranch on the Pecos River, some 125 miles from Odessa, Texas, and shopped there twice a week for groceries and other supplies.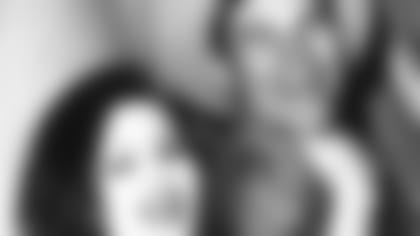 Holub had only recently stopped chewing tobacco during games, had avoided an operation for the first time since he could remember and found a solution to the problems of being lonely at camp.
"I still chew during a workout," he admitted, "but I stopped doing it during games, a long time ago. You do it during a game and you get excited and you forget. A couple of times I swallowed it and that made me stop."
Holub had seven operations on his knees by this time in his career but, according to him, "I don't consider them serious, unless, it's a ligament and I haven't had any of those." [These were days before scoping.]
Finally, as a way of feeling completely comfortable, far from his Texas roots, Holub trucked two horses to camp to help pass the time.
"They give me something to do," he explained.  "[In 1965] I just about went out of my mind, when we weren't working out. This year, I got them over at this place near camp and I went over and worked with them, when I had time." [Years later, tight end Jonathan Hayes became a quarter-horse enthusiast and in time, he lured quarterback Joe Montana to take up an interest.]
There was still one thing missing from Holub's life back then; "The television down home is fuzzy, because we're so far away from anything," he said. "And sometimes when the deer run around, they break the cable all together."