The wheels rolled down the concrete tunnel, inching a seated Alex Goodwin towards the sunbathed grass.
A swath of people followed close behind, including his father, Jeff, a pair of cheerleaders and the Mission Chief of Police, Ben Hadley, who had pushed Alex's wheelchair through the Hall of Honor, the locker room and ultimately to this place, where thousands so often greet the Kansas City Chiefs. 
This was an unordinary tour of Arrowhead Stadium for a far from ordinary 10-year-old boy.
The cheerleaders formed a makeshift spirit tunnel for him to roll through out onto the field, a family friend pointed out the unique curvature of the stadium walls and a tour guide explained the vision of the late Lamar Hunt.
It was a perfect morning – and one that, as recently as two years ago, was never supposed to occur.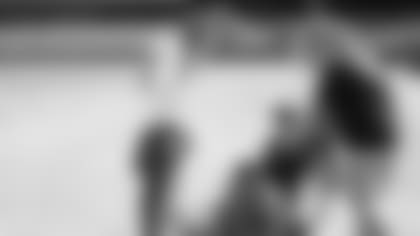 You see, Alex, a native of the United Kingdom, was told he was going to die. There was nothing the doctors could do after a six-month misdiagnosis revealed itself as Ewing's sarcoma.
"He had just turned nine," Jeff explained. "And they told us that he wouldn't make it to 10."
An incredibly rare condition, Ewing's sarcoma affects less than 300 children in the United States – and less than 30 in Britain – each year. Its scarcity means that treatment is underfunded and, such as it is in the U.K., very difficult to find.  
That lack of services compounded with Alex's late diagnosis meant the odds of survival were virtually nonexistent.
It was a reality that Jeff, a police officer, was simply not going to accept. And as fate would have it, a tragedy a world away was going to lead his family to the only place capable of pulling off the seemingly impossible. 
"I did as much research as I could and put the whole social media thing into motion," Jeff explained. "And at that time, the police department in Kansas City, Kansas, had two officers killed and their chief was looking for inspiration."
The department was mourning the deaths of Police Detective Brad Lancaster and Captain Dave Melton, who passed away in May of 2016 while in the line of duty. It was that devastation that prompted Chief Terry Zeigler to seek out motivation online, where he eventually learned of a young boy in England fighting for his life.
One thing led to another, as Zeigler connected Jeff with a doctor at the University of Kansas Health System.
"We identified one of the only surgeons in the world that was capable of performing the process that Alex needed," Jeff said. "And he was in Kansas City."
Though the search for a surgeon was only the beginning. Now, Jeff and his family were tasked with transporting a sick child across the Atlantic Ocean to America's heartland.
"It was a race against time because we needed to get him to America for surgery as quickly as possible," Jeff said. "He was getting to a point where he had deteriorated so much that the airline wasn't sure if they could transport him, and we didn't have the money to pay for a medical transport."
But the donations poured in – much of which came through Zeigler's efforts - providing Alex with an opportunity to fight for his life. He amassed over 20,000 followers on Twitter and found himself inspiring countless others, including Hadley, who was also battling cancer. 
"He has this ability to be very gentle and empathetic – he cares more about other people than he does himself," Jeff said. "I think that's why his message has resonated with so many people."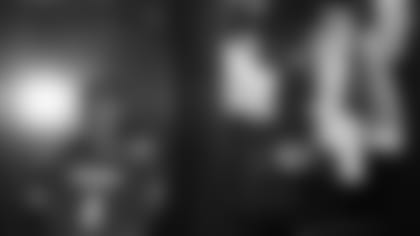 Upon the Goodwin's arrival in Kansas City, they witnessed that support firsthand.
"When we first arrived at the airport, we were greeted by a motorcade of about 70 different police vehicles who all came on their own time," Jeff said. "It was one of those things that I'll never forget."
From there, the doctors at the University of Kansas Health System and surrounding hospitals got to work.
"We got him here, where he had chemotherapy and two big surgeries," Jeff explained. "The cancer had spread all the way from the top of his femur into his pelvis and down to his knee. He had to have extensive surgery, which involved removing his femur completely in exchange for a metal one. He also had reconstructive surgery on his pelvis, his patella and his tibia."
The surgery involved a telescopic prosthesis, which is a pair of big words for an artificial limb that can grow with Alex's body through the use of magnets.
"He's like Iron Man now," Jeff joked.
The process, which consumed multiple trips back-and-fourth and an eventual eight-month stay stateside, was successful. Alex was rid of his death sentence.
And with the Goodwin's new lease on life came an appreciation for the cultural pillars in what had essentially become their second home. That included football, which revealed itself as more than just a game during Alex's fight.
"I prefer American football to soccer – our football – to be honest," said Jeff, who played rugby growing up and had passed along his sporting interests to Alex. "In American football and rugby, the whole team needs to work and function as a team, or you won't succeed. I can draw a lot of parallels from the game to Alex's situation where there's a team of people that helped him survive."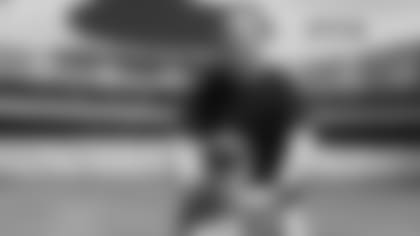 It was a member of Alex's team that happened to introduce the family to the Kansas City Chiefs.
"One of the doctors involved in Alex's treatment is passionate about the Chiefs," Jeff explained. "We actually all sat together and watched the match against the Denver Broncos last year together on television."
It was moments like that, a friendly comradery over a common interest, that helped alleviate the stress associated with a boy fighting for his life. And with Ewing's sarcoma, a disease as relentless as it is scarce, the fight was far from over.  
"The statistical probability of it coming back is 70 percent in the first year," Jeff said. "Unfortunately, a lot of the kids that he was in the hospital with in the U.K. have died now. They either couldn't get the treatment and they passed away or it came back. We're in a position now where the technology that we need to check it is in Kansas City."
That means cross-Atlantic trips every three months for the critical scans needed to monitor Alex's progress over the next year, and visits every four months for another four years after that.
It's more than most could bear, though the Goodwin's never felt as if they were shouldering it alone.
"I'm overwhelmed by it," Jeff said. "Even now, when I look back and I wonder how all that happened…even if you're not a religious person, you can't deny that the mosaic of everything that happened was almost as if some kind of divine intervention took place."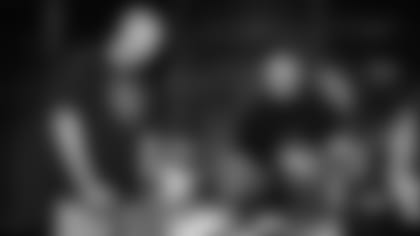 Which brings us back to the Arrowhead grass on this summer afternoon, which just so happens to be the eve of Alex's 11th birthday. The group took photos, learned about the stadium's rich history and Alex even asked for some cotton candy.
For a few hours, he wasn't a kid fighting for his life. He was just a kid.
"This is why we do this," said Allison, one of the Cheerleaders present. "It's about bringing joy to other people."
A certain joy that comes with celebrating a day many didn't think was possible.
"This is the birthday that we never thought he would have," Jeff said. "We never thought he'd reach tomorrow, and he gets to celebrate it here. Kansas City saved his life."
Alex Goodwin, a 10-year old boy from the UK receiving cancer treatment in Kansas City, getting a VIP tour of Arrowhead Stadium.