Minnesota Vikings head coach Mike Zimmer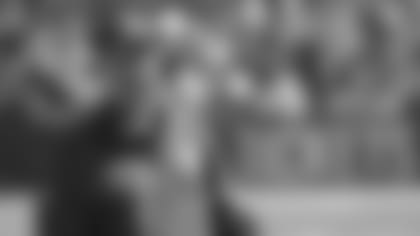 Head coach Mike Zimmer addressed the Chiefs running game, now without Jamaal Charles.
"I think the running game will be similar to what it has been," he said. "You know, the thing with Charles, he was—and I think [Charcandrick] West is very similar to him, and I remember [Knile] Davis has had some very, very good games—so, I don't think it's going to change a whole lot. Obviously, Jamaal Charles is a great player. I'm sure they'll miss him in a lot of things, but these other guys are very, very capable backs."
Running back Adrian Peterson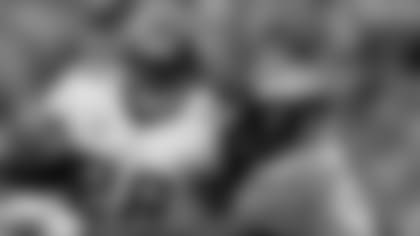 Running back Adrian Peterson, who tore his ACL in 2011, weighed in on the Jamaal Charles injury.
"You know, it's not what you look forward to dealing with," he said. "Mentally, it's a struggle, you know, but knowing Jamaal, he'll bounce back. He'll bounce back. I hate to see him go down like that, man, it hurt me to the core [to see] my guy go down, and on the opposite leg as well. He's been through it before with the left knee and now he knows what to kind of expect doing the rehab and recovering from it, so that's one positive. Me, personally, I'm going to make sure I reach out to him during the offseason because I know he's back down in Texas and stuff, try and get him to come work out with my guy and, you know, to get him back to doing what he does best."
Peterson explained how he was feeling knowing he had nearly a year of rehab ahead of him in 2011.
"Initially I just kind of accepted it for what it is," he said. "You know, not beat yourself up on what you could have done differently and just get the game plan to come back. Get your game plan drawn, your moves, your steps, and go after it because it is what it is now. What are you going to do to come back and be ready to play next season? That's where [Jamaal's] mind needs to be."
Peterson was asked if he questioned whether or not his skills would return to him after the injury.
"Not at all," he said. "I knew it was going to be a challenge but immediately, the first thing I did—I'm talking about when I was in the locker room in Washington—I told myself it was just a blessing in disguise for me. Give me something to work and to push for, and to come back at and overcome the odds. I knew people were going to have things to say about me not being able to come back and be the same and this, that and the other, so it was more so a challenge for me. As long as he looks at it that way and keeps his mind focused on the things he can control, it will work out good for him. He has so much talent. He's one of those guys that has that God-given ability, so with that, I think if he just has his mind right, mentally, and puts the work in, he'll be just fine."