Branden Albert is back and relieved. The Chiefs left tackle joined his veteran teammates and the rookies for the start of this week's OTA.
"I'm just happy to be back with my teammates," Albert said. "Football wise, I made some mistakes today, but I'm just happy to be out there and be back with my teammates in the locker room and playing football."
He continued by saying, ""There was no disgruntled, just a little confused. Everything is clear. It's in the past. I'm here to work."
Now that Albert is back, the talk continues about him and another guy who excels at left tackle but has since moved to the right sight, Chiefs top pick, Eric Fisher.
"I'm looking at Eric," said Albert, "He's going to be a special player. He works hard, he has all the tools and whatever he's going to play, he's going to be good at it."
Some wondered what reaction both Fisher and Albert would have upon meeting each other; Albert said that shouldn't have even been a question.
"I want him to know that I'm going to help him the best way I can, so he can be the best player, from now into the future, so he can be a Hall of Fame tackle, so he can help his team make a Super Bowl, so he can be a Super Bowl tackle, so he can make Pro Bowls earlier than I did," Albert said.
Fisher is just as excited to work with Albert.
"I'm looking forward to learning from him every day," Fisher said. "Obviously, he's been in this league awhile and he's done some great things, so, I'm just going to embrace the position I'm in and I'm going to make the most of it and I'm going to try and help this team win some football games."
Having both Fisher and Albert on the same field, as well as in the locker room provides an opportunity for immediate and future success.
"I think after I get settled in here, we're going to be able to help each other," Fisher said. "It will be like a (left and right) tackle competition, trying to push each other to be the best and I think that's what's really going to help this line is competing every day and trying to develop a really good offense."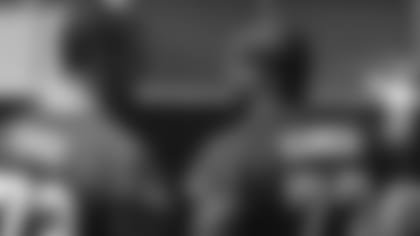 Fisher continued by evaluating his day and what he's learned from his veteran teammates, like OL Jon Asamoah.
"I thought it  was a very productive day," Fisher said.
"It opened up my eyes and showed me what playing with the vets is going to be like; going against these guys every day, it's going to make me a better player and going against the best competition out there, will bring the best out in me."
In other team-related news, following today's practice, Chiefs head coach Andy Reid addressed the media and specified the role of recently-hired 'Pistol' offense innovator, Chris Ault.
"Chris is a consultant and I brought him in," coach Reid said. "He's actually been here once and visited with the defense and spent some time there. He visited with (Chiefs assistant coach) Brad Childress a little bit and they went over some stuff. He will not be here, he's not moving here, that's not what he's doing. He's living in Reno. I'm doing with him what I did with Tommy Brasher for the last six years and that was I would give him projects to do and between him and Brad [Childress], they'll do that and work together on some things for us."
As for the Chiefs using the 'Pistol' offense, don't count it out.
"Well, it is an option, literally," coach Reid said. "We do a little bit of everything, so that's what we've always done. We're not featuring that. But we mess around with a little bit of everything."
Phase three of the team's offseason conditioning program continues tomorrow, before concluding for the week after Thursday's practice.