With his two sons, Max and Sam, and his wife, Jamie, in the front row, Kansas City Royals outfielder Alex Gordon spoke to the local media on Wednesday afternoon about his recent contract extension that will keep him in Kansas City for at least the next few years.
After the traditional portion of the media press conference was over, Gordon took the time to talk about his affinity for the Kansas City Chiefs—something that has been a part of him from a very young age growing up in Nebraska.
"I always remember tailgating at Arrowhead Stadium with the family," Gordon recalled. "That was always a special moment because fans during the tailgate are just so fun to be a part of. Some of the personalities out there always are pretty special.
"I just remember the atmosphere—coming to the games, never hearing anything like that really, just the craziness and everything that goes along with Arrowhead Stadium."
While he obviously had his own things going on over the past few months as he just signed a multi-year extension to hopefully bring several more World Series championships to Kansas City, Gordon has been caught up in what the Chiefs have been doing.
"It's the talk of the town right now," he said. "To do what they've done this year has been pretty amazing—to go from losing five games straight and then turning it around and probably being the best team in the NFL right now, just winning 10 games in a row and playing great and taking that momentum into the playoffs.
"It's very exciting and it's been pretty special to watch."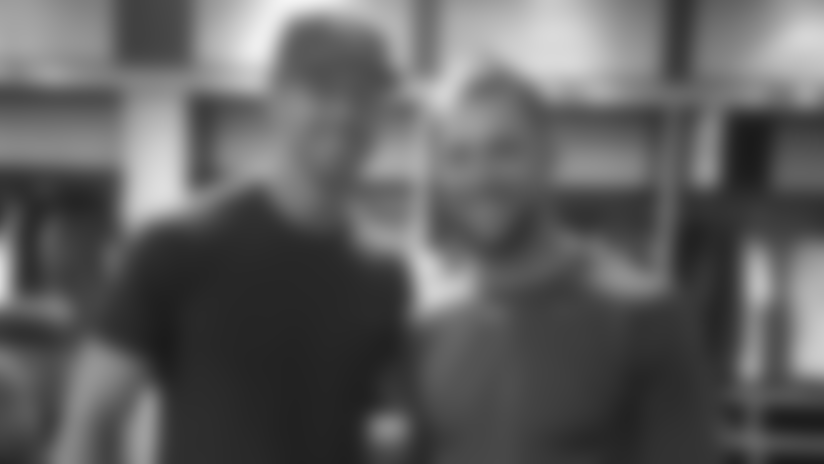 (Chiefs QB Alex Smith and Royals OF Alex Gordon)
The Chiefs haven't lost a game since the Royals won the World Series, Sporting KC won the US Open Cup, and the idea has been floated out there that this is the best year in the history of Kansas City sports, and it's not something that Gordon backed away from.
"I can't wait for Saturday," he said. "It's been a special year for us and now to see what they're doing, I can't really put into words what that means for Kansas City. You saw what the fans did for us as far as a celebration.
"I'm hoping they get the win on Saturday and I can maybe go watch a Broncos-Chiefs game here in a couple of weeks."
Although he wants to go a future playoff game in Denver should it happen, Gordon didn't want to jinx it.
"I'm not going to speak too soon on it, but it's more than likely that I would go just because it's so close and it's capable for me and a lot of my friends are actually Broncos fans. I like to talk a little smack with them.
"Obviously they'd come along and we'd have a good time with it."
Gordon will be back in Nebraska on Saturday when he watches the game, and much like all of Chiefs Kingdom, he's hoping to see the Chiefs follow that same path of the Royals—starting an impressive playoff run down in Houston.