Between 200 and 300 fans showed up to 9th & Van Brunt Athletic Field Park Tuesday evening as Chiefs quarterbacks Alex Smith, Chase Daniel and Aaron Murray held an Ability Camp in partnership with the Recreation Council of Greater Kansas City.
"It's fun to come out in the community," Smith said. "These are all the same people that come out to our games to show some support, so for us to be able to come out to help give back in any way is always a pleasure and a lot of fun."
The evening started with Smith, Daniel and Murray setting up on three different Play 60 stations in separate areas of the playing field.
Smith manned a receiving station, Daniel handled a running back station and Murray was in charge of the kicking station.
"I was pretty much learning more than actually teaching," Murray joked. "Awesome event. The kids were phenomenal. The kids, adults, everyone … just being able to go out there and kick a couple balls off the tee, maybe tossing a couple passes and just the smiles they put on their faces."
After the Play 60 portion of the event was over, the quarterbacks and cheerleaders sat down to sign autographs for the more than 200 people waiting in line to meet them.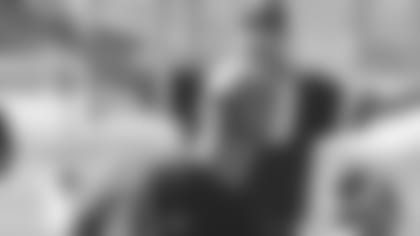 "It was insane actually today," Daniel said. "It was quite something. I guess when you're working out every single day and you just got your head down, you don't really think about it, but when you come out to an event in the community and how much it means just for a little bit of our time, I'm flabbergasted still.
"It's an amazing time out here and we love the fans just as much as they love us."
Smith agreed with Daniel, describing that the one-on-one interaction was his favorite part of the evening.
"Seeing how much joy it brings to them to be around and get to meet some guys and get to play and catch some passes and how much fun they have doing it really puts things in perspective and it's fun to get out here and to be able to do that."
The Chiefs quarterbacks assisted the participants through Play 60 activity circuits. The event reinforced the importance of being healthy and leading an active lifestyle.