It's been 80 days since the Kansas City Chiefs made a trade with the San Francisco 49ers, landing their franchise QB Alex Smith.
We've heard what a lot of Smith's teammates think about his benefit to the team and recently, Chiefs offensive coordinator Doug Pederson shared his thoughts on Smith's progress during the last few months.
"He's looking really good," Pederson said. "He's getting comfortable with what we're doing. He's understanding the terminology and he's orchestrating that. I'm really pleased with where he's at."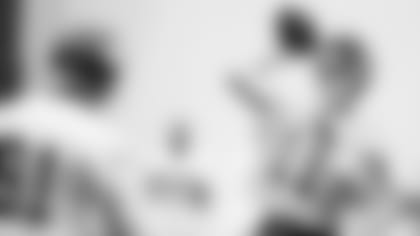 Working closely with both coach Pederson and Alex Smith is Chiefs QBs coach Matt Nagy, who is beyond impressed with the #1 overall pick of the 2005 NFL Draft.
"He's been everything that we thought he was," Nagy said. "He comes out here and he's a true professional. He's in his book every day. He's always asking questions, trying to get better. He's being a leader for those other guys in there as well."
Every coach on Andy Reid's staff is very detail-oriented, including Nagy, who is with Smith so often, it's tough to miss even just the smallest improvements the QB is making.
"I'm with him every single day," Nagy said.
"I have him other places in my room when he's not with the team, but he's in there with us as quarterbacks. We're talking X's and O's and past experiences that he's had. It's really helped bring some experiences. He has a lot of valuable experiences. Having those experiences and coming in here to a team with a new staff, it's been an awesome experience. So, throughout this process, we're just taking in what he has. He's taking in what we have. We're putting it all together and trying to make this thing work."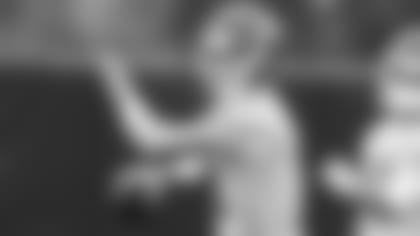 There are different ways to be a leader, including vocally or by example; Smith fits either mold.
"He's a true professional," Nagy said. "When he's out here on this practice field, he's a leader. The guys look to him. The quarterback position is so important to be that leader, whether it's vocally or by your play, and he does both of that. Having him be able to do that and having some of these younger guys looking up to him and the other quarterbacks, that's what we need. That's what we expect to have, and he does have that."
The final word on Smith comes from Chiefs head coach Andy Reid.
"He's done a nice job," coach Reid said. "He takes control; all the intangibles, he's got them. Just keep learning the offense, that's what we're doing, so it's steps forward every day."
The Chiefs steps continue next week, when the team has three final practices before a brief break and then, it's off to training camp in late July.