The biggest question heading into the week was the health of starting quarterback Alex Smith, who on two different occasions last Sunday against the Indianapolis Colts had to go into the NFL's concussion protocol.
Before Smith, who is currently in the return-to-play protocol, had a chance to take the podium and answer questions on Wednesday, head coach Andy Reid said that Nick Foles would be the starting quarterback on Sunday against the Jacksonville Jaguars, although Smith would practice this week with the scout team.
Reid did add that Smith won't be available as a backup on Sunday as they give him some time to heal, but that Tyler Bray will be active and back up Foles on Sunday.
"We'll have a chance to evaluate him," Reid said of Smith practicing this week. "He's worked out and he hasn't had any symptoms there, so everything's positive, but I just think it's important that we just step back here and take a peek and see how he does this week."
When Smith did have a chance to address the media, the question that everyone wanted answered was what happened with the two hits he took against the Colts, the process that took place afterwards and how he's feeling right now.
"Listen, I know you've all had fun with the 'What are we calling this, technically?' and I don't have an answer for you," Smith explained, adding that he doesn't believe it was a concussion. "I know this, obviously taking the hit, especially the first one when I'm trying to get up—buckled, woozy—whatever you want to call it, threw me off. But I remember everything—very, very coherent, very clear—went in, obviously got the cut on my ear, but went in and did the full evaluation and felt really good.
"I wasn't foggy. I didn't have a headache. My balance wasn't an issue. I felt really good and we went through all the protocol. I thought everybody was extremely cautious because of what they saw, and I think that's why you saw that even when I came out, there still wasn't a rush to get back in."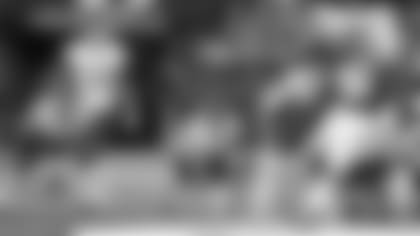 Smith eventually reentered the game after passing all of the protocols, but early in the third quarter took another hit—this time on a read-option play that had Colts defensive back Clayton Geathers seemingly slam Smith's head into the turf.
Smith believed he gave himself up early enough on the play, but didn't go as far to speak to any possible ill intent on the play from Geathers.
But once again, Smith entered concussion protocol.
"It was the same thing," Smith recalled of that second hit. "I remember everything. Certainly something happened, but I don't know what it was and I don't know what you want to call it. Same thing though—felt good and went back in for the second round of evaluation and it was the same.
"I felt good, I remember everything and my balance and all that—nothing was off."
At that point in the game, even after passing protocol a second time, Reid decided to stay with Foles, who finished the game 16 of 22 for 223 yards and two touchdowns.
It's the kind of performance that gives everyone confidence in Foles' ability to perform well on Sunday against the Jaguars.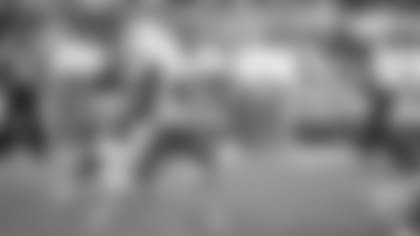 "We're lucky to have a good quarterback group," Reid explained. "They're all friends. They get it and they work well together. Alex will put on the coaching hat this week and help out in that area. Everyone has confidence in [Foles]. He'll get in and do his thing and we're lucky (general manager) [John] Dorsey made these moves to where we have a good quarterback group.
"Not every team has that, so that's a positive thing."
Foles has started 35 games in his four-year career, including six in his rookie season back in 2012 with the Philadelphia Eagles under Reid.
"I feel pretty good that he's got a grasp of everything," Reid explained of Foles' understanding of the offense, which is a bit different than it was four years ago with the Eagles. "We didn't have to change anything when [Foles] went in (against the Colts). He was fine doing the offense.
"I wasn't looking at the play sheet saying, 'What can I call? And what can't I call?' That's not how I felt with him."
The decision to have Foles start this week was one that Smith was obviously a part of, but it was ultimately Reid's call.
"He and I have the relationship where I was very open and honest with him about everything," Smith explained of that conversation. "How I'm feeling, what I'm thinking. This was a decision that we came to together. Listen, I love playing football and I love my teammates. I love everything about it.
"The last thing I wanted to do or the last thing anybody wanted to see was to come back too soon, and to see something happen again. I think every football player takes pride in being accountable, being tough, being able to play through things, but there's a fine line there."
When the decision was made, Smith immediately began helping Foles prepare for Sunday, but Foles' first reaction to the news was of Smith's well being.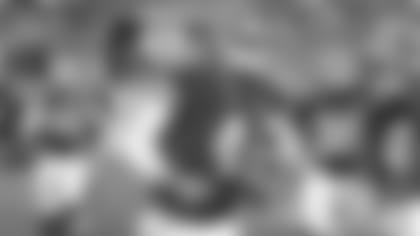 "First off, Nick's the type of guy that wants to see how I'm doing," Smith explained. "But once that decision was made, your role changes this week, right? So I'm doing whatever I can to help this team—to help Nick and Tyler (Bray) get ready.
"It's no different than what those guys were doing (for me). It's a team sport."
Foles, who hasn't had any live reps with the first-team offense this year, said it's an advantage for the decision to be made so early in the week so that he can take advantage of every meeting, practice and rep this week.
"It's a big day (on Wednesday) and I've got Alex and Tyler with me every step of the way, walking me right through it," Foles added. "That's what's nice is we're going to rep these plays and I'll continue to be able to analyze and watch film, and see what they're like and get a good grasp of them. "I'm picking their brains as much as I can. [Smith] has had so much success here, so I'm obviously going to use everything that he can give me moving forward, but I feel good about where I'm at right now."