Tyreek Hill accomplished something Wednesday morning that hadn't been done by a rookie in 10 years.
"It means a lot just to be up there with a name like that," Hill said during his media opportunity. "The name Reggie Bush just speaks for itself—for what he's done. Not only what he's done in college, but what he's done in this league."
Examining further with still three games to play, Hill's rookie numbers are comparable to those of Bush across the board.
Bush finished his 2006 season with nine total touchdowns, which is Hill's current total.
Bush finished 2006 with 1,523 all-purpose yards. Hill has 1,476 and could pass that number Sunday. Bush averaged 7.7 yards per return on 28 returns that season. Hill has nearly doubled that, currently holding an NFL-leading 15.3 on 31.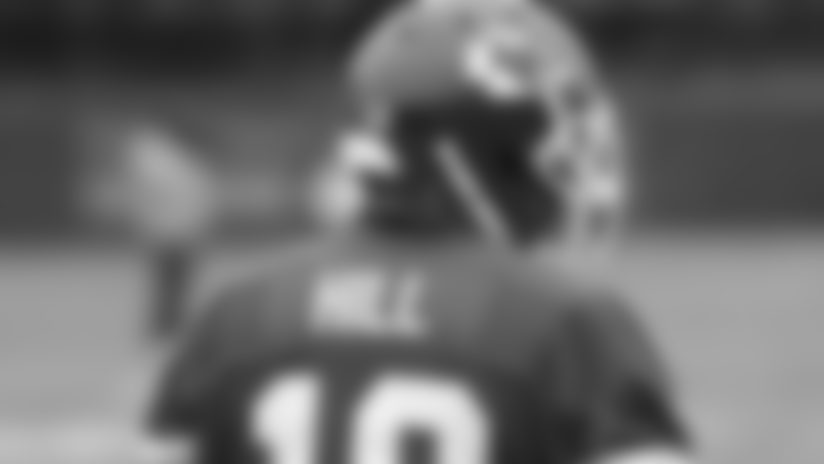 But maybe more impressive than his overall statistics or special teams work has been Hill's expanding role in the Chiefs offense as a rookie. Andy Reid said Wednesday that each week, the staff has "gradually increased his load, and he's been handling it."
After posting outputs of 38 yards receiving or less during the Chiefs' first six games, Hill has averaged 60.3 over the last seven, becoming one of quarterback Alex Smith's most depended upon targets in the process.
That confidence in Hill, Smith explained, has come from their work together each and every game week.
 "We do it every week," he said. "Not only in practice, but anything we miss or might not get out there. We're working after periods, working in between and things like that. It's tough at this point too. You're not always going to get the work this late in the season. You've got to rely on communication, talking through things, looking through film and making sure we're on the same page.
"I think he's done a really good job at that as a young guy and being able to handle that. He also asks questions off to the side where we can talk through things like, 'Hey what if [a defender] plays me like this?' and things like that."
Last Thursday against the Raiders, Smith connected with Hill on a 36-yard pass for a touchdown all the way down the field. Hill ran a deep post route, and Smith hit him in stride as his feet crossed the goal line. For a quarterback that averages 5.0 yards (31st in the league) at the time of the catch, Smith needs to feel that trust to take a shot like that.
"He makes it easy to stay aggressive," Smith said. "When throwing the ball, he tracks it so well you can really trust him down the field to go and get it. Hats off to him for those two things and making it look easy."
The Chiefs hope that trend continues Sunday, when they take on a Tennessee Titans team needing a win to keep their playoff hopes alive.
On Wednesday morning, Hill accomplished something for the first time since 2006, but as the Chiefs currently sit at the top of the AFC in control of their own first-round bye destiny, Hill's sustained level of play could be the key in helping them accomplish something for the first time since 2003.